Creating a personal space that you love can seem time-consuming and challenging. However, whether your style is contemporary or classic, minimalist or glamour, these five easy steps will make your dream bedroom a reality.
Your dream bedroom
When designing any bedroom, there are many aspects which are essential to consider. You may think factors such as the size or shape of your room could be restricting, but with planning and researching the best places the get the products you need, creating your perfect bedroom is a lot easier than you think.
If you are unsure of where to begin because you have so many ideas, the best place to start is to create a mood board. Not only will this give you the chance to visualise all your thoughts, but will also indicate what you want the overall look to be. A mood board will provide your starting point and therefore be beneficial when you proceed to the five steps listed below.
Colour scheme
Deciding on the right colours will be the most crucial step in the process of creating your dream bedroom. At this stage, you can determine if you want to be bright and bold or clean and neutral. If you are stuck for colour scheme ideas, here are a few that you may find suit your preference:
A classic red, white and black combination
A nautical blue and white theme
A modern and sophisticated grey and yellow look
If you already have your heart set on a colour scheme, perfect! However, to ensure your bedroom looks as best as it possibly can, tonal, harmonious and complementary schemes work best.
Once you have picked your dream colour scheme, a useful tip is to use the 60-30-10 colour formula, ensuring your bedroom will have the perfect balance of colour throughout.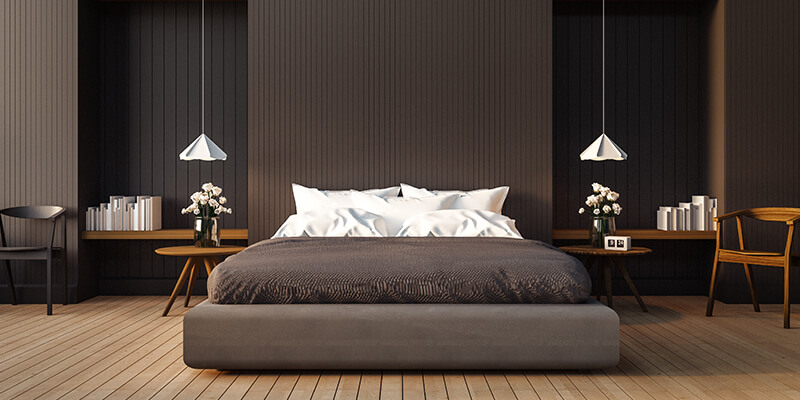 Lighting
No dream bedroom is complete without the right lighting to set the mood. A versatile, budget-friendly, solution which suits various bedroom styles are fairy lights. They can be used almost anywhere in the bedroom, for example, wrapped around your headboard or hung over a full-length mirror. Another benefit of using fairy lights is that you can purchase them in a variety of colours to compliment your colour scheme.
If fairy lights are not for you, simple bedside lamps are perfect for adding warmth to your room. Refined lighting offers a plethora of table and floor lamps suitable for any style or room size.
Of course, you won't want your bedroom to be full of light all day every day. An excellent investment to block out natural light at night, or even during the day if you are prone to an afternoon nap, is blackout blinds or curtains. Blackout blinds and curtains do not only prevent unwanted natural light but help keep your warm room cooler in the summer and warmer in the winter.
Wall art
Equivalent to the centrepiece on a dining table, wall art in a bedroom can frame the entire room while also giving it your personal touch. Wall art is not restricted to paintings and photographs but in fact, covers a variety of products such as mirrors and wall tapestries. Dunelm have an excellent selection of wall art, which can be both affordable and stylish.
Wall art can benefit you if you have previously opted for a simple and neutral colour scheme. It is the perfect finishing touch to add to bring more life and colour into your room. On the other hand, if you have chosen a more bold and bright colour scheme with lavish lighting, wall art can be the perfect addition to make your room more personal.
If you find pictures are in fact more your style, a simple yet effective idea is to print some personal photos with family and friends in a polaroid style. Not only are these smaller than standard photographs, so you have more space, but the white border makes them stand out especially on a dark wall or background.
Bedding
When deciding on what bedding you would like, it is vital to match it with your colour scheme. Your bed is, of course, the focal point of the entire room, so you do not want it to look out of place.
If your colour scheme is bright and bold, you may want to opt for solid coloured bedding as opposed to patterned to avoid overpowering the entire room. On the other hand, if you have chosen a simpler colour scheme such as the nautical theme mentioned above, your room could benefit from a patterned blue and white bedding to give it more personality.
Argos have a great selection of bedding, with a variety of colours, patterns and styles on offer.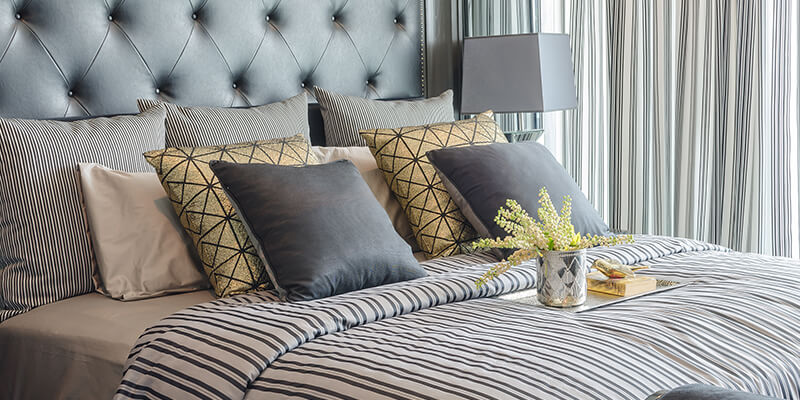 Soft furnishings
The final step in creating your dream bedroom is the use of soft furnishings. Although they may seem unimportant and a minor aspect of a bedroom, they offer a very homely and sometimes modest effect.
Despite accent pieces such as pillows or rugs sometimes going unnoticed in a bedroom, they are essential to creating and solidifying a colour scheme. Similarly, soft furnishings such as blankets and throws have the same effect and can help make any room that little bit cosier.
If you feel that your room is lacking a personal touch, here is where you can get creative and showcase your individuality. Soft furnishings do not necessarily need to be store bought; you can make them yourself, for example, crocheting a pillow or blanket. This way you can pick the colours and design to match your colour scheme and style perfectly.
A dream come true
Whether you want a bold, classic look or a simple, modern one, there are options for everyone to create a space that is entirely and uniquely their own. From lighting to wall art, you can create the perfect personal space at a surprisingly low cost and be as personal as you like. To keep your room neat and tidy, why not also try sliding wardrobes in Buckingham. Using these five simple steps, you can turn your dream bedroom into a reality.