Working with a small space may seem challenging at first, but with easy design hacks, you can transform a tiny room into a spacious sanctuary. With a little planning and creativity, you will not have to worry about having a cramped personal space and instead easily transform your small master bedroom into a commodious retreat.
Small master bedroom design ideas
When working with a small master bedroom, it is crucial to avoid thinking space is a limitation and instead, think of it as a challenge that can be easily overcome. Ironically, to make the most out of your small master bedroom, you should think BIG. What your room may lack in size it can make up for in large, stylish storage solutions and luxury finishing touches, such as mirrors.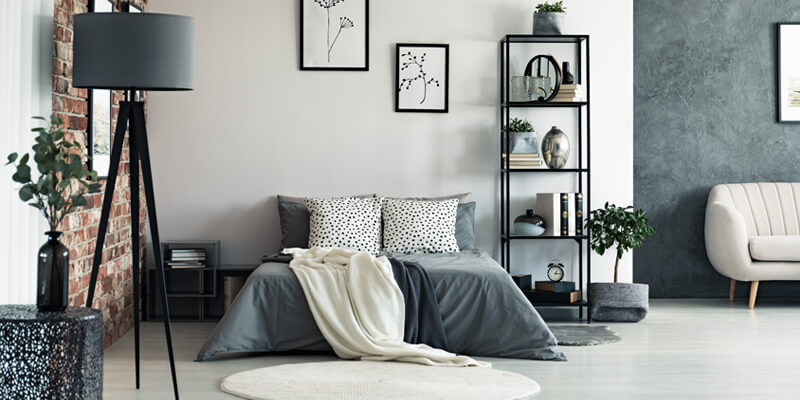 The Perfect Bed
Of course, the bed is the most important feature in any bedroom, so taking your time to find the right one is necessary. When you think of a master bedroom, luxurious super king size beds may be what comes to mind; however, there are many alternative options which will work better for a small master bedroom.
Instead of buying a bed that overpowers the space in your room, you can opt for a double or even queen size bed. These sizes will work better as they will not take up as much floor space but are still a generous size so you can sleep comfortably.
Once you have decided on your bed size, you should then consider the type of bed you want. An ideal choice for a smaller bedroom would be an ottoman bed. Ottoman beds offer storage under the mattress meaning you may not have to splash out on other furniture pieces such as a chest of drawers. Dreams have an excellent selection of ottoman beds, with some even including a TV.
Storage Solutions
Storage can be the most problematic aspect of working with a small master bedroom; however, there are many wardrobe options which will make the most of your space. Sliding Wardrobes in Milton Keynes are the perfect storage solution as each wardrobe is made to measure. Specialist design consultants will ensure luxury is not compromised when designing your wardrobe, so you can be confident your room will look stylish and contemporary.
Similarly, Fitted Wardrobes in Milton Keynes can be customised to suit your preference and room size. Optimising space in a small room is crucial to avoid feeling restricted, therefore researching what wardrobe will work best for you is something you should take your time to consider.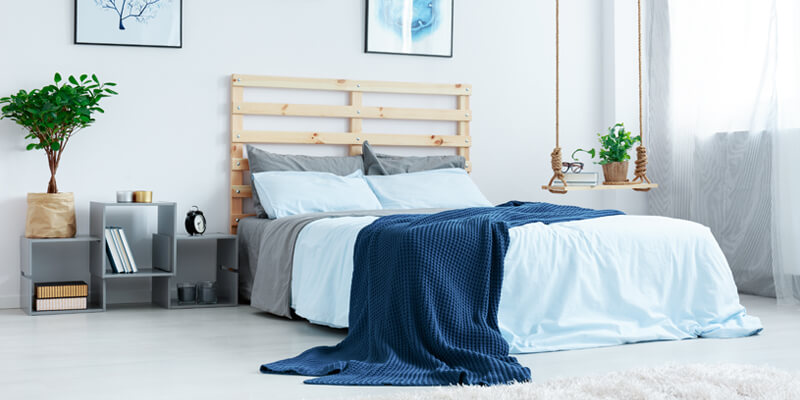 Colour
Using colours to your advantage is an excellent way to make your small room feel more spacious. Simple colour schemes work best to create visual coherence and open up your space. Using light colours on the walls is an effective technique to brighten a room entirely. In contrast, you should paint your ceiling using a dark colour as it will give the illusion of height. You could even get creative and decorate your ceiling to look like the night sky by using a dark blue or black.
Offering an abundance of colours and finishes, B&Q will make finding the paint you want stress-free and straightforward.
Clean and Tidy
Having a clutter-filled room will make your space look congested and full, so keeping things neat and orderly will make the most of your bedroom space. Simple bedside tables will help you stay organised and keep your daily essentials tucked away and within hands reach at all times.
IKEA sell numerous small storage organisers that will make it easy for you to keep clutter off the floor and stored away.
Vacuuming and dusting your room on a weekly basis will help you get into a routine of making sure everything is in its place and decrease the opportunity for clutter to build up and take over your bedroom.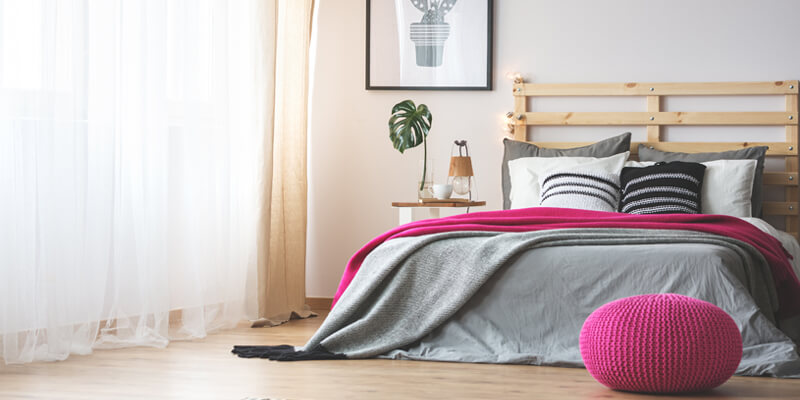 Mirror, mirror, on the wall
Using mirrors in a bedroom not only look aesthetically pleasing but are in fact an ingenious design technique to make your room appear more prominent. Mirrors can reflect artificial and natural light which contribute to brightening the entire room. A useful tip is to place your mirrors near the window to optimise the natural lights reflection. You do not have to restrict yourself to one mirror, as different styles have different impacts on room size. You may want to consider:
Full length mirrors
Wall mirrors
Free standing mirrors
Dressing table mirrors
The Range has a generous selection of mirrors in a variety of styles which would suit any bedroom.
If you want to be a bit more creative and also save some money, you can easily visit one of your local charity shops and buy several smaller mirrors. If they have frames, you can paint them to match your colour scheme and then hang them together on a wall for an overall organised look.
Blinds vs Curtains
As previously mentioned, using light to your advantage in a small bedroom is very beneficial. Dark colours tend to absorb light so try and avoid this when picking out your blinds or curtains.
If sleeping in complete darkness is not a priority for you, steer clear of heavy and bulky blackout curtains and instead opt for sheer and lightweight curtains or blinds. Scotts Interiors specialise in made to measure blinds and curtains and offer expert advice on what will work best for your room. Their extensive choice of blinds means you can choose from any of the following, and more:
Roman blinds
Roller blinds
Venetian blinds
Vertical blinds
Wooden blinds
Picking the right curtains or blinds should be carefully thought out as you want them to be versatile to suit your needs both during the day and at night.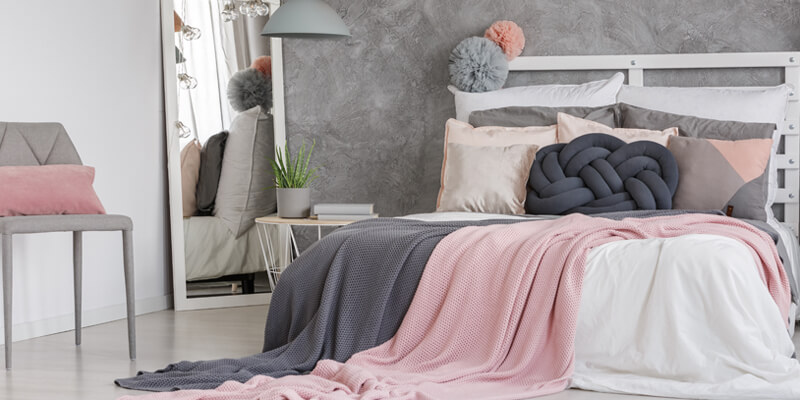 A master bedroom to be proud of
Having a small bedroom does not mean you have to compromise your creative ideas. A little bit of planning will go a long way, and the chances are, you will still be able to fit in everything you want with room to spare! To create a master bedroom that is worth boasting to guests, simply consider storage options, colour schemes, bed size and type along with a few other features and you'll have a master bedroom to make everyone jealous.