Your bedroom is one of the main hubs in your home for sleeping, waking up and relaxing when you need a little quiet. You want your room to be as tranquil and calming as possible, and this isn't always easy when you have a lot of items. You may find that no matter how much you try and tidy away your bits and bobs in the bedroom there is still not enough storage. Keeping a tidy and well-organised bedroom is the key to a relaxed and peaceful environment. It's safe to say any bedroom has a lot of unwanted clutter whether it be extra toys, clothing or shoes.
Luckily for you, we've devised our top 10 hacks for tidy bedrooms to help declutter and create your perfect bedroom.
Keeping tidy bedrooms and creating a healthy space
You would be surprised how distracting a messy bedroom can be; it prevents you from having a good nights sleep. Clutter in the bedroom can actually stress you and make the start of your day more difficult than it needs to be. If you use your bedroom as an additional office space, you may also find that having a messy bedroom make you less creative. Your mind is often elsewhere when trying to do work, and you may find yourself even more stressed as the clutter will be on your mind more than you think.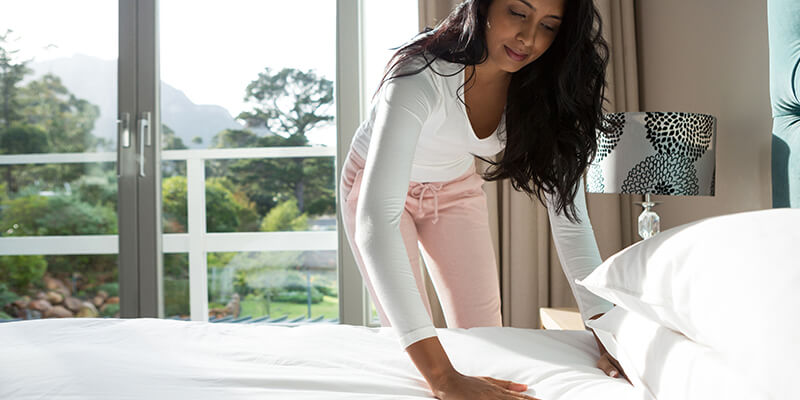 1. Motivate yourself
When it comes to your bedroom, you will often find it hard to start cleaning. Many people find themselves looking around the room at the mess and wondering where they should start. Sitting on the bed and debating whether to tidy is never the best place to start. We all know the overwhelming feeling of look at the mess and deciding whether to go about your day or whether you should consider tidying it. Making sure you are motivated to tidy your room can be a little tricky at first but there are a couple of things you can do to make it that bit easier.
You may not think making a list is essential for a bedroom tidy or clear out, but if you have a lot to do them making a list can really help. We recommend making a step by step list of what you need to get done, such as:
Putting clothes away
Put washing away
Hoovering the floor
Dusting the furnishing
Making the bed
Spray air freshner
Set yourself a timer and try to achieve a goal within that time. Have a friend come over to help; you will want someone who will be honest with you and tell you when it's time to let something go and throw it away.
Listen to music you know will motivate you to clean, you want something with a fast beat that will push you to work at a steady pace. Sometimes, it is also worth creating a cleaning playlist, then you can pop it on whenever you need to tidy, and you know you will always achieve your cleaning goals.
Another place to look for inspiration is Mrs Hinch over on Instagram. If you don't know who she is already, you'll wish you did. For those of you who may struggle when it comes to cleaning, she is a wonderful source of information and guidance on what products you should be using and the best ways to clean your home. We love Mrs Hinch here at Furniche and have been following in her footsteps for a while now, so make sure to take a look.
2. Declutter
Before you restructure your bedroom or have someone come in to fit sliding wardrobes in Milton Keynes, you will need to declutter the room. Go through all clothing, shoes and if in a child's room any toys that are either no longer being used or they may have grown out of. There are a couple of different things you can do with your unwanted items, such as giving them to charity or you can look to give them to a family who may be less fortunate then you are.
Another inspirational woman we love to recommend to our customers is Marie Kondo, she came out with a book last year called The Life-Changing Magic of Tidying: A simple, effective way to banish clutter forever. The book helps you work towards a better home, it gives you different ways of folding your items to help make the most out of the space you have but also improve how much of your clothing you can physically see. Marie also goes into great detail about why you should de-clutter your bedroom and how beneficial it can be for the soul. If your not into reading, Netflix are also releasing a new series with Marie Kondo called Tidying Up with Marie Kondo" in 2019.
Focusing on less is more is the key, you only want to keep any items in your room that you will be using on a day-to-day basis.
Hang everything up as you go along and ensure you don't stuff any items in the crevices of your wardrobe or bedroom, as you will only find them later on, which generally creates more mess. The reason we are so pro-declutter, is that in the moment you are more likely to make an informed decision, and it usually is a good one. If there is something you love, then do not get rid of it, you might find that you do not want to use it right now which is absolutely fine. However, you may want to think about where you store it and whether it can be kept in another room to help you create more space.
By de-cluttering, you are also minimising your tidy time; it means if you do create a little mess, you can quickly sweep up any items and either place them in the wash basket or hang them up neatly. By doing so, you are creating a more calming space for yourself and others.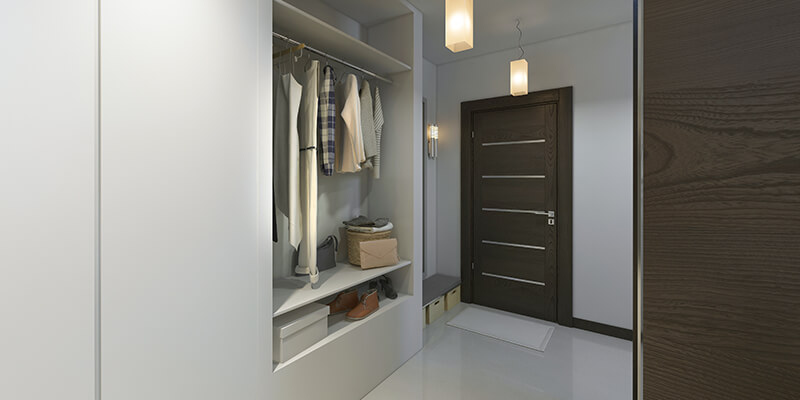 3. Working with your bedroom
Unfortunately, we can't all have huge bedrooms with loads of storage space. Working with a small bedroom can be hard, creating interiors that fit and work well together can be difficult as well as fitting in all the extras such as clothing.
You may want to have a consultation with a wardrobe or furniture fitting company who can guide you into getting the best out of your room. They can help with styling and inform you where you may potentially need more storage or less. Furniture specialists will take thorough measurements of your room, and ensure your bespoke furniture fits neatly into each nook and cranny in the room.
4. Mirrors
Whilst mirrors are not a storage solution we believe that they can do wonders for the bedroom. They not only help with your outfit decision but they also improve the overall look and style of your bedroom. Mirrors in the bedroom can help with creating light and ensuring your room appears larger then it is. If your bedroom has smaller windows, place the mirror near one, this way your room is maximising the lighting, as well as helping the light reflect across the room.
There are so many different mirror options now available to you, from mirrors you can place on the wall or wardrobe to free standing mirrors. If you have a small room, you may also want to consider sliding or fitted wardrobes with a mirrored door, as it allows you to use all of your space effectively, but still gives you the larger room effect.
5. Open shelving
Open shelving allows you to showcase your ornaments without cluttering them across your room, and is a stunning way to organise your items. Miliboo offers open shelving with ten compartments creating a mosaic effect.
If you are looking for something a little bit simpler, then you may want to go for a straight solid oak floating shelf, from the Oak Store. The great thing about these floating shelves is you can also have them made to measure. Which again allows you to make the most out of the space you have without cluttering your room too much.
6. Made to measure furniture
Having made to measure furniture can ensure you are using all of the space in your room wisely. You can choose specific features to your made to measure furniture, which will compliment your lifestyle allowing you to get the best out of your bedroom. You are also able to choose colours and styles of made to measure furniture ensuring your bedroom is to your personal style.
Depending on the style and size of your bedroom we offer a wide range of made to measure furniture here at Furniche. From fitted, sliding and walk-in wardrobes, we can ensure all of your furnishings are bespoke allowing all of your storage space to be utilised. We also discuss all of the internal options with you during your consultation, depending on whether you want more shoe, hanging or jewellery space we will work closely with you to provide you with the best possible wardrobes.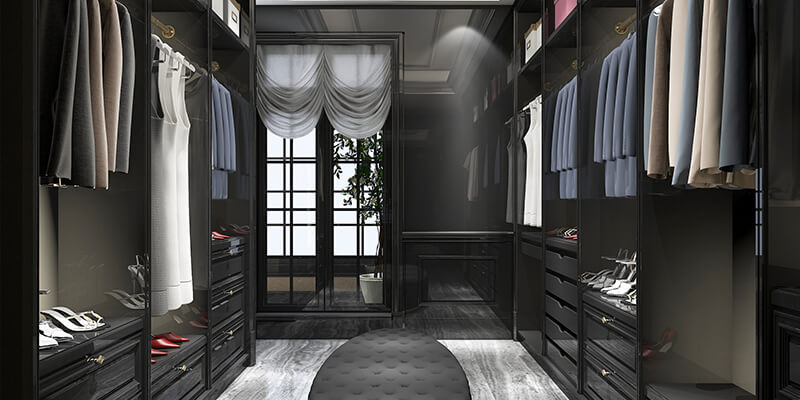 7. Hanging rails
Hanging rails are great for keeping your clothing as neat as possible, folding your clothes can sometimes be a pain. Ironing your clothing can be tedious, and can often take you a considerable amount of time. The last thing you want to do is pull an item of clothing out of your wardrobes or draws to find they are so creased they need ironing again. Hanging rails not only help to keep your clothes pristine but they also leave you with fantastic storage solutions which allow you to optimise the space you have.
8. Sliding wardrobes
If you have a smaller bedroom, you may want to consider sliding wardrobes. To those of you who have a slightly smaller bedroom, we usually advise looking at a sliding wardrobe. The reason they tend to work so well in a small space is rather than having doors that open outwards; you can slide the doors across. Sliding wardrobes give you the flexibility of getting to your clothes easily but also hiding everything away which means your room always looks perfectly neat and tidy.
All of our wardrobes come in a range of finishes which means you can choose from a variety of styles and colours. There are so many different styles, we are sure you will find one that will compliment your home.
9. Shoe Storage
There is nothing worse than having shoes all over the room, especially when they are slightly worse for wear. Tidying your shoes so they fit at the bottom of your wardrobe allows your shoes to be well ordered and can also prevent any unwanted injuries such as falling.
Having the right shoe storage also means you can find all of your favourite shoes without the hassle of only finding one. Shoe rack space is a great way for you to keep all of your shoes tidy, but it also means they do not become damaged. Certain shoe material can often start to look tired or scuffed if shoes are all dumped on each other. So, having the right storage is beneficial.
10. Under bed storage
Under bed storage systems are a perfect way of organising your room and maximising your storage space by utilising what you already have. Your bed is probably one of the largest pieces of furniture within your room so using it as a storage item can help with hiding any personal items you may not want on show. They are also a great item to have if your bedroom is slightly smaller. The reason they tend to work so well is they are easily accessible, furniche.co.uk offer a range of different bed storage solutions. There are many different styles of which you can choose from depending on what works well for you; you can choose whether you have a bed with a lift up mattress or draws within the bed frame.
Additionally, under your bed doesn't see much cleaning, so having an under-bed storage unit will prompt you to clean it out once a month. An under-bed storage system also helps prevent dust collecting.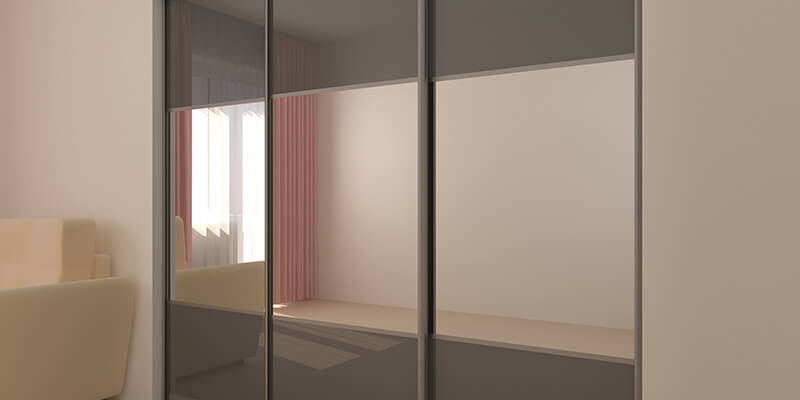 Summary
We all know how difficult it can be preparing and getting into the mood for a bedroom tidy. However, a well-organised tidy room can be massively advantageous, creating a calming and ordered space can benefit your sleeping and de-stress you for the day.
By following some of our top tips, you may find you have more space in your room which you can use more wisely. If you are recently moving into a new home or redecorating your room, you may want to look at ways you can design the bedroom to work in your favour.
Get in touch with a dedicated team member here at Furniche, for your free consultation where we can discuss all of your options along with an estimated quote.