At some point, we have all become guilty of hoarding piles of clothing and shoes that we no longer require, but put off clearing out. It can be incredibly easy to fill a wardrobe until they are overflowing and bursting with items. There comes a time where you simply run out of storage space and need to start considering alternative options which will be a more efficient use of space.
Bespoke built-in wardrobes continue to grow in popularity due to their customisation qualities and ability to fit perfecting into any room shape or size. If you're in the process of debating whether bespoke fitted wardrobes are the best choice for you, we have devised a list of the top eight benefits!
8 Benefits Of Bespoke Built-In Wardrobes
Bespoke fitted wardrobes are our area of expertise, which means that we are always excited when a new customer shows their interest in the concept of investing in a built-in storage solution. Before starting the design or building process, all of your individual requirements are taken into consideration, so that the final product meets both expectations and storage needs. We have so many thrilled customers return to say that they couldn't imagine their bedroom or dressing room without their fitted wardrobe. So, if you've not yet made your decision on whether they are for you, why not take a look at our top benefits of opting to fit built-in wardrobes in the home?
1. Range Of Materials & Colours
You will never be short for choices in material and colour when searching for the ideal design to perfectly compliment your interior. Even if you have, for example, a stunning vintage dressing table which you would like to match your wardrobe, a bespoke design can be created to ensure that they work seamlessly together. Anything from a sleek contemporary acrylic finish to a traditional, rustic wood material can be used to create your built-in wardrobes, along with the choice for different handles, frames, panels and doors. You really are free to configure the wardrobe of your dreams.
Not only are there multiple choices in terms of material and colours during the design process, but also the width and height. This means that you will no longer have to worry about reaching to the top of your storage or having to cart items back and forth.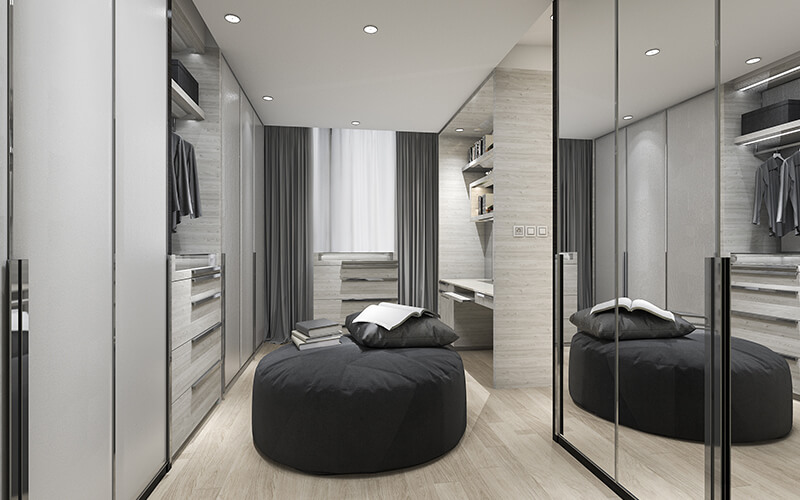 2. Made To Size
The most significant advantage of fitting built-in wardrobes, which is often the most desirable quality to those considering them, is that every aspect is made entirely to size. No matter whether the room is square, rectangular or even round in shape, you will qualify to have a bespoke fitted wardrobe created.
Many opt for a fitted wardrobe due to an awkwardly shaped room which has an empty corner wasting valuable space, or perhaps when space is limited in a small-sized room. Instead of spending valuable time searching for ready-made storage solutions which fit the dimensions of your space, bespoke fitted wardrobes allow you to begin the process immediately and customise as you go along. No matter the size or shape of the room, you can achieve flawless results through built-in wardrobes.
Another benefit of the 'made to size' aspect of fitted wardrobes is that you can completely avoid the frustrating situation of purchasing a wardrobe then realising that it cannot fit into the room you need it in. Freestanding wardrobes are often purchased pre-made and sealed into place, which means that they cannot be taken apart to fit through doorways or upstairs.
3. Efficient Use Of Space
Although freestanding wardrobes do come alongside many beneficial qualities, they are, unfortunately, not the most efficient use of space. The empty spaces underneath the base, on the sides, on the top and at the rear of freestanding wardrobes, are all valuable spaces that you can use to your advantage. They may, at first, seem like small, futile extra spaces, however, could, in fact, be enough to store a few more t-shirts, socks or even a pair of shoes.
Built-in wardrobes are fitted to the walls through a series of frames that are secured to fit perfectly into your allocated area. The majority of fitted wardrobes, unless you decide otherwise, are floor to ceiling in size, which means that there will be no empty spaces. Even if you are less keen on the idea of a wardrobe which reaches to the ceiling due to the height, we suggest considering the option of storing old clothing or items you no longer use, but would like to keep up high.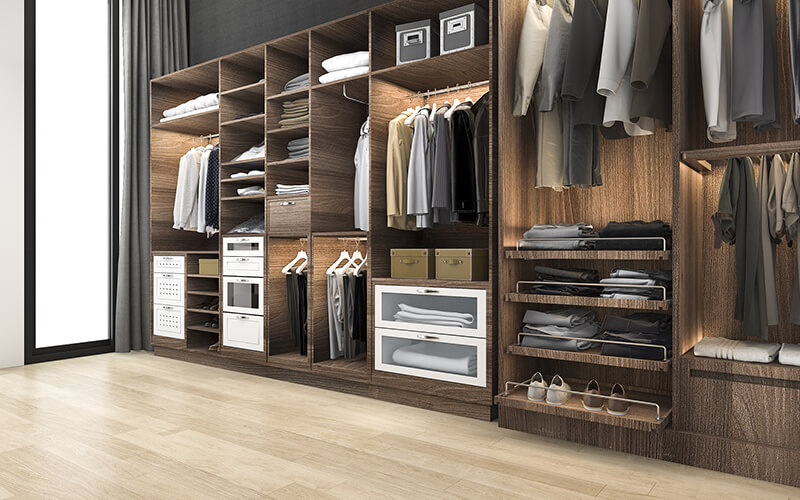 4. Easy To Keep Tidy
When it comes to fitted wardrobes, it is true that there will be allocated space for just about everything. Particularly if you opt for floor to ceiling wardrobes that span the width of a wall, almost all of your belongings can be safely stored away out of sight. This means that keeping your bedroom or dressing room tidy will be significantly easier. There will no longer be the hassle of having to drag a stool across the room to reach the top of the wardrobe to dust, or try to squeeze a hoover underneath. All you will need to do is aim to keep all of your belongings inside your wardrobe neat and tidy as you go along.
5. Flexible Budget
Trying to track down a freestanding wardrobe that fits all of your requirements, both appearance and size-wise, can be somewhat tricky, especially without breaking the bank. Due to the flexibility in the design of fitted wardrobes, you can also enjoy an equally flexible budget.
A built-in wardrobe allows you to balance cost with customisation, while still achieving your ideal level of storage. If you enlist the help of an experienced, reputable furniture provider to design and fit your wardrobes, they will be able to help you to make compromises to ensure that you are still able to add all of the features you would like, but without going over your budget. They will be able to give you alternative material suggestions, which will look similar, but cheaper to buy, so you still have enough budget to add all of the interior features you think you will need.
6. Lighting Options
As the Winter draws in, it often feels as if you leave for work in the morning in the dark and arrive home in the dark. Sometimes, even bedroom lighting doesn't appear to be very helpful when you're rummaging through your wardrobe trying to find that particular outfit you have in mind. Luckily, with bespoke fitted wardrobes, you can install as many sets of tailored lighting that you think you will need. There is a range of LED strip lighting which can be fitted with sensors which will automatically light up when you open the doors, so you can see all clothing clearly. You could even think about adding lighting to each individual compartment, draw and rack, which again, will automatically turn off when you close the unit.
For tonnes of lighting options for all types of fitted wardrobes, take a look at IKEA.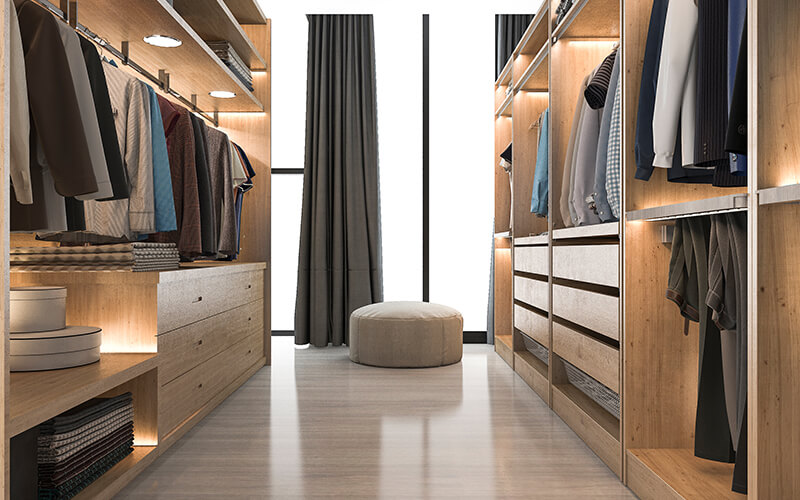 7. Valuable Investment
Although this benefit is often left unconsidered, bespoke fitted wardrobes are an incredibly valuable investment. Not only will they last up to years longer than shop bought, flat-pack furniture, they will also add extra value to your home if you ever begin to consider selling up. Potential buyers will see built-in wardrobes as a unique feature of your home, allowing them to forget about the worry of investing money into new wardrobes when they move in.
Bear in mind that when purchasing fitted wardrobes, you are also investing in high-quality materials that will remain durable for many years to come. Opting for a design that is neutral in colour such as white or plain wood, means that you can redecorate your bedroom as many times as you would like or change the colour scheme with ease. You will not have to worry about dismantling your wardrobe to allow you to redecorate; instead, you will simply work around the fitting.
8. Multiple Extra Features
There are absolutely hundreds of different ways that you can choose from to organise the interior of your fitted wardrobe. Unlike stand-alone wardrobes, you will not be limited to just hanging and drawer space, the interior can be entirely customised to your needs.
If you have many pieces of jewellery and accessories, you can add shallow pull-out trays which have inserts covered in a soft material, so everything can be kept in tip-top condition. There are even options for shoe shelves, pull out trousers hangers, tie racks, baskets and many more. You name it, there will be the perfect fitted wardrobe storage for it! We love the range of wardrobe storage ideas that A Place For Everything has in stock.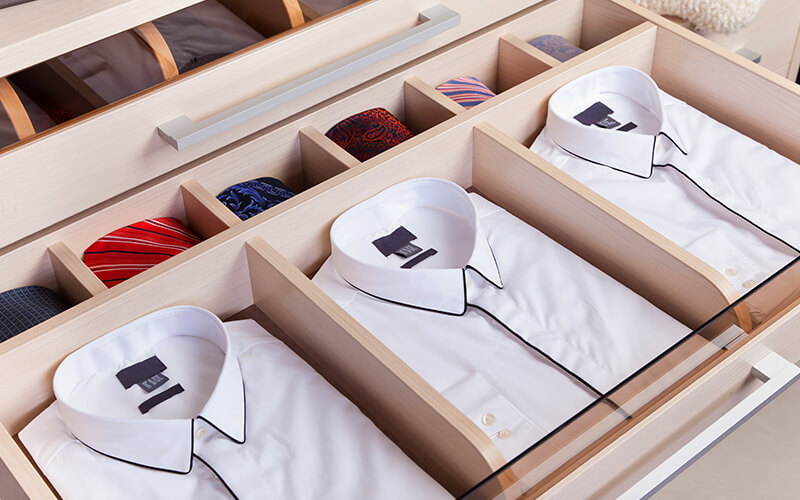 Fit The Perfect Built-In Wardrobes Today!
Bespoke fitted wardrobes are a significant investment in your home, not only do they look sleek, but they add great value. You can ensure all aspects of your fitted wardrobes are made to your unique needs and requirements whether this is to fit into the contours of your room or additional compartments for belongings. Your wardrobe will look modern, seamless and complement your room while helping you to achieve ultimate organisation.
If you're considering bespoke fitted wardrobes and hoping to find more information on how they can transform your bedroom or dressing room, please feel free to contact Furniche!