If you have a small room, you will know how easy it is for clutter to build up and for the entire space to feel uncomfortably cramped. Luckily for you, we have devised a list of innovate ways to make more space in your room.
The most creative ways to make more space in your room
Working with a small room is not always easy, and trying to make more space can seem like an impossible task, but there are a host of hacks you can use to create a more spacious room. If you want to completely renovate your room, you should consider our fitted bedrooms in Luton as each design is bespoke and tailored to your needs. However, completely transforming your room or introducing a home extension is not the only way to make the most of the space you have. Simple tasks such as decluttering can make a huge difference and give your room a new lease of life without compromising any space. For more creative ways to make your room more spacious, keep on reading!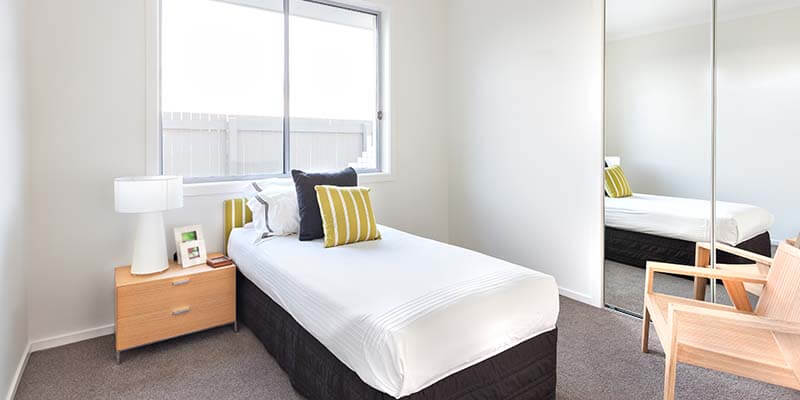 Multi-purpose furniture
It is likely that furniture takes up the majority of space in your room, so we suggest combining certain pieces to save space. For example, you could use a small chest of drawers on either side of your bed. This will provide you with a significant amount of storage space while still acting as a bedside table for all your nighttime/morning essentials. You could also opt for a bed that offers you both a good nights sleep and practical storage. Ottoman beds are stylish and come in a range of finishes so you are guaranteed to find one that will complement your boudoir.
Declutter
When it comes to small space living, there's no room for clutter…literally. So, it's time to move all the clothes from your floor and throw away any items you no longer need. Decluttering can be a long process if you haven't had a big clear out in a while, so we have a few tips to make it easier for you. Firstly, you will want to start by emptying the space and remove everything from your room. When doing this, we recommend arranging similar items together, so they are easier to sort later on. Once you have done this, you should sort all your items into three piles: keep, donate and throw away. When it comes to deciding what to keep and want to part with, you need to ask yourself the following: have I used this in the last six months? Realistically, will I need this in the future? Does this item hold any sentimental value? Asking yourself these questions will help you filter through your items more effectively and determine what you really need.
After you have thrown away or donated your unwanted items, it's time to move everything you have decided to keep back into your room. To ensure you are not tempted to let your room get cluttered again, you should arrange these items into organizers. These foldable storage boxes fit comfortably into your drawers and are ideal for storing small day-to-day essentials such as make up and underwear.
Repurpose wasted areas
The best way to create more space in your small room is to utilise every available area. For example, the space above your door and the back of the door itself can be used to store some of your belongings. Using overdoor storage, you can hang up some of your bulkier items of clothing, such as coats and dressing gowns, to make more room in your wardrobe. You can also install a shelf above the door to store items such as books, towels or other decorative accessories.
If there is space between your bed and the floor, you should use this to your advantage and fill it with underbed storage. As it is concealed under your bed, the aesthetics of your room is not affected, and no floor space is wasted. When deciding what to store under your bed, you need to pick items which you will not need to use too regularly as it can be a hassle to retrieve them. For this reason, most people tend to use under bed storage for bed linen, out of season clothing and sentimental items such as photo albums and childhood toys.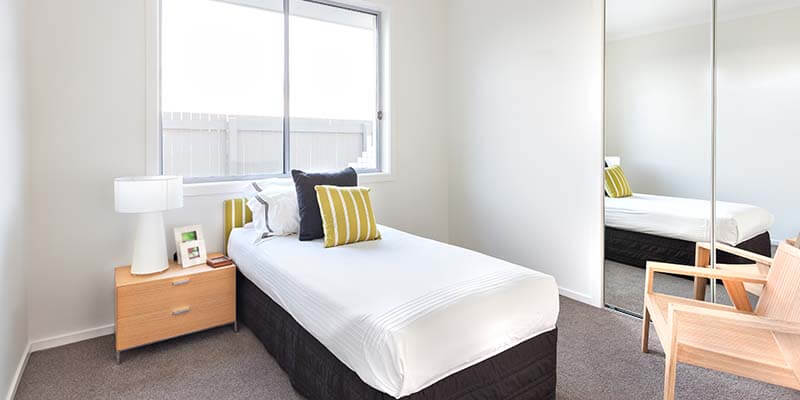 Reconsider the size of your bed
A kingsize bed in a small bedroom is not a good combination for many reasons, it wastes floor space and can actually make your room look smaller than it really is. So, you should pick a bed which is proportionate to your room size. Single storage beds are best for smaller rooms but small double beds are just as effective.
Effective clothes storage
Your bedroom also functions as your personal dressing room, so it is likely a lot of space in your room is filled with clothes. Effectively storing your clothes will ensure your room feels more spacious but will also make it easier to find outfits when you are getting ready. Standard wardrobes can be quite bulky and take up a lot of valuable floor space, so an innovative alternative is to use made to measure or bespoke wardrobes. Here at Furniche we offer fantastic sliding and fitted made to measure wardrobes perfect to fit in any small room. We can essentially help utilise all of the space you have without having to compromise on style.
Our sliding wardrobes in Northampton are excellent for smaller rooms as the doors do not open outwards like standard wardrobes, saving you space. Alternatively, you could opt for our fitted wardrobes in Bedford which you can customise with fittings to suit your lifestyle, such as shoe racks, tie rails, hanging space, drawers, jewellery draws and watch sections.
Utilise wall space
What your bedroom lacks in floor space, you can more than make up for by using your walls. Shelving is an excellent way to add storage to your small room, taking up virtually no space. You can even get a little creative with your shelves and add spotlights underneath to create a floating effect.
If you have a TV in your room, instead of using a TV stand, desk or a chest of drawers to keep it on, which uses up a lot of space, you should hang it on the wall. The Frame TV from Samsung is designed specifically to be hung on the wall in order to showcase the beautiful pieces of artwork displayed on the TV when it is turned off.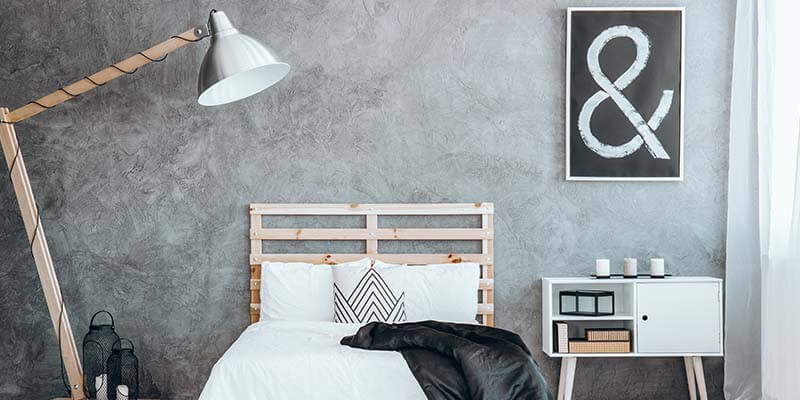 Mirror, mirror on the wall
Incorporating mirrors into your room won't actually create more space, but it will certainly give that illusion. Interior designers love this hack as it is so simple but so effective. By reflecting both natural and artificial light, mirrors can brighten the atmosphere in any room and bounce light into hidden haunted corners, making them appear larger. To make the most of your mirrors, you should place them strategically where they face or are or are angled towards a natural light source.The Range have a generous selection of mirrors that will work well in any bedroom.
A spacious sanctuary
Creating more space in your small room is evidently a lot easier than you may initially think, and the results are undeniably effective. With a little creativity and some DIY, you can effortlessly transform your small room into a significantly bigger, stylish space.