Now then, if you're reading this article I'm going to assume that you're struggling to find some storage space in your bedroom – am I right? Well fortunately, we're going to look into a selection of bedroom storage ideas that aren't going to cost you a fortune.
However, if you do decide to make a small investment, we'll also look at the storage options available to you should you want to put your money where your mouth is.
Some of the best ways to create storage involve utilising space that you didn't realise you already had. We're going to look into the following and show you exactly how you can make even more space.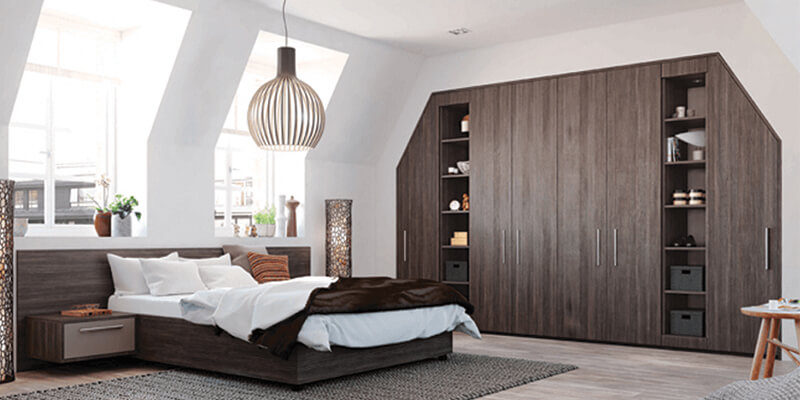 Here are some bedroom storage ideas:
Utilising your bedframe
Organising your bedside cabinets and dressers
Considering the multiple wardrobe options available
Different types of shelving units
Decluttering in general
So lets begin!
How to utilise your bedframe to make space:
Your bedframe takes up 90% of the available space in your bedroom right, unless you're fortunate enough to have a walk in wardrobe with a huge amount of floor space available in the room.
But did you know that your bedframe could be a hidden gem when it comes to storage solutions? We firmly believe that a bedframe is one of the best bedroom storage ideas because so many people neglect it.
Just think about all that space under the mattress and wooden panels.
Simply lift the mattress off of the frame and remove one or two panels to help create an access point. You can then use the space beneath the mattress to store bedding and smaller items.
All you need to do is add the panels back into position and place the mattress back down and you're sorted.
Getting your bedside cabinets organised properly:
If you're anything like me, then your bedside cabinet will be used to charge your phone and as storage space for items that you rarely use.
However, if you actually take the time to tidy and organise the drawers, you'll be surprised at how much space you have and what you can fit in there.
One of the easiest ways is to use a draw divider and learn how to fold items of clothing more efficiently. Take a look at this guide to folding clothes more efficiently from Good Housekeeping for tips.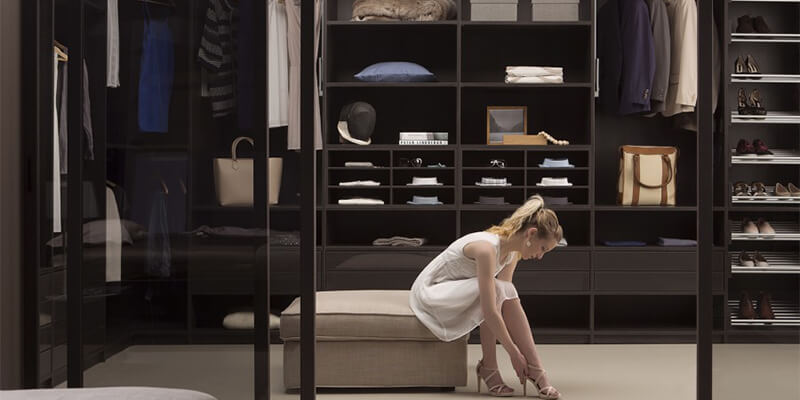 Deciding on the right type of wardrobe:
There are loads of wardrobe designs available so it can be a little frustrating when you're trying to decide on one. However, there are two design ideas to spring to mind that are perfect for saving space and creating storage.
Our sliding wardrobes in Milton Keynes are tailored to every customer's specific needs. A lot of the bedrooms that we work in are small so finding room can be tricky.
However, a well designed bespoke fitted wardrobe can save a significant amount of space and provide you with multiple storage options that you wouldn't of had otherwise.
Of course, other wardrobe options are available. However, freestanding designs tend to be more flexible and not as durable as a fitted design. With a fitted wardrobe you'll have additional hanging space, areas of shoes and a number of easy to use drawers for underwear and t-shirts.
Consider different forms of shelving:
If you find yourself reading a lot, then investing in a good shelving structure could save you a lot of space and even make your bedroom more appealing.
This bedroom storage idea comes to us when a friend of ours installed floating shelving units around the ceiling in their bedroom. They used the floating shelves to store books, general items and more which helped them to save a lot of space that they didn't realise they had.
And what's even better? Everyone has a ceiling so there's no reason why you can even consider this as an option.
Make the time to declutter and remove things you don't need:
How often would you say that you just throw items into your garage or loft because you can't bring yourself round to actually throwing it away? I'm guessing quite a bit because it happens in every home.
It's certainly worth spending a Saturday morning going through your old clothes, any storage boxes, garages and loft. You'll be surprised how much rubbish you can hoard away over the space of 6-months.
Some items will still be in good enough condition to sell or donate to a local charity too. If you fancy yourself as a perfect eBay trader – why not try to make some cash in the process?