2019 has seen some of the most sophisticated and elegant bedroom designs since the futuristic home decor of the 80s. Simplicity appears to be a running trend throughout 2019 for bedroom designs, showing that less is most definitely more. For those wanting a little bit of design inspiration, we have devised the perfect list of bedroom trends 2019 to ensure that you stay in fashion.
Our Favourite Bedroom Trends 2019
With years of experience of designing the perfect fitted bedroom in Bedford and the surrounding areas, we know how important it is to have a bedroom that functions well and suits your taste. Your bedroom is a place for you to unleash your personality and decorate the room to suit your aesthetic. Although you probably won't be bringing family and friends into your bedroom, you still want to ensure that it looks just as glamorous as you do. With these fantastic and elegant bedroom trends, you'll be planning to redesign your whole home to match your bedroom.
Gold And Glamourous
As you shop through Wayfair< or glimpse a bit of glitter on your shopping trip, you may have noticed that small elements of gold have been incorporated into furniture designs throughout 2019. Adding a touch of gold to your bedroom will instantly give it a feeling of sophistication and elegance. Choose to design your bedroom with a colour that never goes out of trend and decorate it with delicate pieces of gold. For example, have white acrylic bespoke sliding wardrobe doors in a traditional or modern design, with white walls and accompanying your gorgeous bespoke bedroom with side tables that have gold legs or a mirror with a gold trim. There is a wide range of different furnishings that you can incorporate into your bedroom to add a small detail of gold that runs through the room. Some of these furnishings may include the following:
Golden Side Table – Place your drinks and jewellery on a marble side table with gold legs
Chair With Golden Legs – Velvet chairs with gold legs or arms are very popular
Golden Lamp – Have your gold lampshade shimmer or choose a plain lampshade with a golden stem
Golden Pillows – You can never go wrong with a fluffy cushion
Small Details – Such as golden decorative bowls, picture frames and jewellery boxes
Art Work – Buy art that has golden strokes running through it to add a touch of colour in the bedroom
If adding small details of gold just does not quite hit your golden desires, then why not make your bedroom a goldmine? 2019 has seen a growing trend in golden bedrooms, and with the plethora of colours available in our bespoke fitted wardrobes, you can easily design a refined and stunning gold bedroom. Home Design Lover has come up with some glamours gold bedroom designs to intrigue you into creating the perfect bedroom with a golden essence.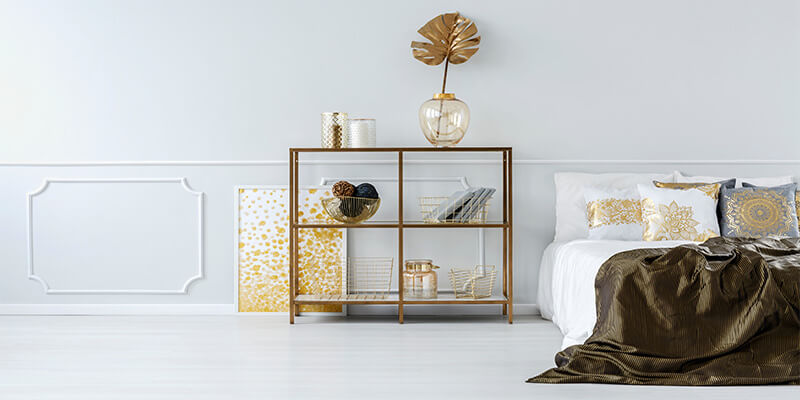 Keen To Be Clean
Although colours have been a growing trend throughout 2019, beautiful wooden pieces of furniture have been creeping into white rooms to create a clean and neutral bedroom design. Crisp white and sharp colours are used on the walls and accommodated by neutral coloured furniture and plants to achieve this clean look. Some of our most popular colours when fitting a bespoke wardrobe or sliding doors include our white acrylic doors, light wooden wardrobes and even glass sliding doors.
This is a timeless trend that will never go out of fashion, making it the perfect trend to follow when designing your bespoke bedroom. When incorporating fittings into your bedroom design, it can become an expensive affair, so when choosing your colour and material, remember to think about the future. Opting for a neutral colour means that you can simply change your furniture to follow trends rather than regretting your colour choice in the future.
To accomplish this clean and fresh trend, paint your walls white and add natural materials to decorate. For example, you could place a wooden table beside your bed and have green plants situated on your window seal. Another option to ensure that your room remains clean and tidy is to have a dressing room fitted. Many of our clients opt to have a bespoke dressing room fitted into their home to create a more organised space. With years of experience in providing bespoke dressing rooms and companying them with our dressing room furniture in Luton and the surrounding areas, we know that having an allocated space for your clothing can have a big impact on your bedroom. Your bedroom should be a place for relaxation and comfort, not mess and clutter. To ensure that you create this elegant, clean trend, speak to one of our specialists about achieving the perfect bedroom design.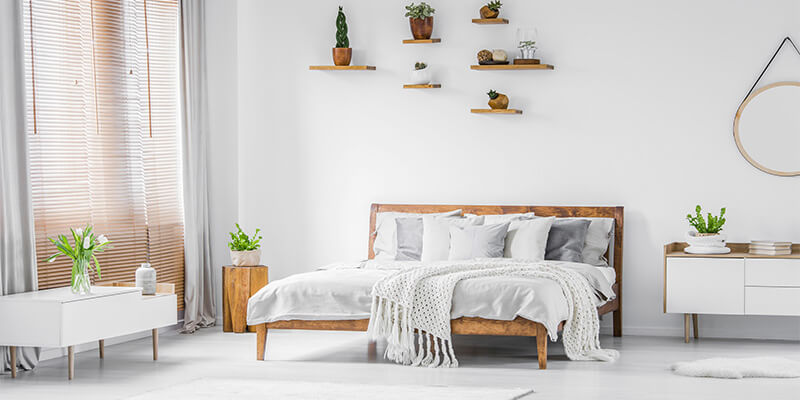 Back To The Past
Although the 70s saw some fashion trends that should never be seen again, the revised and refined 70s trend of flowers, patterns and prints is quite the opposite. Taking design structures from the 70s and incorporating the curves and curls into 2019 furniture is an excellent way of adding elegance and style without completely taking you back to a dark and gloomy fashion era.
It is extremely easy to achieve this look, regardless of whether you want to go all out or add small 70s inspired details. The Georgia or Florence fitted wardrobe is perfect for anyone wanting to incorporate 70s architecture into their bedroom. The sharp and cutting edge design of these wardrobes will add elegance to your room and soften the modernised flat structure. Accompany your bespoke wardrobes with elegant floral wallpaper; to avoid creating your nans living room, choose patterns with big flowers to make the wall look more like a piece of art.
Furniture has a big impact when creating this look, so make sure that you pick a few elegant pieces that make a statement in your bedroom. Side tables with curved legs and floral engravings have become extremely popular. You can create a neutral, gothic or delicately designed bedroom by incorporating engraved furniture. Engraved side tables, dressing tables, lamps or even door handles, can instantly add to this look.
Decorative features such as cushions and bedding can also help to incorporate the 70s inspired trend into your bedroom. The 70s saw a range of different colour palettes run through the fashion, so simply pick a colour and make sure that you stick to it. Layer your cushions on top of each other, ensuring that you have block colours as well as floral cushions to stick to the theme. You can place these cushions on top of white bedding so that they stand out and the room looks crisp, or you can choose to use block colour pillows and place them on floral bedding. How ever you choose to design your bedroom, this 70s inspired trend is easy to achieve.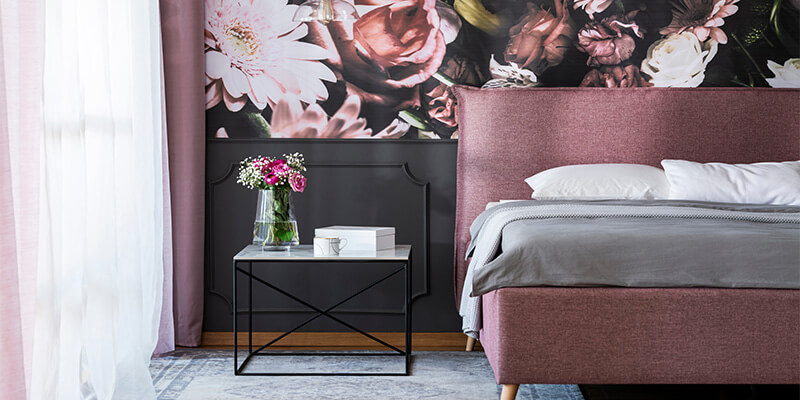 Colourful Grey
Although it may sound dull compared to the colourful 70s bedroom, applying grey to your bedroom is a stunning way of adding sophistication to your room. This trend is achieved by having the majority of your room covered in grey so that you can place a statement piece on the walls or the floor that is bursting with colour to ensure that it stands out. You can choose from subtle to grey to dark grey depending on your aesthetic. Much like the clean bedroom trend, grey is a great colour to incorporate into your design for a bespoke wardrobe as it is a timeless colour that can be paired with practically any colour of your choosing.
The key to achieving this look is using different shades of grey within your room. These shades can differ from the wall to your bed and other furnishings. Choose a glossy light grey Ava Plus fitted wardrobe and pair it with a dark grey painted wall. You can go all out and have light grey wooden floors installed or have a carpet or a rug for extra comfort.
To furnish this design, make sure that you continue to layer the shades of grey. Choose a grey bedding with a different shade for the throw and cushions. You can then decorate the room with grey and silver furniture; the silver will add a little light and shimmer to the room. When choosing you pieces to decorate with, ensure that you pick one piece that stands out from the rest. This could be a piece of artwork or some cushions that are a vibrant colour. By doing this, you can add colour to the room without straying too far from the grey tones. For those looking for a more subtle version of this trend, you can easily incorporate it into your existing bedroom by adding bedding or small pieces of furniture in grey tones.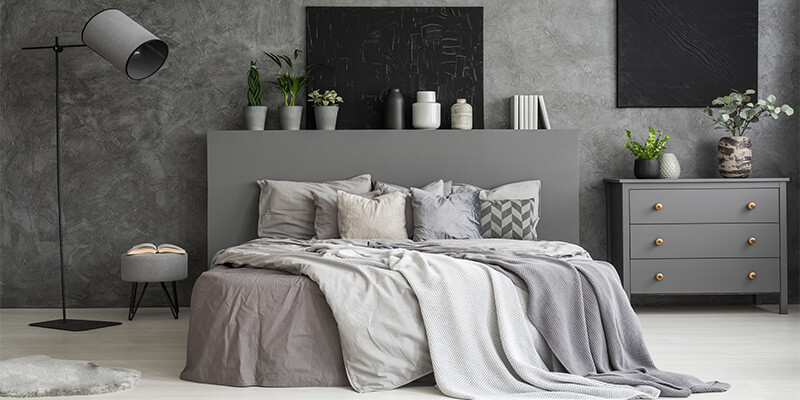 Get Creative
Although it can be nice to follow a trend when it looks effortlessly sophisticated and elegant, make sure that you decorate your bedroom with items that suit your aesthetic. Feel free to take elements of each trend and incorporate them together to create the perfect bedroom design. When picking fittings and making big investments, be sure to choose colours that will look good in the future. If you are someone that thrives on changing their bedroom design to follow the trends, then make sure to pick neutral colours that you can match any palette with. Design and create your perfect bedroom by using your creativity and mix and match trends together to find the perfect combination.