Decorating your home is a huge part of the festive season, and your living room will be one of the main rooms you spend most of your time in during the Christmas period and more likely than not you will want it to look the most attractive as your celebrations are underway. In most people homes the living room is where the Christmas tree is placed to add that special something. Keep reading if you want a few hints and tips on how to create the perfect Christmas living room décor.
Christmas living room décor
When you're thinking of Christmas décor you probably think of an open fire, Christmas tree and lots of wooden furniture as though you're in a ski cabin tucked away in the snow. However, unfortunately, we all don't have that luxury, so rather than completely redecorating your home for the festive season, we have come up with a few simple decorative ideas for your home that you can easily pull off.
Top tip
Our top tip is not over to do it on the Christmas decorations; you want to shy away from being tacky and looking cheap. So have a little thought into the way you would like your living room to look along with the colour or theme you may install. We suggest you keep all Christmas decorations a classic monochrome, metallic or a simple touch of red. Dependent on your home style you'll want to intertwine colours that are already featured throughout the house.
Blankets and cushions
To make your home cosier, we suggest bringing in cushion and blankets. You may even want to consider having a blanket box so you and your family can cosy around the fireplace or in front of the television. Throughout the cushions, you can also inject a little Christmas colour and print. If you want to have something more in keeping with your living room, then you might want to think about plied or tartan.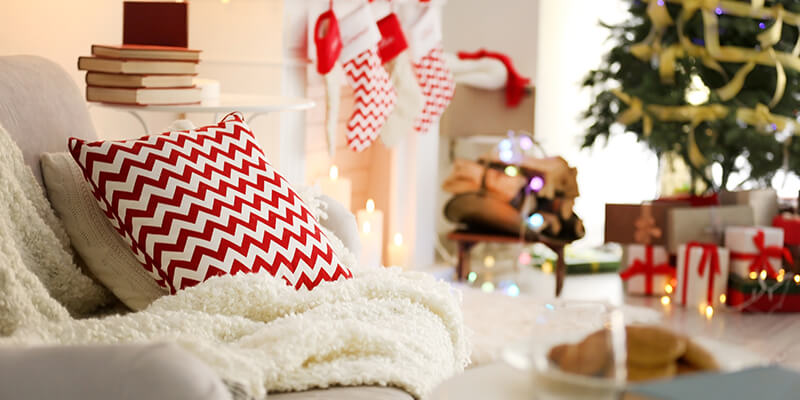 Wreaths
Wreaths are often placed on front doors, but we say why not add a little Christmas touch to your fireplace. You can also place them around candles and create beautiful ornamental centrepieces to your living room. You can consider bringing in natural elements to make your living room look more Christmassy. Additionally, if you have a fireplace, we suggest hanging bunting, stockings or even decorating with candles. Create chunky garlands to be placed across the fireplace; this can also be done to inject some colour into your living room.
A white Christmas
If you have been dreaming of a white Christmas it doesn't just mean snow; you can bring a bit of sleek white into your décor to create an entirely crisp feel to your living room. While all-white rooms might not be for everyone, we recommend that you dash a metallic or red into the mix to really bring out the festive vibes. Adding candles and yellow toned lighting will also make your living room feel a lot more cosy and comfortable.
Colours
There are no rules that during the Christmas season you need to stick to the colours we previously mentioned, however, we do recommend you stick to contrasting tones and shades that compliment your home. Don't try and over complicate your Christmas decorations with a variety of colours picking two or three to decorate your home will create the perfect Christmas aesthetic.
Christmas Tree
Every year you may get the same synthetic Christmas tree out because you assume its less hassle than purchasing a real one. However, we say by having a real tree you will bring a real Christmas feel to your home. A real tree will add new dimension to your room and the rest of your living room decorations. While it looks fantastic you will also find it smells just like Christmas, once you have decorated the tree with all your baubles and lights, it will really make your living room feel more homely and cosy.
Centrepiece
The centrepiece of your living room might have previously been the Christmas tree but this year why not opt for something a little different. Garlands are a great way to being a little bit of uniqueness to your festive decorations. They are a great way of adding character to your room, you can purchase gorgeous light and pine cone garlands from Festive lights, or you can make your own and get the whole family involved.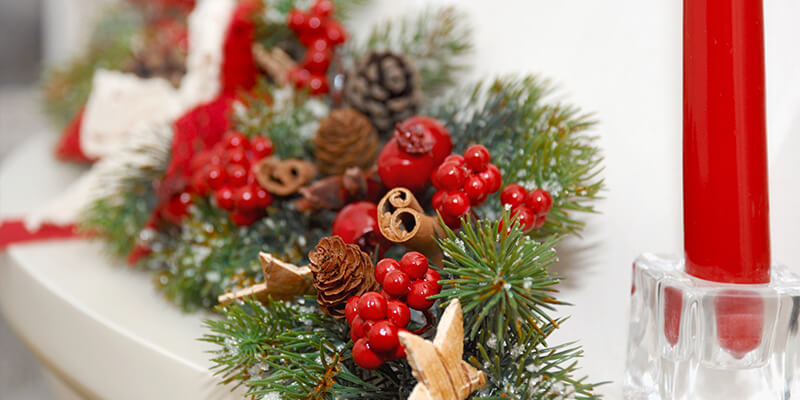 Family
Christmas is all about time with your family and making amazing memories that you will keep forever. So why not bring some of the years memories into your festive decorations. Your living room can be transformed into a memory cave by simply making garlands of pictures or purchase baubles created with your pictures in from Getting Personal. Additionally, you will want to add your own touch and intertwine your personal style so have your favourite candle burning and make your home smell exactly the way you want it to.
Furniture
Christmas is also the perfect time of year to treat yourself so if you are looking for more living furniture than this may be the best time to purchase it. You can make your living room look exactly the way you want it to and also treat it as though it's a present for yourself and your family. You will want to go for something that is long-lasting and will work with the current décor of your home.
Summary
Each decorative idea is a great way to make your home feel cosy and warm throughout the festive season. You want to make your home as inviting as possible, and the best part about Christmas is bringing the family together. Make your family decorate your home in a style that suits you all, and that can bring your closer during the Christmas period. Colours are an important aspect to consider when decorating your home if you're over complicating the colours this can make your decorations look tacky rather than tasteful.
Everyone dreams of a white Christmas and unfortunately living in the United Kingdom we don't always get the chance to experience one. So why not bring it to you, decorating your home in crisp white decorations with a splash of sparkle can really get you into the festive spirit. This is also great for homes with smaller rooms, as it will make you feel less closed in.
The Christmas tree is a huge part of the living room décor, so pick the right size and the right colour baubles to make it a feature within your living room.