The house is the one place where we can store our whole lives, from clothes to memory boxes. However, this can often lead to a build-up of unused items and poorly organised storage systems. As clutter increases, home life can become even more stressful, and the idea of rolling your sleeves up for a good old spring clean becomes even more daunting than ever. There are various easy and helpful ways to declutter our home, and ensuring that we have efficient storage space is the first step to organised and clean living.
Quick And Easy Ways To Declutter Your Home
Many of us are guilty of tidying the house by shoving goods and items into a wardrobe or storage boxes, and while it may be a simple and quick fix to a messy situation, it can make life a little more stressful. As soon as you open up that box or wardrobe, items will start flying out, or finding your favourite garment is an impossible mission. Although it may seem like organising your items will take a considerable amount of time, ensuring that you clean regularly and have storage facilities that make organisation easier, can help you to become the next Marie Kondo.
With the world fighting together to overcome the coronavirus, it is more important than ever to reduce those feelings of stress, and decluttering your home is the perfect way to achieve this. According to Psychology Today, clutter around the house can make you feel overwhelmed, anxious and helpless, leading to an increase in stress. This, along with many other reasons, is why we should take just five minutes out of our day to declutter and clean the house. So, let's take a look at how we can declutter the following places in your home: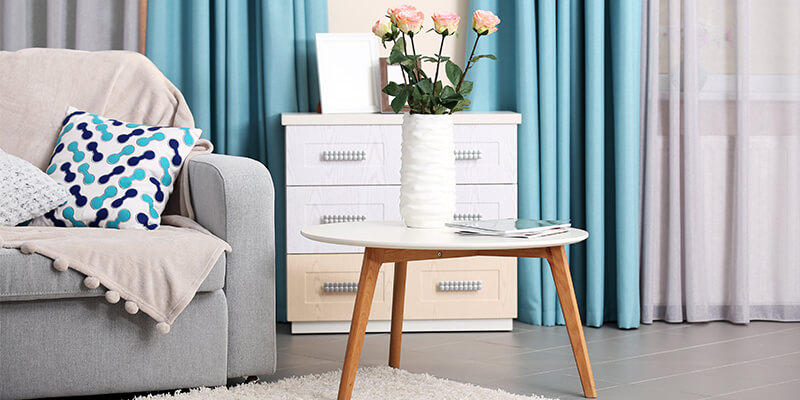 Starting With The Basics
Before diving into how to declutter your home, it is important to get to grips with basic techniques to help you along the way. There are two main methods that come to mind; the five basket approach and the 5-minute rule, both of which are extremely easy to follow and can help you organise your project to ensure it doesn't become stressful. Here are the two methods and how to use them:
As the name suggests, the five basket approach is where you take five baskets of various colours or with labels on, to help you arrange what you are going to do with your items. Whether you are decluttering the wardrobe or an entire room, baskets can help you to distinguish which items are to throw away and which ones to keep. The five baskets should represent the following: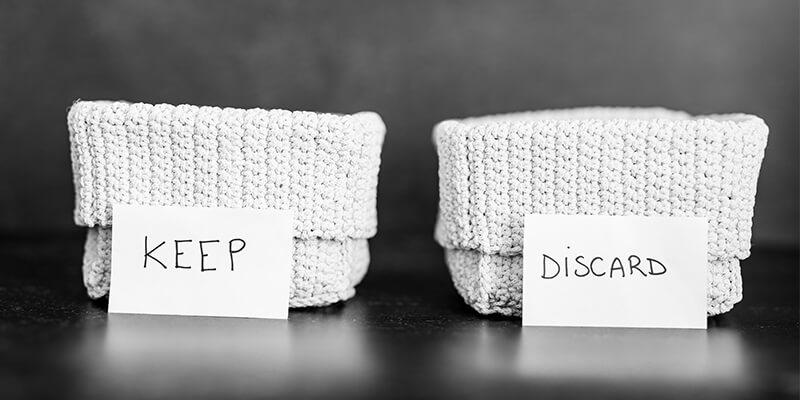 With a busy schedule, it can be hard to find the time to declutter your home and is one of the most common reasons as to why homeowners suddenly find themselves in a messy and unbearable house. Luckily, the 5-minute rule means that you can easily declutter your home bit by bit until the whole house is spotless! Why not try some of these 5-minute tips:
For some other helpful tips on how you can do a few decluttering sessions around the house without it taking you hours, why not have a look at More Than Organised top tips?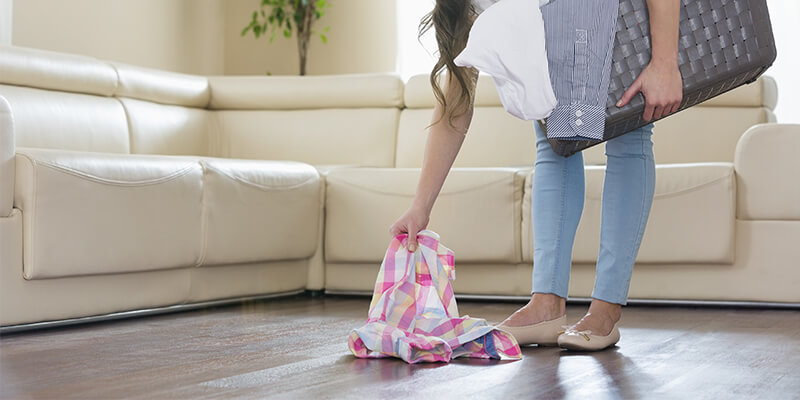 Your room is looking spotless after an hour of tidying and washing the floors, for you to turn around and find your wardrobe full to the brim with items you have pushed in overtime. With everything from your favourite dresses to socks and shoes all piled up in one location, having to get ready in the morning can quickly become one of the most stressful tasks of the day.
The best way to declutter your wardrobe is to start by taking out everything and start fresh. However, it is important to make sure that while taking things out of the wardrobe one item at a time, you place each item into a specific pile. For example, create sections on the floor or the bed where you can place dresses, and then another for trousers, and so on. Not only will this help you when putting items back into the wardrobe, but it can also help you to distinguish which items you have too many of and can do with reducing. It can also help you to identify whether your wardrobe is designed to help you organise your items and whether you may need more storage space.
As specialists in fitted wardrobes in Milton Keynes and the surrounding areas, we know that the style and features of your wardrobe can have a significant impact on how it functions for you. For example, shelving and rails can be fully customised to your needs, allowing you to place higher rails for dresses, trouser hanging space and more within the wardrobe. To make bespoke wardrobes even better, you can also incorporate interior lighting and sliding doors for a luxury finishing touch. Feel free to speak to the team about our bespoke sliding wardrobes in Bedford and the surrounding areas.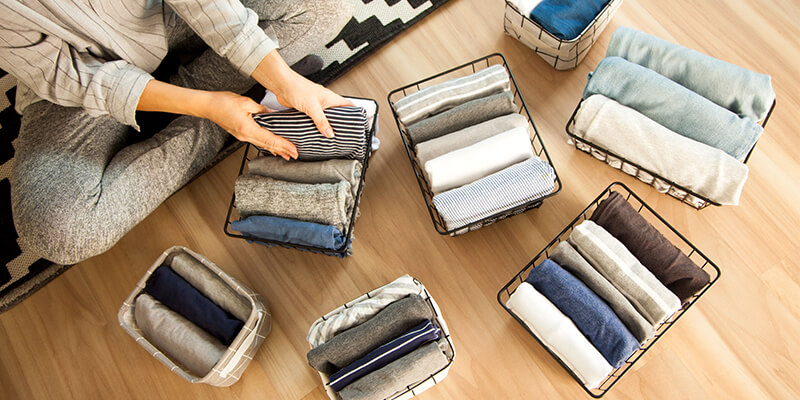 The bathroom is supposed to be a sanctuary, where you can take a nice long bath and unwind after a hard day's work. However, when the cupboards start to fill up and toothbrushes are left on the side, a relaxing room can quickly turn into a dirty and unclean area. If you don't already have cabinets in your bathroom, then you may want to consider incorporating some into your design. You can take some inspiration from House Beautiful for storage solutions for your bathroom, which can help you to organise your toiletries and skincare products.
This brings us onto the two main items that tend to clog up your bathroom cupboards; out of date skin and makeup products as well as endless half-empty toothpaste tubes. Start by taking all of the items out of the cupboards and either into the sink or bathtub; this will make it easier to clean up any leaking bottles or exploding foundation. Have a bin bag at hand and throw away anything that is out of date, hasn't been used in no more than two months or the bottle is starting to look a little tired and overused.
Once you have fully emptied the cupboard, make sure to thoroughly clean them before placing the items back in. When putting items into the cabinets, be sure to think about which products you use the most as this will determine where in the cabinet it will be placed. Be sure to pop your most used items in your eye line, as it will make it easier to find the product you require without having to make a mess. After putting all your items away, clean the rest of your bathroom using Buzzfeed's top bathroom cleaning products.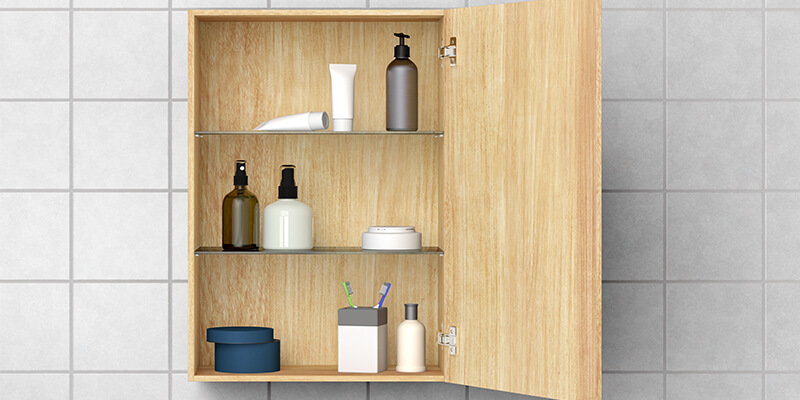 A sacred place of any household, the bedroom. A place that is often neglected as its highly unlikely that guests will be wandering around your private space. However, your room is a space where you can collect your thoughts and have some well deserved 'me time'. When the room is cluttered, it can make what was a stressful day even worse.
The first step is to make your bed, even if it is just pulling the sheets over to allow you to place objects ontop when tidying. You can perch yourself on the side on the bed while you potter around with the nightstand, cleaning the surface and the drawers of any clutter and putting it in the bin. After this, remove unused items from the tops of drawers and place others inside their dedicated storage space. If you have makeup brushes lying around or a desk in your room, then consider purchasing some organisers. You can find an array of quirky brush holders to add to the decor of your room, such as the stunning ones featured on Etsy. Drawer dividers are also a handy solution for keeping things organised, especially if you have a dressing room. Furniche specialises in dressing rooms in Milton Keynes and the surrounding areas, so can help you to design a bespoke dressing room specific to your needs.
Much like with your bathroom, once you have finished decluttering your room, it's time to bring out the cleaning products. We would suggest using either linen scented products for a refreshing and clean smell, or opt for lavender to create a truly relaxing aroma. It is more important than ever to ensure that you thoroughly disinfect your bedroom, as it can help reduce the risk of spreading the coronavirus. You can find top tips on how to disinfect your bedroom on Hunker!
While it may seem like a slightly less significant part of your home, the hallways can have a dramatic impact on whether your home feels cluttered. Having things lying around on the floors, or even too many cupboards or shelves down the hall, can make what is usually a small space feel even more cramped. As a general rule, you should aim to keep any cupboards or draws around the entrance to your home. The reason for this is because this tends to be the largest section of the hallway, and is also the place where you are likely to leave things lying around. For example, as you enter the home after walking in mud, you're likely to take your shoes off at the front door. Opting for suitable and clever storage solutions such as a shoe holder can seamlessly fit in with the design of your home while providing useful storage facilities.
It can feel like a challenge trying to keep your kitchen clutter-free, seeing as there are so many activities that take place in this room throughout the day. From homework to having fun baking, clutter can quickly accumulate over time. As a result of this, there are various items that require storage inside the kitchen; plates, mugs, cutlery, tinned goods and more need a designated storage area. Luckily, no matter the size of your kitchen, there are an abundance of ways you can store your utensils, such as those found on Kitchn.
For this declutter project, make sure you get the whole family involved, as it is the responsibility of every family member to keep the shared areas of the house tidy. Delegate tasks around the kitchen, such as placing someone on cupboard duty, checking the fridge and freezer and cleaning work surfaces. For the cupboards, make sure that any utensils that are no longer in use, or you have had for several years are thrown away, as they could be using up valuable space. All items in the fridge and freezer should be checked for dates, and if they are out of date, you should throw them away immediately. When placing food back into the fridge or freezer, be sure to organise them by placing meats on one shelf and vegetables on another. Take a look at Life Hacker's article for more information about how to store food properly and safely inside your fridge and freezer.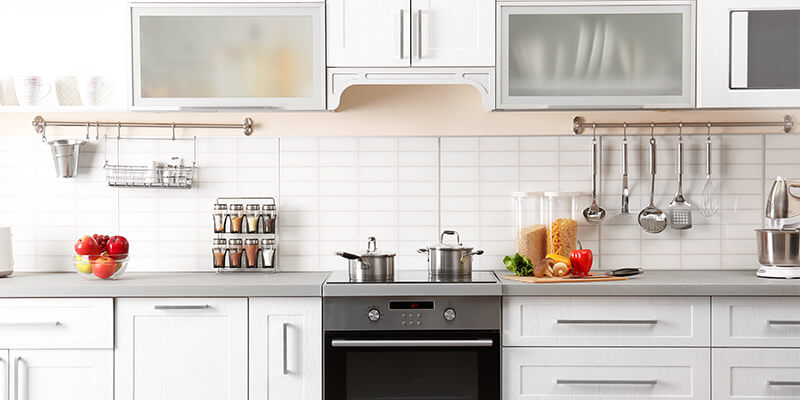 Creating A Stress-Free Home
While it may seem like a strenuous task at first, decluttering your home can make your life feel less stressed, as well as making future cleaning easier and quicker. After decluttering the whole house, regular cleaning will help you to stay on top of your organised storage, so be sure the schedule in a weekly family clean up. If you have found that even after decluttering your home that your storage facilities just don't work for you and the family, then speak to the team about how you can create bespoke storage units. From home cinemas to entertainment units in Bedford and the surrounding areas, you'll be sure to find the perfect style to suit your home!