Creating a personal space that you love can seem time-consuming and challenging. However, whether your style is contemporary or classic, minimalist or glamour, our comprehensive guide on how to create your dream bedroom is guaranteed to help to design the perfect haven for relaxation.
How To Create Your Dream Bedroom In 5 Easy Steps
When designing a bedroom, there are many vital aspects which are essential to consider before going ahead with any renovations. Taking into consideration key contributing factors will ensure that your final space not only meets your desired aesthetics but is also fully functional. Many assume that the size and shape of the room restrict the potential for a unique design; however, with years of experience specialising in fitted bedrooms in Bedford and surrounding areas, we can guarantee that with thorough planning and researching, creating a bedroom that brings your vision to life couldn't be any easier!
When faced with the exciting task of renovating a bedroom, it isn't uncommon to begin feeling a little overwhelmed with the vast number of possibilities and ideas. If this is the case, the best place to start your journey is to create a mood board – Pinterest is fantastic for inspiration during the first few steps! Not only will this give you the chance to visualise all your thoughts, but it will also indicate what you want the overall look to be. A mood board will provide your starting point and therefore be beneficial when you proceed to the five easy steps listed below.
1. COLOUR SCHEME
Deciding on the right colours will be the most crucial step in the process of creating your dream bedroom. At this stage, you can determine if you want to be bright and bold or clean and neutral. If you are stuck for colour scheme ideas, here are a few that you may find suit your preference:
A classic red, white and black combination
A nautical blue and white theme
A modern and sophisticated grey and yellow look
A pastel scheme with softened pink and vanilla tones
A warm Autumnal palette with terracotta touches
If you already have your heart set on a colour scheme, perfect! However, to ensure your bedroom looks as best as it possibly can, tonal, harmonious and complementary schemes work best. HomedIt has put together an excellent guide to bedroom colour schemes for 20 more ideas!
Once you have picked your dream colour scheme, a useful tip is to use the 60-30-10 colour formula, ensuring your bedroom will have the perfect balance of colour throughout. The 60-30-10 system is a fundamental rule in the interior design world and relates to how you will use colours in proportion to one another; it goes by the following:
60% of primary colour – The primary colour will cover aspects such as walls, fixtures such as the bed and accessories including rugs
30% of secondary colour – The secondary colour should be used half as much as the primary colour and can be used for decorative items such as bed linen, curtains and painted furniture.
10% of accent colour – The accent colour is the shade you aim to use the least; it can be featured in finishing touches. For instance, cushions, lamps and artwork.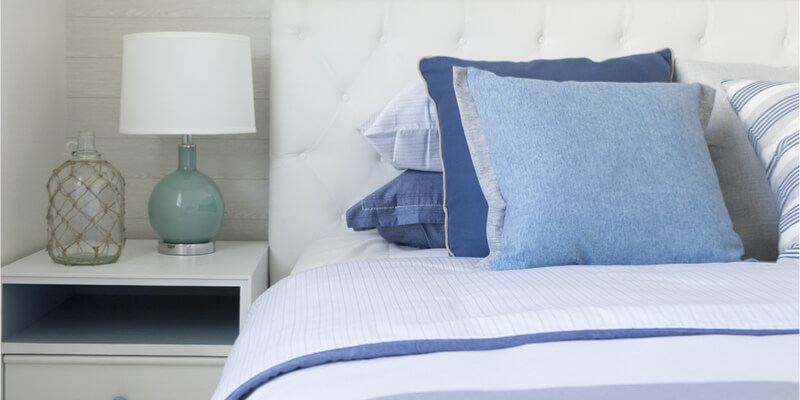 2. LIGHTING
No dream bedroom is complete without the right lighting to set the mood. A versatile, budget-friendly, solution which suits various bedroom styles are fairy lights. They can be used almost anywhere in the bedroom, for example, wrapped around your headboard or hung over a full-length mirror – we adore the 13 bedroom fairy light ideas featured in Cosmopolitan!
Fairy lights come alongside a plethora of fantastic benefits which make them a wonderful addition to any bedroom. Not only can they be purchased in a variety of colours to compliment your colour scheme but they are also battery-operated so can be used anywhere in the room. Lights4Fun stock a great selection of fairy lights including rose, star and even pineapple shaped options!
If fairy lights are not for you, not to worry, simple bedside lamps are perfect for adding warmth to your room. Bedside lamps are ideal for providing a space with not only practical lighting but also a personalised decorative touch. For those hoping to maintain a minimalist feel to their bedroom, a bold lamp is ideal for creating a focal point and can be used to add a splash of your accent colour. Iconic Lights offer a plethora of table and floor lamps suitable for any style or room size.
Of course, you won't want your bedroom to be full of light all day every day. An excellent investment to block out natural light at night, or even during the day if you are prone to an afternoon nap, is blackout blinds or curtains. Blackout blinds and curtains do not only prevent unwanted natural light but help keep your warm room cooler in the summer and warmer in the winter. There are a number of styles available from plain primary colours to decorate floral patterns.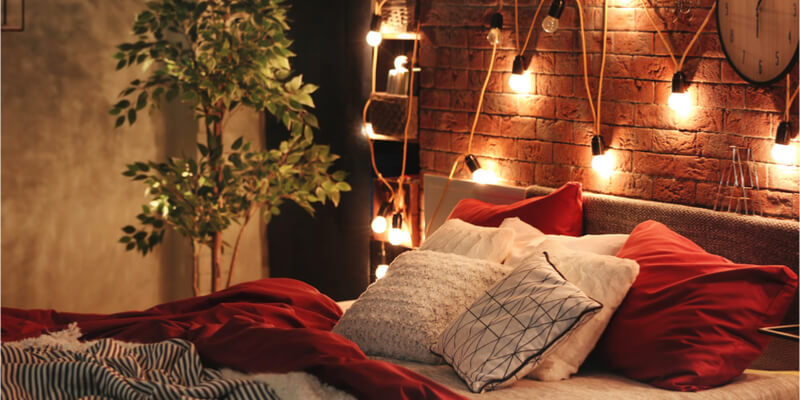 3. WALL ART
Equivalent to the centrepiece on a dining table, wall art in a bedroom can frame the entire room while also giving it your personal touch. Wall art is not restricted to paintings and photographs but in fact, covers a variety of products such as mirrors and wall tapestries. Dunelm has an excellent selection of wall art, which can be both affordable and stylish depending on how brave you feel when it comes to bedroom decor.
Wall art can benefit you if you have previously opted for a simple and neutral colour scheme. It is the perfect finishing touch to add to bring more life and colour into your room. On the other hand, if you have chosen a more bold and bright colour scheme with lavish lighting, wall art can be the perfect addition to give your room a customised final touch. Some of the most popular simple, contemporary wall art includes monochrome geometric designs and prints including your initials. We suggest taking a look at Etsy for a range of minimalist handmade wall art ideas.
For those who find that photographs are more suited to their style, an easy yet effective idea is to print some personal photos with family and friends in a polaroid style. Not only are these smaller than standard photographs, so you have more space, but the white border makes them stand out especially on a dark wall or background. Taking inspiration from the Cosmopolitan article on fairy light ideas we mentioned earlier, the wiring of the lights can be used to hang your favourite polaroid snaps. Merely pick up a set of mini wooden pegs from retailers such as Country Baskets and attach your printed photos to the wiring of the lights to create a feature wall.
4. BEDDING
When deciding on what bedding you would like, it is vital to match it with your colour scheme. Your bed is, of course, the focal point of the entire room, so you do not want it to look out of place.
If your colour scheme is bright and bold, you may want to opt for solid coloured bedding as opposed to patterned to avoid overpowering the entire room. Alternatively, if you have chosen a simpler colour scheme such as the nautical theme mentioned in step one, your room could benefit from a patterned blue and white bedding to give it more personality.
While aesthetic factors do play a large part in the bedding you opt for; it is also imperative to consider the thread count. Generally, bedding with a higher thread count will feel softer, however, is likely to be more expensive. If you see bedding as an investment, then it is most definitely recommended to choose a higher thread count as it will be more comfortable. Anthropologie has a great selection of bedding, with a variety of colours, patterns and styles on offer.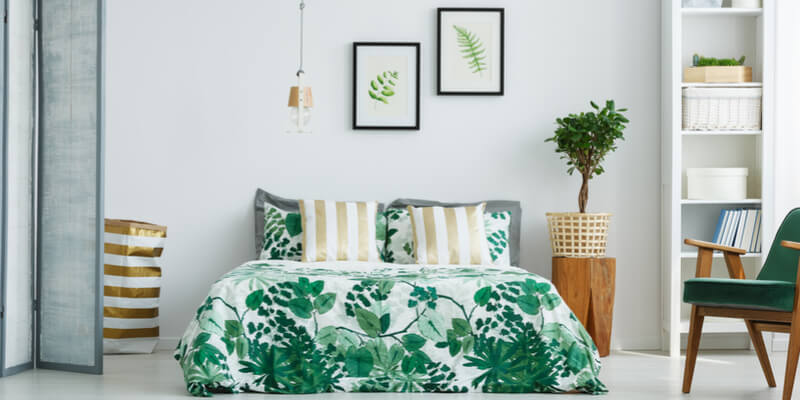 5. SOFT FURNISHINGS
The final step in creating your dream bedroom is the use of soft furnishings. Although they may seem unimportant and a minor aspect of a bedroom, they offer a very homely and sometimes modest effect.
Despite accent pieces such as pillows or rugs sometimes going unnoticed in a bedroom, they are essential to creating and solidifying a colour scheme. Similarly, soft furnishings such as blankets and throws have the same effect and can help make any room that little bit cosier. Faux fur throws, in particular, are ideal for snuggling up with popcorn and your favourite film at the end of a long, stressful day.
If you feel that your room is lacking a personal touch, here is where you can get creative and showcase your individuality. Soft furnishings do not necessarily need to be store bought; you can make them yourself, for example, crocheting a pillow or blanket. This way you can pick the colours and design to match your colour scheme and style perfectly. Bluprint has put together a super easy-to-follow guide on how to begin teaching yourself crochet.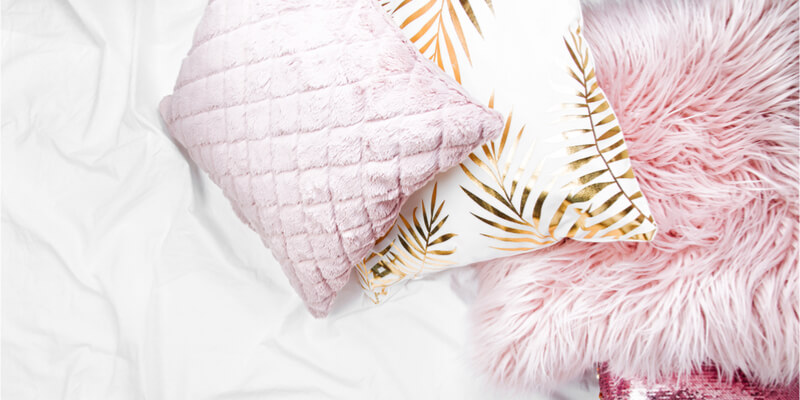 A DREAM COME TRUE
Whether you want a bold, classic look or a simple, modern one, there are options for everyone to create a space that is entirely and uniquely their own. From lighting to wall art, you can create the perfect personal space at a surprisingly low cost and be as customised as you like. To keep your room neat and tidy, why not also try sliding wardrobes in Buckingham?
Using these five simple steps, you can turn your dream bedroom into a reality. If you have felt inspired by our article, then why not share on social media?