Small bedrooms are often seen as a nuisance in most homes, and it's no surprise that even fitting simple things such as a bed to sleep in can seem like a difficult task. However, there are several ways in which you can make a small bedroom into the perfect clutter-free haven. Using simple techniques and investing a little more into the room, means that you can find the perfect solution that looks stunning and functions perfectly. To give you a helping hand, we have come up with some helpful tips and tricks on how to maximise storage in a small bedroom.
How To Maximise Storage In A Small Bedroom: A Furniche Guide
Storage is a simple way to enhance the design of your bedroom, giving you space to incorporate your style. When having furniture and other items customised to your room, you can integrate your favourite colour and design with perfectly fitted storage facilities. The key to storing items is to ensure that it remains out of sight, as this will help you to keep the room organised and tidy.
Before diving into designing your small bedroom, we would advise that you take a quick look at some other small bedroom designs, such as those on Elle Decor, to gather a better understanding of what you can incorporate and what style you are hoping to achieve. Consider these storage ideas to incorporate into your bedroom: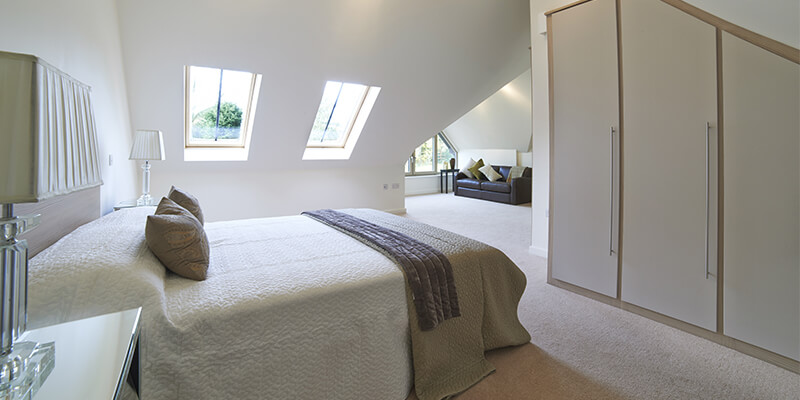 Wardrobes are supposed to help you stay on top of organising all of your clothes, shoes, accessories and anything else you don't particularly want on show around your bedroom. One of the best and easiest ways to ensure that you have a storage space that works well for you, is to make sure that you are using every inch of your wardrobe effectively. This means that you should try and include draws and hanging space that functions well for you. Some wardrobe organisation hacks include:
Having a shoe rail at the bottom of the wardrobe will allow you to neatly place all of your shoes in order.
High rails will allow you to hand long jackets and dresses so that they don't get creased after ironing.
Place hocks inside the wardrobe so that you can hang coats.
Ensure that you make a draw that has been sectioned off for accessories such as necklaces, bracelets, cufflinks or anything else.
By organising the inside of your wardrobe, you can make sure that you are utilising all of the space that you have to work with. If you would like to know more about how you can design a wardrobe best suited to your needs and requirements, while also maintaining your style, then why not speak with the Furniche team? Furniche can design a fitted wardrobe suited to any room, including customisable interior features.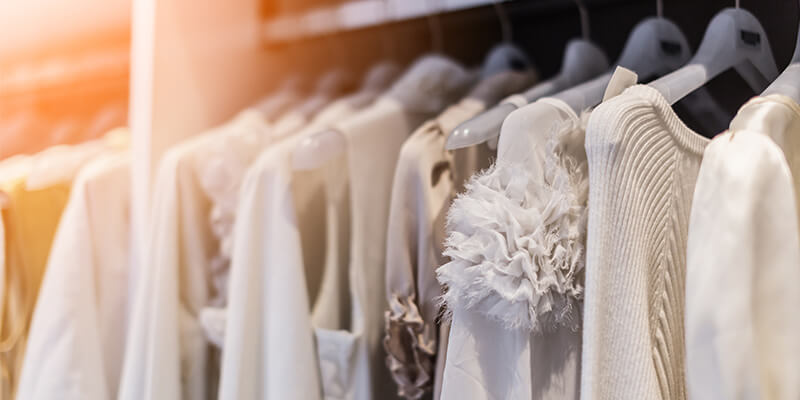 Although it may not be the first thing that you think about when planning the storage in your small bedroom, the door that you pick on your wardrobe can have a significant impact on how big or small the room feels. Most standard, pre-built wardrobes are fitted with swinging doors; this means that functionality becomes difficult, and wardrobe placement becomes restricted.
Sliding wardrobes are much more practical for those with small wardrobes, allowing you to place the wardrobe wherever suits you. If you really want to use your space wisely, then why not have mirrored sliding doors fitted? This means that you don't have to have a big bulky mirror taking up wall or even floor space in your bedroom. Other sliding wardrobe designs are also available to suit your required style. You can take a look at some examples of sliding wardrobes in Dunstable and the surrounding areas on our recent projects page.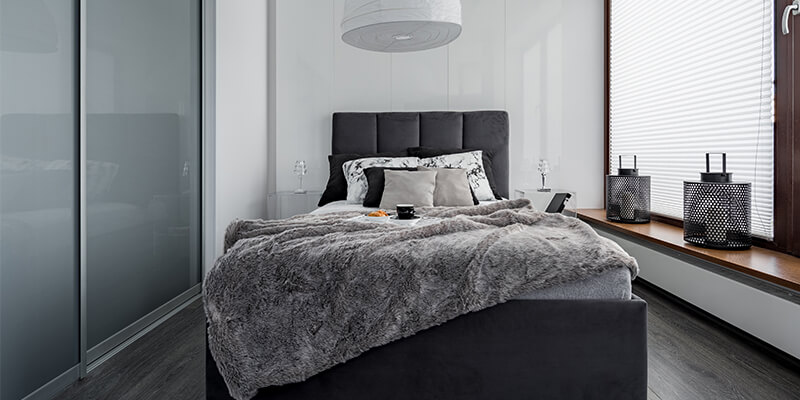 Choosing bespoke furniture to fit inside your small bedroom is most likely going to be one of the most effective and efficient uses of your space. Pre-built wardrobes are not designed for small spaces, awkward corners and low ceilings. With bespoke furniture, you can design a wardrobe that fits around every crevice of your bedroom without it taking up valuable space in the room.
When designing your bespoke wardrobe, you can choose everything from the materials and the size of the wardrobe, to all of the interior rails, draws and features. Instead of having a pre-built wardrobe pushed slightly away from the wall due to awkward skirting, for example, you can have your bespoke wardrobe fitted perfectly up against a wall of your choosing, making the room feel bigger and function towards your needs. Wardrobes can also be fitted around your bed, placing draws above the bedboard and wardrobes either side of the bed, such as our Locano Touch collection.
Furniche specialises in bespoke wardrobes, and are more than happy to discuss exterior and interior wardrobe designs suited to you and your style. From the Textura collection to the AVA design, you can find a wardrobe style in various colours that can help to maximise the little space that you have.
Although you may have a small bedroom, it doesn't mean that you have to compromise on style. Other furniture such as your side tables can still be incorporated into your bedroom design. However, finding side tables that work not only as a stunning feature to the room but also as draws, means that you can benefit from the extra storage space.
Other ways that you can integrate style with functionality is to place trendy suitcases designed for storage around the room. An interior design trend that seems to be extremely popular with both modern and retro styles is to place different sized and coloured suitcases on top of each other. By doing this, you can place memory boxes with pictures, items that you don't use regularly or even bed sheets.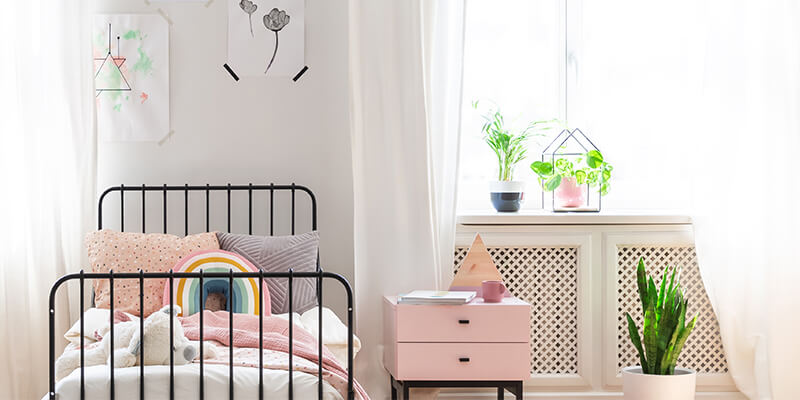 A modern way to decorate your bedroom is to have a whole wall dedicated to storage. By having a wall specifically for your storage, it means that you have the freedom to decorate the rest of your room without having to think about cupboards, draws or shelves. The wardrobe will be able to fit the majority of your items, allowing you to create sections for utilities, boxes and anything that you may have laying around your room. Houzz has a range of examples to give you some inspiration on how to incorporate wardrobes into your small bedroom.
Staying organised is vital when you have a small bedroom, as one item of clothing on the floor can leave the room looking cramped. Ensuring that you have storage that not only looks nice but also allows you to stay organised, is essential to maintaining a cleaning, tidy and spacious room. Organisers for your draws and wardrobes are a good way of separating smaller items of clothing such as your underwear. Having dedicated areas for your items will help you to maintain an organised room. House Beautiful has some handy tips on how to keep your wardrobe organised, which is ideal for those with small bedrooms.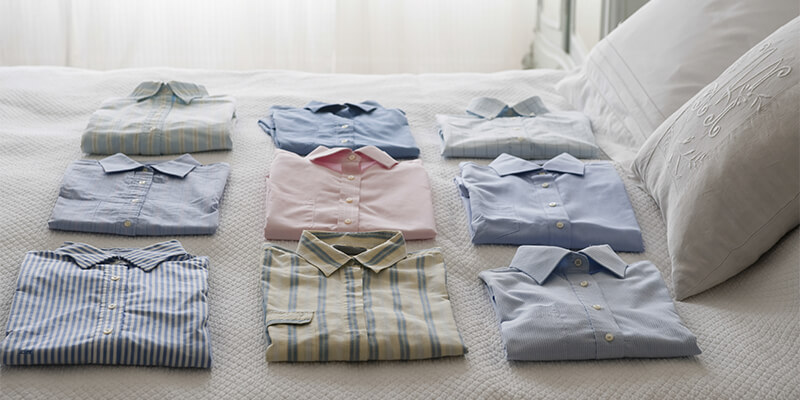 If you don't have any room left in terms of floor space in your bedroom, then you may want to purchase some door hangers to go onto the back of your door. Believe it or not, you can actually get some funky door hangers to add an element of style to your storage. Modern, retro and traditional door hangers can enhance your personal style while also providing you with the means for easy storage. One Good Thing has some helpful and smart ways that you can incorporate over the door hanging into your bedroom.
After having a fitted wardrobe installed into your bedroom, why not pair them with some floating shelves? Floating shelves are fairly self-explanatory, and come in various different colours, thickness, length and styles. You can pick shelves with the same colour and design as your wardrobe, or go completely different and design an eclectic bedroom. You can use floating shelves for various reasons, whether it be to hold your books, place picture frames or function as a statement piece.
Basic floating shelves are ideal for rooms that already have a lot going on, and can actually make the room feel bigger. For example, if you paint your walls white and incorporate white floating shelves, then you give the illusion of a bigger space. On the other hand, you can opt for some stunning and exceptionally designed shelves that add some character to the room. Box style shelves are particularly popular at the moment and are often paired with our Living Furore range due to its modern, chic and sophisticated appearance.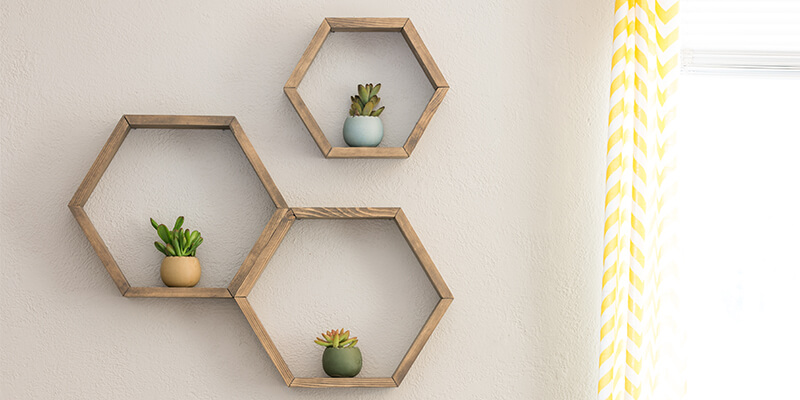 Under-bed storage is probably one of the most commonly used methods for storing shoes, bedding and items that are not regularly used. There are multiple different ways that you can store items under your bed, and some of them may be incorporated into your existing furniture, while others will require you to purchase something new.
Depending on the budget that you have to work with, you could purchase a bed with draws fitted to the base. This is a great way of incorporating storage into your room with style, as you are able to pick beds that match the rest of your room. Some beds can even fully lift up, allowing you to take full advantage of a large storage area under the bed. Real Homes has put together a guide on how to find the best bed with storage, including some examples of stunning beds that suit various budgets.
On the other hand, you could always purchase slide away baskets with wheels, giving you easy access to your items while storing them under your bed. You can either opt for some traditional baskets, or you can head over to IKEA for some stylish statement draws. If you want to hide your baskets, you could always use a hide away skirt placed under your mattress, making the room look organised and tidy.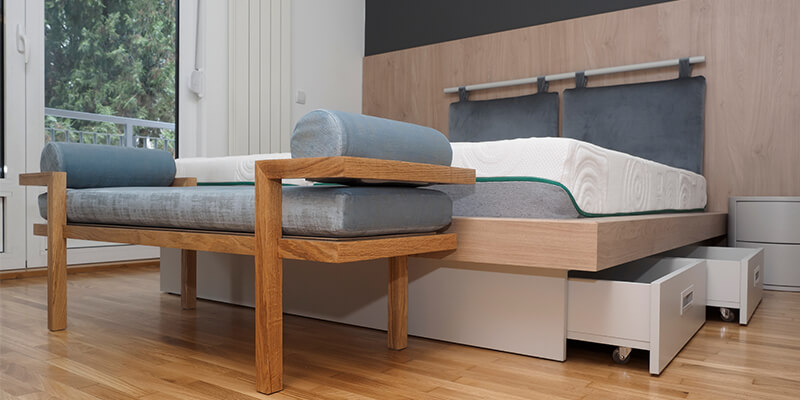 Functional Storage Space
It can be hard to decorate a room the way you want it when there is little space for you to work with. However, by using a selection of our handy tips to store your clothing and belongings, you can utilise the space you have by adding an element of style to the room. Before designing your room, we would advise that you think about the different types of storage facilities that you can incorporate, ensuring that you purchase items and have fitted wardrobes installed to suit your needs and requirements. Make Space has some more handy tips and tricks to store your bits!