It is said that a cluttered home can have a significant impact on your mental health and happiness as a whole; turning your small retreat away from the world into a place you simply can't relax in. As a place that you spend a considerable amount of time in while at home, your bedroom particularly should be as clutter-free as possible.
With the massive success that Marie Kondo has seen over the past year or so, through a book and TV series dedicated to her organisational methods, the idea of tidying up to improve our lives has boomed. When thinking about how to organise clothes in a wardrobe, it's worth looking at such methods to create a cohesive and stress-free place to store your clothes and belongings.
How To Organise Clothes In A Wardrobe: A Guide
There are numerous ways in which you can organise your wardrobe to make clothes easier to see and access, making getting ready in the morning – or at any time, for that matter, a completely stress-free experience. We've all been there – hardly any time to get ready, with no idea what to wear, emptying the entire contents of our wardrobe out onto our bedroom floor in a complete panic. The truth is, by simply getting a little more organised, this stressful experience could soon be a thing of the past. Take a look at our top tips on how to effectively organise your wardrobe, so choosing that perfect outfit becomes a total breeze.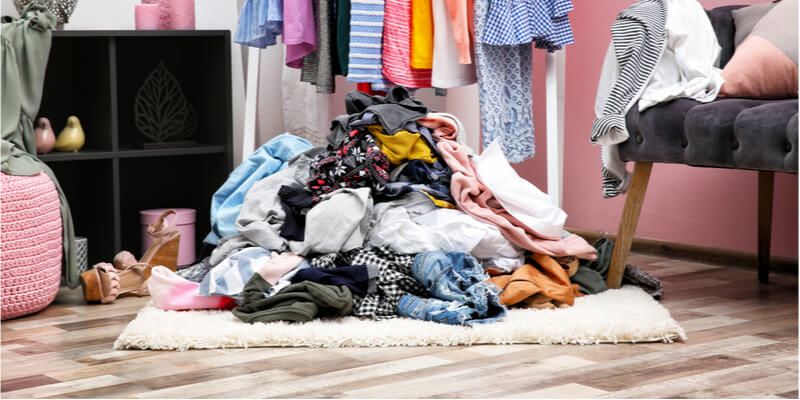 First Up : Get Rid!
This is something that Marie Kondo is famous for and will get you well on your way to creating a clutter-free, organised wardrobe. The Spark Joy test from Marie is well documented in this article from Bustle, and is a great place to start when being ruthless with your clothes.
Quite simply, if something doesn't spark joy within you and you're merely hanging onto it for sentimental or other impractical reasons, it needs to go! It may feel a little gut-wrenching at first, but believe us, you'll feel so much lighter and ready to get organised once you've whittled the contents of your wardrobe down to the must-keep items. If you're finding this first step harder than you thought, take a look at these great tips on how to declutter your wardrobe, and get as ruthless as possible!
Reassess Your Hanging Style
This may sound a little strange, as what exactly is there to consider other than shoving a piece of clothing onto a hanger and putting it on the rail? Well, a lot actually, if you are on a mission to create a more organised wardrobe. To refer back to one of Marie Kondo's hanging methods, as detailed in this article from Tidy By Habit, you should start by categorising your clothes by length and weight. She states that by hanging longer clothes to the far left of your wardrobe, followed by those made from a heavier material, you'll be left with a much more organised sequence. This will make items easier to find and access, which is particularly helpful when you're short on time.
If you're finding that space is lacking and items are still looking a little cluttered despite your clear out, why not look into multiple use hangers? Take a look at the huge range of ideas and products available from The Holding Company; allowing you to maximise available space by doubling up items on the same hanger.
While this isn't a must, coordinated hangers will definitely help to bring the whole space together and present a more cohesive aesthetic. Try to get the same hangers throughout, or match the material and colour. If you're sticking with regular hangers as opposed to the multi-use variety, why not go for a simple white wood, such a these from Dunelm.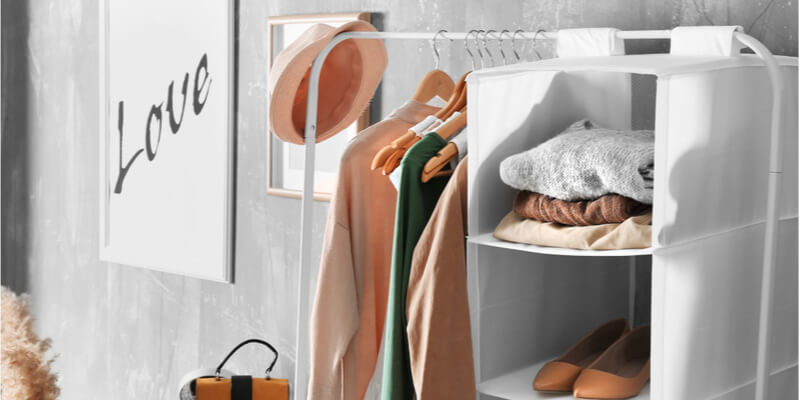 Hanging Storage Solutions
Like the majority of us, your wardrobe is likely to contain many things other than clothes – such as bags, accessories, shoes, scarves; we could go on. Because of this, clothes hangers won't be able to hold everything, which is where alternative storage solutions really come into their own. This may involve getting a little creative and using storage in a way that it wasn't necessarily designed to be used in!
For example; this shoe organiser from A Place For Everything would be perfect for rolled up jumpers that may be very chunky and take up too much room when hung. Used for alternative items or shoes, this form of hanging storage is a great use of dead space that would otherwise be left free. Ikea have an amazing range of hanging storage solutions of many shapes and sizes, which could be used for a whole host of belongings.
Use Dead Space
There's a surprising amount of dead space within the interior of a wardrobe, which can be put to good use in order to maximise space. As well as using the inside of doors for things like shoes, there are so many door mounted storage solutions that can be hooked to the inside of wardrobe doors, in order to create more space for further items.
As well as doors, use the base of your wardrobe, or floor if it is fitted – this is the perfect area to keep shoes and use space that would otherwise be redundant. In order to keep shoes tidy and organised, why not buy some racks to keep them all in their place and easily accessible.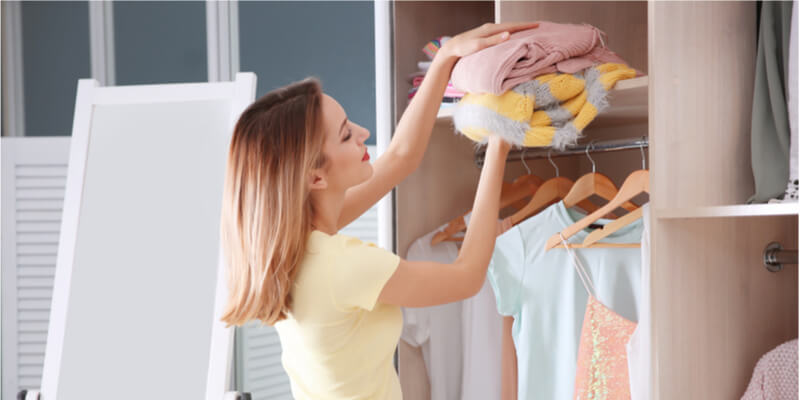 Incorporate Shelf Storage
If you don't have any shelves within your wardrobes already, now would be an excellent time to install some. Separate sections are key to an organised wardrobe, so having shelves available to store perhaps bigger items, such as larger bags or excess shoes, is key. We recently fitted a sliding wardrobe in Milton Keynes, with the main aim to improve organisation for the owners. They requested more shelving during the design process, which ultimately looked great and provided them with so much more space to organise their belongings. By using things like wicker baskets and other boxed storage, shelves will look incredibly tidy while belongings are kept completely accessible and organised.
Install A Fitted Wardrobe
This requires a little bit more a budget but is probably the most worthwhile option to consider on our list should you be looking for an organised wardrobe like no other. In order to create a storage solution completely bespoke to you and your belongings, you could design your very own fitted wardrobe specifically made for your belongings. Our team recently designed a fitted bedroom in Bedford from scratch, which included a totally unique fitted wardrobe, complete with all of the organisational and storage solutions they needed. In doing this, they saved a lot of time, money and effort on additional storage options, and were left with a clutter-free wardrobe, organised to perfection.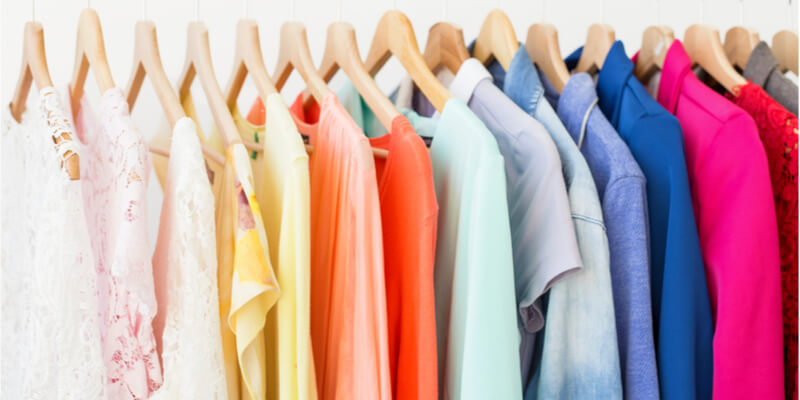 Style Your Space
Once you have de-cluttered and organised, style the space in a way that will definitely 'spark joy' every time you open your wardrobe doors. One way to do this is to colour code your hanging items to create a pretty aesthetic and according to Feng Shui principles, bring blessing into your home through a rainbow of colour. This could interfere slightly with the length and weight hanging technique we previously mentioned, so don't do this at the cost of your perfected organisation.
If you have more of a walk in wardrobe or dressing room, why not hang pieces of artwork that inspire relaxation to help during those quick changes when time is of the essence! Take a look at this guide from Jean Gordon on ways to style your closet and for loads more tips on getting super organised.
Enjoy A Clutter-Free Wardobe
If the state of your wardrobe is driving you to distraction, you are not alone. A cluttered space breeds a cluttered mind, so it makes perfect sense to have a good clear out and get organised. We hope that by using all of our helpful tips, by the time you're done, you'll be left with the wardrobe of your dreams and a space that even Marie Kondo would be proud of. If you are in need of professional help, the team here at Furniche are experts in wardrobes of every kind and can design them with organisational needs in mind if this is something you are seeking. For a piece of furniture completely bespoke to you and one that will wipe the slate clean, come and visit our showroom to see exactly what we can offer. In the meantime – happy organising!