Your bedroom is the one place that you can truly relax and unwind in, so what is it that makes it your safe haven and draws you away from the hustle and bustle from every day life? We've taken the time to look into a handful of our favourite contemporary and rustic bedroom furniture ideas to see how major designers and homeowners grab the contemporary and rustic feel by bring it indoors.
Firstly, what classed as a rustic bedroom? We had a little think and came up with a couple of point that we feel fits the label for a rustic bedroom design.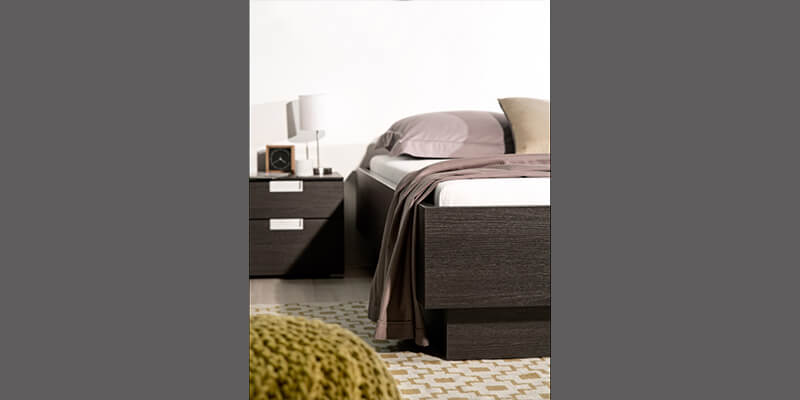 What makes rustic bedroom furniture rustic?
From what we can see, those that label their bedrooms as "rustic" tend to include a limited colour scheme. Most of the colours you see tend to include:
Browns
Beige
Dark blues and greens
Cream
Bright colours in limited areas
At first it may seem a bit strange, but funnily enough, once it all comes together, it actually looks pretty good. Add a couple minor accessories and other items of bespoke bedroom furniture and you're laughing!
So what else makes a rustic bedroom?
Well, after the colours we started to look into any themes that cropped up frequently. Most of the bedroom designs that we found included wooden effect wallpaper or furniture.
Some designs even incorporated the use of trees and shrubs indoors to really grab hold of and cement the rustic feel of the room.
All in all, it seems that the simpler, the better if you want to create a truly rustic bedroom
5 favourite rustic bedroom designs
We've created a small list of rustic bedroom designs and ideas that we really enjoy. We'll go through what makes them stand out and why they are so appealing to homeowners and rustic designers.
1. Wooden Interior Wardrobe:
We really like everything about this wardrobe design. What makes it incredibly appealing is the large, skylight window inside the walk-in wardrobe. The addition of the subtle use of dark browns and pink really highlights this design as a favourite.
The room is elegant and holds a large amount of storage. Creating good storage solutions is both aesthetically pleasing and helpful in the home.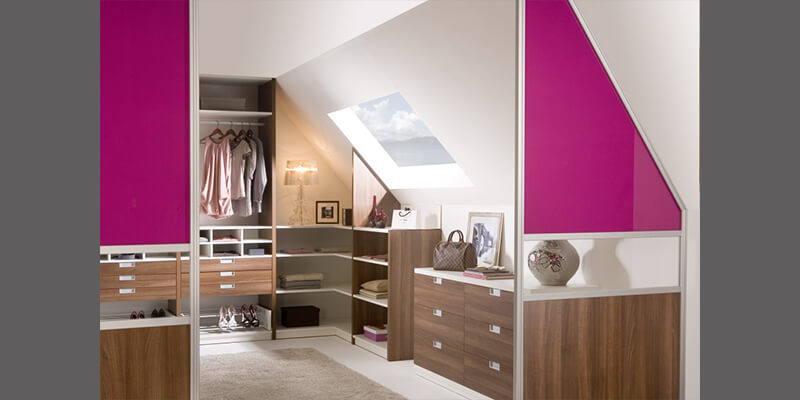 2. Brickwork Feature:
The brickwork feature in this interior design is what really makes it stand out. Although there are a host of other things going on, the brick wall behind the TV is what brings life to the party. The tan brick really adds to the rustic feel of the room and combined with a number of accessories and items of furniture, it really cements this design firmly in our top five designs.
The room makes good use of lighter colours to make it feel larger with the yellow armchair and light grey sofa adding an element of practicality.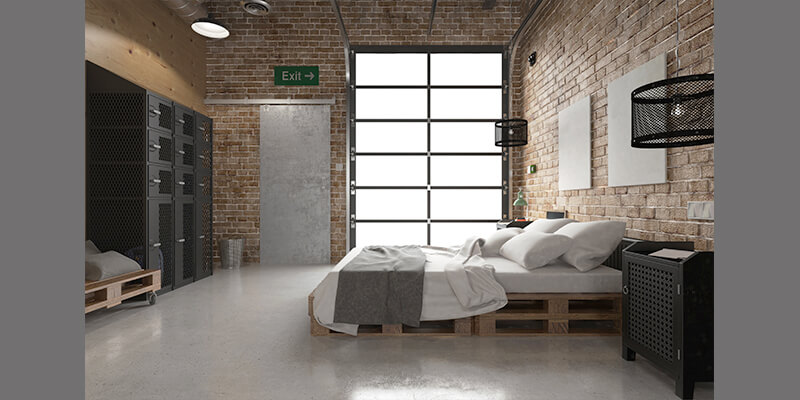 3. Contemporary cupboards:
Having contemporary furniture in a room can bring a potentially bland room to life. Bringing style and sophistication to your room by choosing the right tones and colours. Here the chest of draws is a dark brown, this can easily be lightened with a pop of colour.
Chrome and Rose gold detail are also great colours to add brightening a dark wood. As you can see the interior designer has also injected a small amount of colour through the rug.
This room still has a rustic feel with its exposed cement walls. Floor to ceiling windows also adds an element of the outdoors being inside.
Here at Furniche, we love the rustic and contemporary features together, making the room look homely but stylish.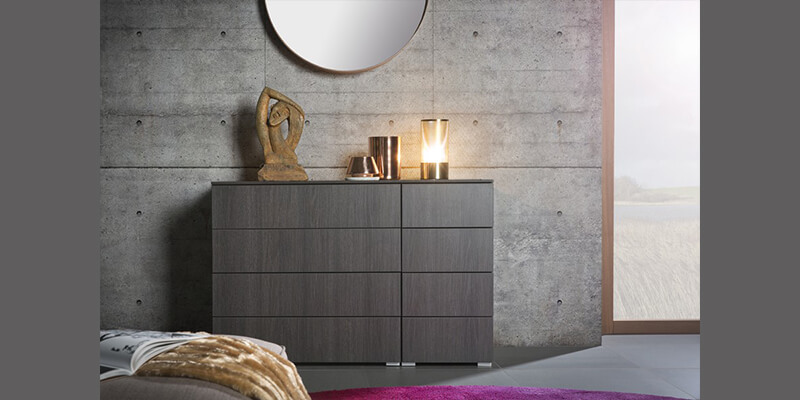 4. Modern Bedroom:
This popular design has everything that you could possibly want in a bedroom. A modern design with a number of different fixtures and bedroom furniture ideas. The large, wide window frame allows plenty of natural sunlight into the room which has proven to help people relax more and feel better about themselves – so whats not to love?
The large wooden bed-frame and cabinets really help convey the modern and contemporary themes, keeping the furniture simplistic. A variety of colours are also a nice touch to the room, bringing light and dark together.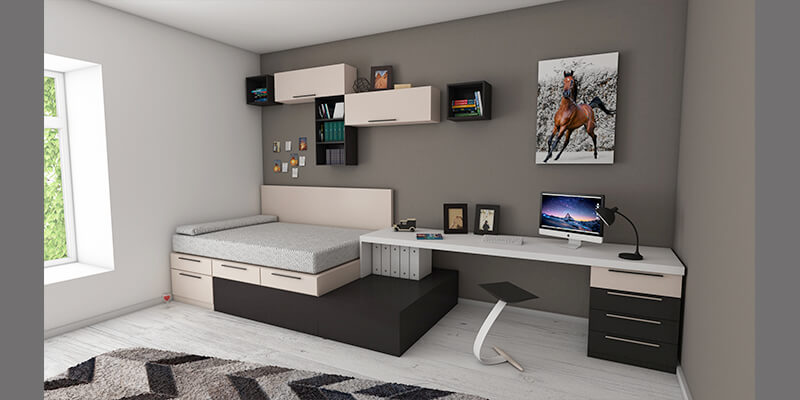 5. Bright Rustic Bedroom:
Our final pick is one of our favourites, it's as simple as that. We absolutely love how the designer has incorporated a combination of light and darker shades whilst maintaining a cosy feel to the remainder of the living area.
Along with most of the rustic and contemporary designs we have seen in this weeks posts, it utilises a strong statement with exposed rustic brick walls and contemporary wooden shelving. It uses a mixture of subtle accessories and homeade furniture to add a personal touch. Additionally you could add more made to measure storage system to this living area to improve the over all look and adding additonal value to the room with extra storage space.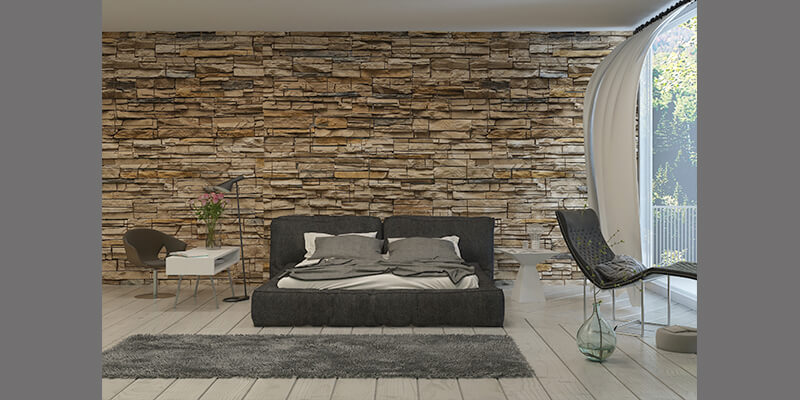 Amara Living