Now if your home was anything like mine, the void under the stairs was used for one thing and one thing only – storing old items that are never used. But just hold on a second; just think what fantastic space you could create by transforming that area into something worthwhile and useful.
This week, we've decided to come up with a few useful ideas that you can take away to transform the space under the stairs in your home.
Most of the ideas that we're going to suggest can be implemented rather easily, however, there may be a couple that require a little more time and investment (but it will be totally worth it).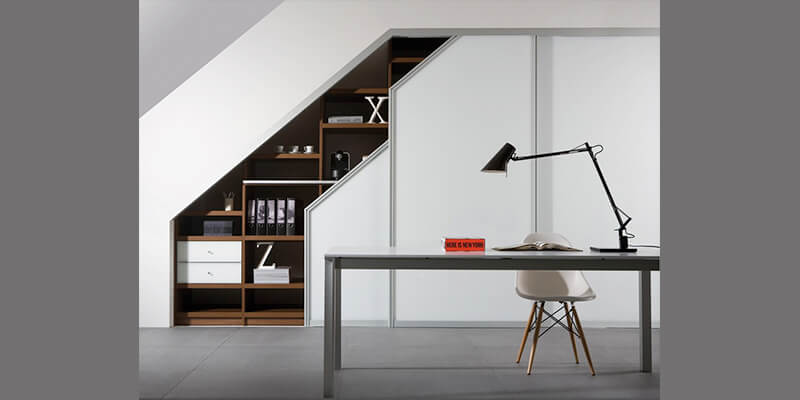 5 ideas for the space under the stairs are:
Creating a unique bookshelf
Converting the redundant space into a closet or hanging area
Always fancied a utility room? Make one!
Install a fitted storage solution such as bespoke cupboards or drawers
Create a reading nook or snug space
Make use of the space under the stairs with a basic bookshelf:
After hours of researching we found that one of the most popular forms of space transformation involved a bookshelf. If you love reading and find yourself as a rather literal person, then you're going to love this.
All you need to get things started is a tape measure, shelving units or even just some old wooden panels that have no further use.
You'll want to start by sanding down any wooden panels or shelves that you've managed to acquire. Once the wood is smooth you have look to apply a gentle primer before adding your first layer of paint.
Now there isn't a right or wrong way to do this, however, a lot of "DIY experts" enjoy spray painting the wooden shelves and in reflection it's probably going to be a lot quicker than a traditional paint and bucket.
Convert the space into a closet or new hanging area for clothes:
Now then . . . what modern home has too much storage? None! So if the opportunity to add even more arises, why not take it with open arms. An extra storage space will not only help you in the short term with additional items, but it could also add a little extra value to your property when you come to selling.
Most homes have an area to hang jackets and coats when they welcome their guests and as most staircases are located by the front door, this is the perfect location to create your very own cloakroom.
All you need to make this a reality are a few reliable adhesive hooks from a local DIY store such as Homebase or B&Q.
Grab the opportunity to build a utility room:
If every homeowner is being honest then they would love the opportunity to have a dedicated area in the house simply for washing and drying clothes instead of having them sprawled out on airers and washing lines.
Well, an underused storage space under the stairs can certainly be transformed into the space that you've been craving for with a few minor tweaks.
Depending on the size and weight of your washing machines, you'll need to prepare any plinths correctly so that it distributes the weight evenly. Failing to get the basics right at the start could lead to a load of issues further down the line.
Use a strong wood to provide the base for the machines to rest on and make sure that there is enough room for any associated parts or wiring to run freely.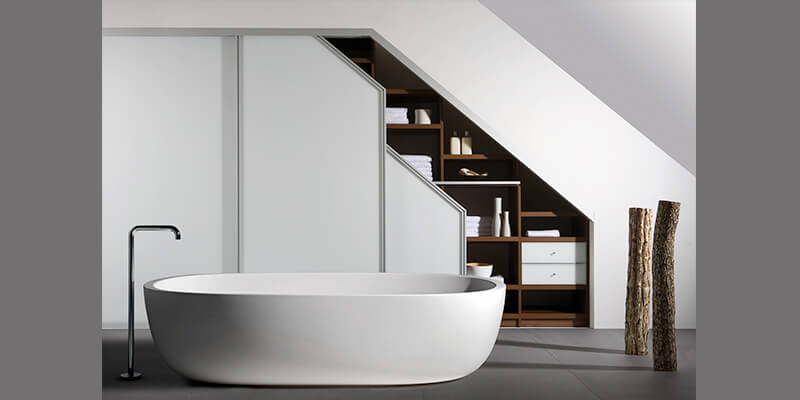 Install some fitted storage and drawers:
The space under staircases is a perfect location for additional storage and drawers. However, making it look good is the tricky part. Fortunately, we provide a number of fitted wardrobes in Milton Keynes but the design principles for something like this are very similar.
First, you'll need to make sure that you have every measurement that you need and that it is 100% accurate. It might even be worth measuring again to be on the safe side.
Of course, one of the most obvious "stumbling blocks" will be the initial shape of the staircase; not to worry. Local organisations such as ourselves that specialise in bespoke fitted furniture can use the latest laser guided technology to make sure that the direction and length of each axis is taken correctly.
Using the latest CAD software, you can then have your design superimposed onto a screen so that you can see what your final ideas will look like. You'll need to contact a local construction expert if this is something that you would like to progress with (unless you have access to the equipment and skillset required yourself).
Create a reading nook or snug space for the kids:
Kids absolutely love to read and be creative.
Most households are covered from top to bottom in children's books and toys, so get your tools out and design a rough idea, and convert that redundant space into a place for your children to relax and unwind in.
Hey! You could even try to incorporate a small desk in there too so that they have a space to complete homework assignments.