Whether you have always dreamt of more storage, recently had a loft conversion or have moved into your new home, there are tons of walk-in wardrobe solutions that can cater to every requirement. From colour combinations to a host of styles and finishing features, there are multiple ways in which you can fully customise your bespoke and made-to-measure wardrobes. As specialist wardrobe designers with years of experience, we have pieced together our favourite ideas for walk-in wardrobes, all of which can be achieved using our wide range of products.
Our Favourite Ideas For Walk In Wardrobes
When designing your walk in wardrobe or dressing room, you can customise the exterior and interior of the wardrobe to ensure that the style and functional features cater to your needs. The Furniche team are always more than happy to lend a helping hand to help you elevate your space and maximise every inch of the room. No matter how awkward the ceiling slope or small the space you have to work with, you can guarantee that you can design and install a walk in wardrobe of your dreams.
To give you some ideas and inspiration, below you can find a guide on the following: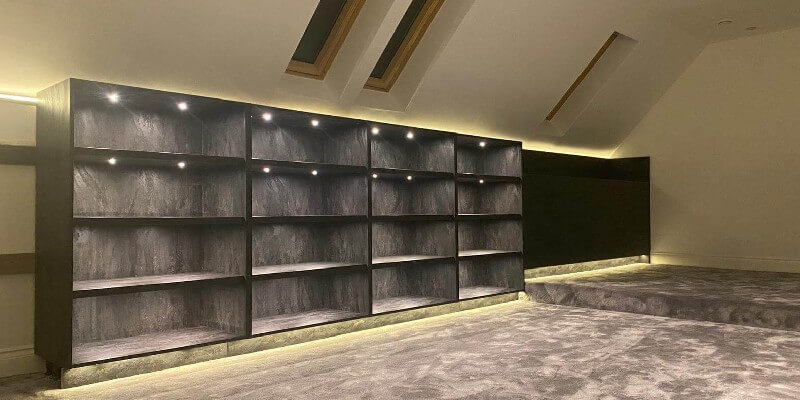 Having a whole room to decorate with a host of storage solutions is perfect for providing you with a functional space while maintaining a stylish room. You can choose from a wide collection of colours and interior features to help elevate your space, including interior lighting, soft-close drawers, trouser rails and even pull out rails. With the vast sum of customisable features available, you can completely renovate your space to improve organisation while maintaining a stylish and aesthetically pleasing design.
Here at Furniche, we have a superior selection of colours and finishes available, whether you love bright and vibrant colours such as red or more classic and sophisticated finishes such as oak effects. This allows you to choose interiors and features that beautifully complement the room. For example, drawers in a soft, light oak finish can offer elegance and class, especially when paired with chrome accessories. You can find our wide range of colours by downloading our brochure, or visit our showroom to be introduced to a world full of possibilities.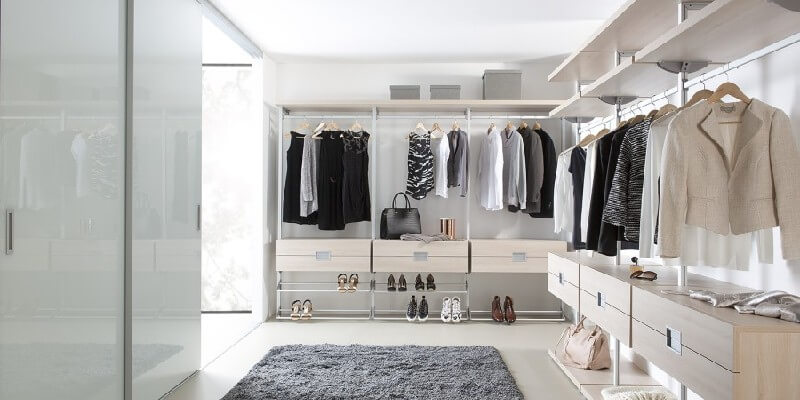 Door Selection
Some of our clients prefer dressing rooms to create a clutter-free environment, while others enjoy using our sliding wardrobe door range to separate their walk-in wardrobe from another room, such as the bedroom; this is commonly used in loft conversions. If you wish to incorporate fitted wardrobes into your dressing room or a sliding wardrobe door, there are multiple design choices for you to choose from, such as:
Split Panel – A popular choice for our clients is the split panel sliding door, giving you depth and character through an elegant design. This door style is available in wood and glass finishes, allowing you to create doors that match your style.
Wide Panel – If you wish to incorporate mirrors into your design, then we highly recommend the wide panel sliding doors, as you can introduce mirror features that are placed in the centre of the design.
Stripe Panel – A stripe panel design is perfect for small walk-in wardrobes and dressing rooms, as you can add an abundance of style and colour through the use of a simple yet striking design.
Textura – Adding a contemporary touch to your home, the Textura range gives a sophisticated and soft finish to your design. This style looks stunning in light and dark oak finishes paired with chrome handles.
Classic – For a more traditional look to your design, the classic collection introduces detail through intricate designs that can instantly elevate your space. Incorporate glass features as well as cream colour palettes for an elegant design.
Ava Plus – We love modern designs, and the Ava Plus range provides just that. Available in a gloss finish, this collection can make the space feel bigger and brighter and is available in a multitude of colours to match your aesthetic.
To view our full range of amazing fitted wardrobes in Northampton, please follow this link, and for our sliding wardrobes in Bedford, please click here. Below are examples of doors that our clients have designed and installed. Please bear in mind that all of the products shown below can be fully customised in terms of colour, accessories (such as handles) and size.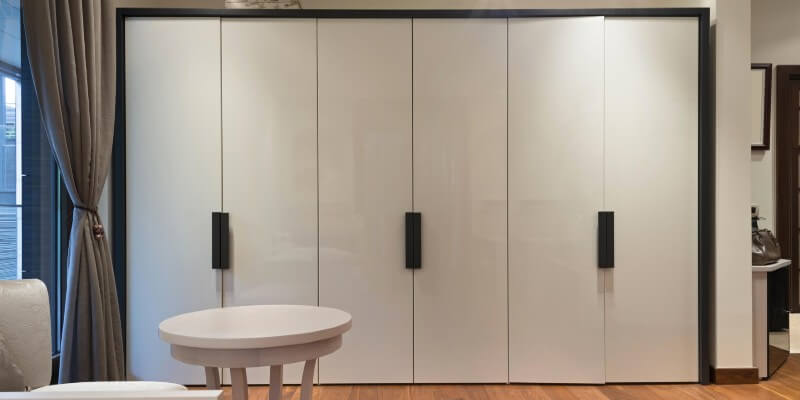 While you may not have as much space as other homes, there are tons of small walk in wardrobe ideas that ensure you have everything you need while maintaining a stylish room. Luckily, your entire walk-in wardrobe will be designed bespoke to you and your space, meaning that every aspect is made to measure. This allows you to utilise all of the space in your room, from tight corners to floor to ceiling storage. While you will need to keep style in mind when designing your walk in wardrobe, you will also need to ensure that storage is at the forefront of your decision making. You want to ensure that you can make the most out of every inch, which means incorporating solutions such as shelving in small crevices and rails right at the top of your wardrobes for additional storage at the bottom.
For more ideas on designing a small walk-in wardrobe, we highly recommend taking a look at The Spruce, who have collated 21 ideas for inspiration.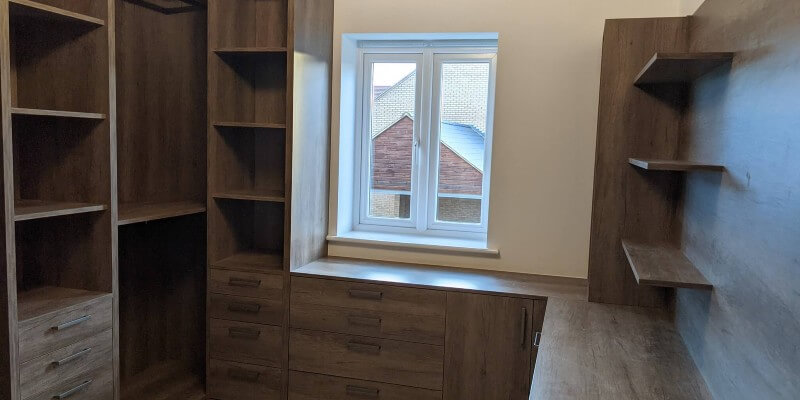 A key feature that many clients love adding to their walk in wardrobe is a dressing table or even a dressing island. This is perfect for providing you with additional stylish storage and can be beautifully matched with the design of your wardrobes. A dressing table can also be integrated into the wardrobes, making it ideal for smaller dressing rooms with limited space. You can choose to also introduce a mirror with your dressing table as well as drawers and jewellery organisers to help you stay clutter-free and stylish.
For your dressing island, you can choose to incorporate shoe racks/drawers, shelving, soft close drawers and much more. A dressing island doesn't only provide you with functionality, but it can also be designed to add an abundance of style to your space. You can choose matching designs with your wardrobes or opt for a contrasting design that creates a statement piece. Take a look at our recent project for a client looking to design a fitted bedroom in Milton Keynes to see how you can integrate a vanity table into your wardrobe design. Our team also completed a stunning bespoke dressing island for a new build that beautifully matched their wardrobe design while also incorporating drawer organisers and much more.
For further walk in wardrobe ideas with a dressing table, we recommend taking a look at Decor Pad.
When it comes to designing storage for your loft conversion, it can be hard to know where to start. The awkward ceiling slopes and tight spaces can make it difficult for you to find solutions that allow you to maximise space without having to compromise on quality or style. With Furniche, you can design bespoke dressing room furniture in Bedford that is completely made to measure, making it perfect for awkward spaces, varying heights, and even reaching right into the corners of your room. As the furniture will be made to measure, it ensures that you can design interiors and doors that fit seamlessly into your space. The team can provide you with a host of loft conversion walk-in wardrobe ideas, including advice and guidance on how to bring your vision to life while utilising some of the most durable, reliable and long-lasting products available.
A great example of how you can incorporate stunning fitted wardrobes into your loft conversion can be seen in our recent project completed in an angled loft conversion. The team designed fitted wardrobes that would allow the client to maximise their storage solution with ample hanging space and then shelving in all of the areas too small for rails. This allows the client to use every inch of their wardrobe for storage, minimising wasted space. The client then chose to design their doors in a soft blue with rose gold handles for a stylish and modern touch. For more ideas for the best wardrobes for sloped, awkward ceilings, take a look at our previous article.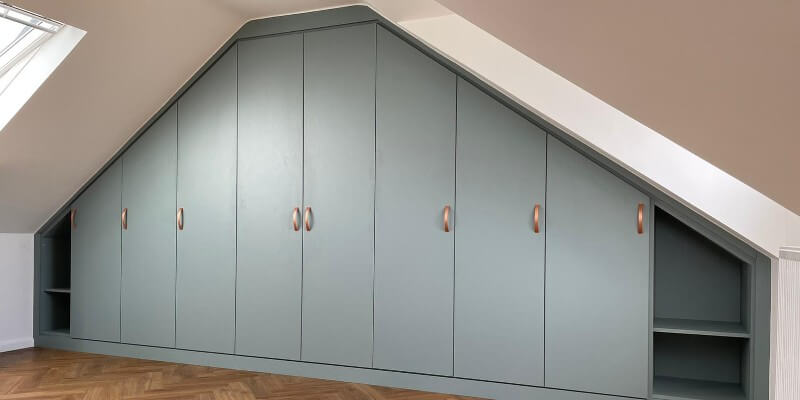 With a wide selection of aesthetic options available, it couldn't be easier to design a wardrobe that looks stylish, sophisticated and elegant. However, while style will be at the forefront of your decision making, it is important to consider walk in wardrobe space saving ideas, as this will help you to make the most out of your wardrobe space. You can fully customise the interior of your wardrobe when working with Furniche, whether you need hanging space for your clothing or drawer organisers for your jewellery. Just some of the interior features that you can include are as follows:
Soft close drawers
Drawer organisers
Shoe drawers
Interior lighting
Pull down rails
For further interior solutions, take a look at Homify's handy article.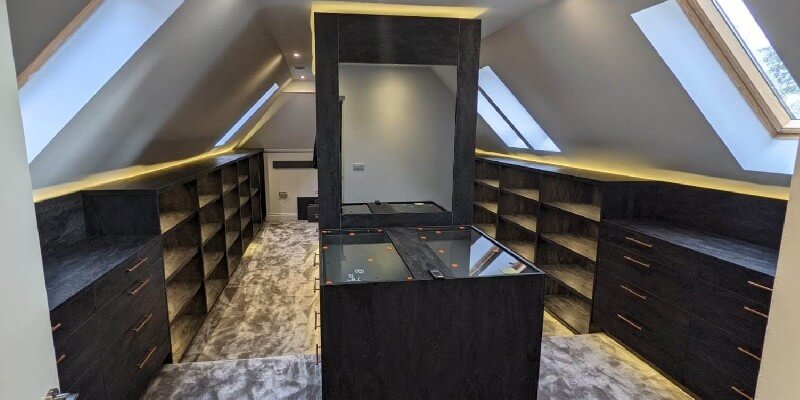 For a walk-in wardrobe, you have to ensure that you keep it organised and tidy; otherwise, you won't be able to find what you're looking for. With our expert's top storage ideas for a walk-in wardrobe, we will guarantee an organised and neat closet to help you find everything you need as quickly as possible when it's a busy morning.
Our team of experts in fitted wardrobes in Northampton specialise in designing and building many different storage options which could be perfect for you; choose from a selection of materials, colours and styles to fit exactly what you need for your walk-in wardrobe! There are a wide array of choices available and things you can buy to assist you in storage for your wardrobe; we recommend:
Open shelving: This type of shelving allows you to keep all of your belongings tidy yet easy to reach with less hassle! Take a look at our available colour and style options for your wardrobe to help you decide the aesthetics you wish to complete your room.
Baskets: These baskets from IKEA are a great way of storing and organising your belongings in your walk-in wardrobe; they allow you to neatly sort your things into specific areas of the room, ensuring nothing gets mixed up.
Hooks: If there's a slither of wall space that you're longing to fill, why not try out hanging up some hooks? This will allow you to store anything that you want to keep as easy as possible to reach and clothes that can't exactly go into a drawer.
Slide out racks: This type of storage option completes the functionality and aesthetics of your wardrobe, allowing you to access all of your belongings with little hassle.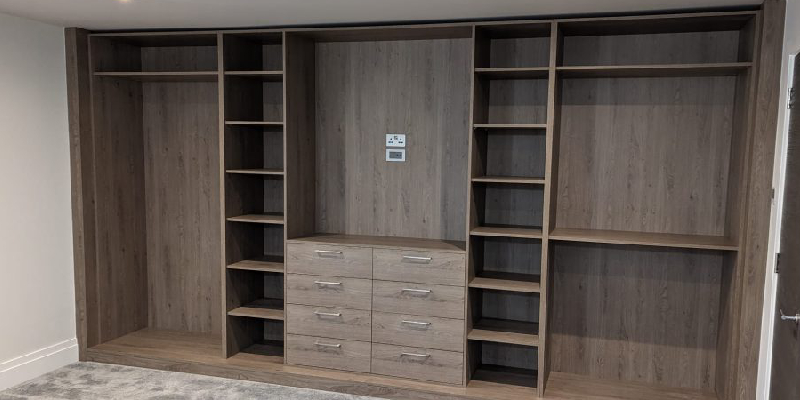 A box room is a perfect choice to transform into a walk-in wardrobe; there is enough room to fit your belongings inside, and it does not require massive maintenance or funds to complete the renovation. Our experts understand, however, that ensuring you can function in the room properly can be challenging because of its size; for this problem, you can choose many options to ensure that you design the best walk-in wardrobe for you! We recommend going for:
Dual level hanging areas: This option will allow you to maintain optimum space and functionality; you can access all of your belongings smoothly and easily with these as they're packed tightly yet not unreachable. Arrange your shirts and top layers at the top and your trousers on the bottom to grab what you need in no time at all.
Racks for shoes: Shoes are items that have the possibility of disorganising your room and making it seem messy, so it is a great idea to keep your shoes safely and tidily packed to the side on racks, making them easy to get to and visible!
Maximise light: Maximising the amount of light in your box room will allow for the illusion of a larger and airier room, despite the real amount of space. Natural and artificial light will allow for this, so if you don't have the ability to install a window that will let in heaps of natural light, plain LED and bright lights will result in the same outcomes.
Neutral walls: A common option for creating the illusion of a spacious room is opting for neutral-coloured walls; this will allow for the light entering the room to bounce off the walls and create the atmosphere of a larger room, ensuring your box room walk-in wardrobe does not feel confined.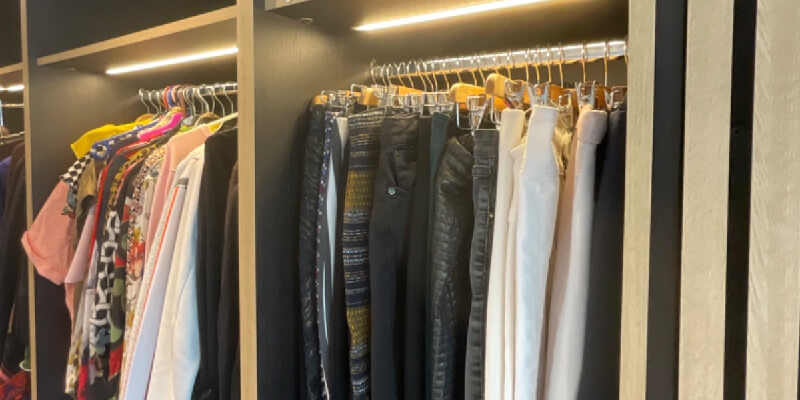 Design Your Walk In Wardrobe Today!
There is a lot that goes into designing a bespoke walk in wardrobe, but with the help of our professional and experienced team, you can piece together a design that epitomises your style and brings your vision to life. Every aspect of the design can be completely tailored to you and your requirements; this includes interiors that match your functional need to help you stay organised, as well as aesthetic changes to personalise your final design.
If you have wasted space that you would like to transform into a stunning bespoke walk-in wardrobe and would like to discuss ideas on how you can elevate your home with stunning designs, then please feel free to contact our team or visit our showroom to view our fitted and sliding wardrobes in Bedford.