Fitted wardrobes are a fantastic addition to every home; all bedrooms and dressing rooms can most definitely benefit from the complete versatility of opting to install the sought-after bespoke storage solution. Unlike traditional, freestanding wardrobes, built-in alternatives enable complete customisation during both the design and installation process. While the exterior of the wardrobe is likely to have a modern, sleek appearance, the interior can be filled with as many storage solutions as you feel necessary. To give some inspiration into the plethora of possibilities of your new installation, we have put together ten built in wardrobe internal designs to achieve organisation clever enough to rival Marie Kondo!
10 Handy Built In Wardrobe Internal Designs
Transforming your current bedroom or dressing room to incorporate fitted wardrobes comes alongside an array of fantastic benefits. Not only is it an exceptionally efficient use of space, but each component is made to size in a variety of materials and colours. With years of experience providing clients with fitted bedrooms in Luton and surrounding areas, we have seen the complete evolution of convenient wardrobe storage solutions. There are now more ways than ever to inject personality to your wardrobe and customise each component to meet all requirements.
1. Hidden Dressing Table
Particularly when tackling a smaller floorplan, multi-functional furniture becomes your best friend. Aside from the bed frame, the wardrobe and dressing table tend to be the largest pieces of essential furniture in a bedroom. With this in mind, it is imperative to find a solution that is not only functional but also space-saving.
While in the past, a wardrobe with an exposed dressing table was a popular solution, it does create the appearance of a cluttered room – a huge no-no when you are already somewhat limited in terms of space. A hidden dressing table, on the other hand, allows you to maintain the minimalist aesthetics without sacrificing any key pieces of furniture you require to make the most out of your bedroom.
Creating a hidden dressing table is incredibly easy and can be installed to existing wardrobes. Always ensure that, when fitting the desk feature of the vanity, you leave plenty of space underneath for a stool. Essentially, you want to be able to sit comfortably in your dressing table with adequate legroom. We suggest installing a mirror equipped with lighting as due to the nature of the hidden dressing table, it may be a little darker than you had anticipated.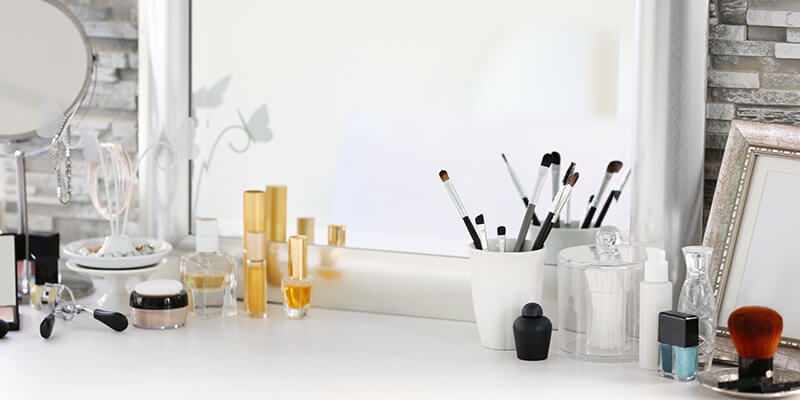 2. Jewellery Drawer
Due to the unlimited possibilities when considering wardrobe storage, every inch of the interior can be successfully used to your advantage – even those that are as little as a few inches high!
Any areas that have a small, unused space are ideal for installing jewellery drawers. Using a simple pull-out tray concept, all pieces of jewellery can be stored in their own compartment. In doing this, there will no longer be the frustration of tangled necklaces, mismatched earrings and broken rings. A number of variations of soft felt compartments can be fitted to drawers not only to stop items moving but also to protect valuable belongings.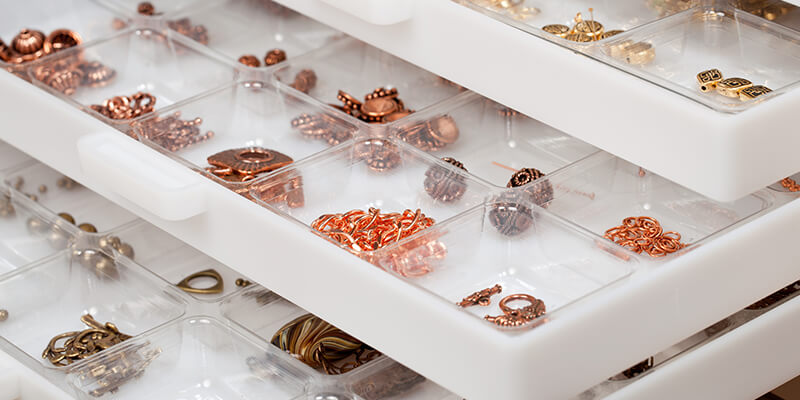 3. Pull-Out Trouser Hanger
Using a mounted pull-out fitting, all trousers can be perfectly hung in their own spot without having to use up rail space that is better suited to coats, jackets and tops. Pull-out trouser hangers can be placed on wardrobe doors, under shelves or horizontal dividers depending on where is most convenient for you. On average, hangers can hold approximately ten pairs of trousers with the option for additional rails if you have space; all of which can be equipped with an anti-slip coating to keep all items in place. To maximise practicality, there is even the option for a rotating trouser hanger that can be mounted on the inner frame. All of our fitting wardrobes, including the Ava and Georgia range, can be installed with pull-out trouser hangers!
4. Shoe Rack
Shoes are one of the biggest culprits for taking up space in a wardrobe. Due to the awkward shape and inability to fold away small, they required their own allocated space to ensure that they stay in pristine condition. Shoe racks are ideal for keeping all pairs of shoes in one place. Both pull-out and fixed solutions are available in a range of different materials. Metal remains the most popular material for shoe racks as they are durable and easy to wash if dirt from shoes spread to your wardrobe.
Racks designed with alternating levels are the most useful as they allow more space at the front level for higher shoes such as boots, along with space for lower shoes nearer to the back.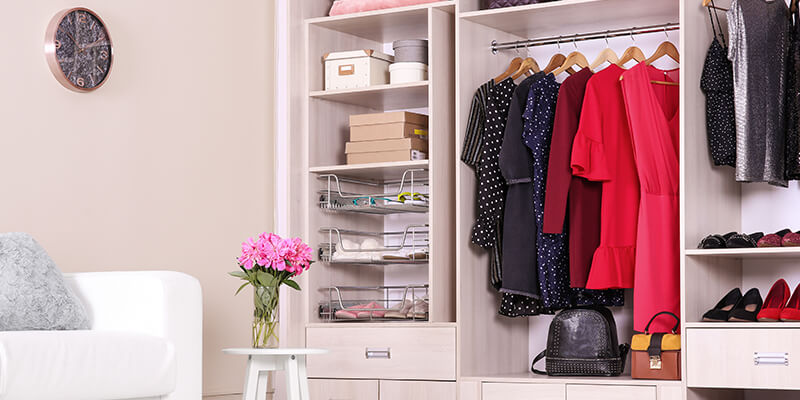 5. Hanging Organisers
Keeping your wardrobe free from clutter can often prove somewhat tricky when you have several smaller items such as socks, belts and accessories that you want to store away. Hanging organisers are a simple, yet highly effective solution to keep all smaller belongings together in one place.
A number of different hanging organisers are available including ranges with pockets for handbags, along with mesh alternatives for scarves, belts and ties. When opting for hanging storage, you will eliminate the need for installing brackets or shelves as instead; the storage will be equipped with a hook that allows you to hang straight from the rail. A Place For Everything has a fantastic variety of hanging storage solutions!
6. LED Lighting
Lighting is a super handy addition to any fitted wardrobe. Although the array of different compartments do prove incredibly helpful when organising, it can make it a little tricky to clearly see into each section. Often, particularly when dressing early in the morning or when tidying clothing in the evening, your main bedroom or dressing room light simply will not be enough – LED lighting is the perfect solution!
The most significant benefit of LED lighting is that strips, spotlight and mini lamps can all be integrated into the design of your fitted wardrobe. They can be above rails, inside drawers and even along racks meaning that you will always have a clear view of your interior, regardless of the time of day. Almost all wardrobe lighting solutions are manufactured with smart sensors meaning they will automatically be switched on when you open doors or pull out drawers.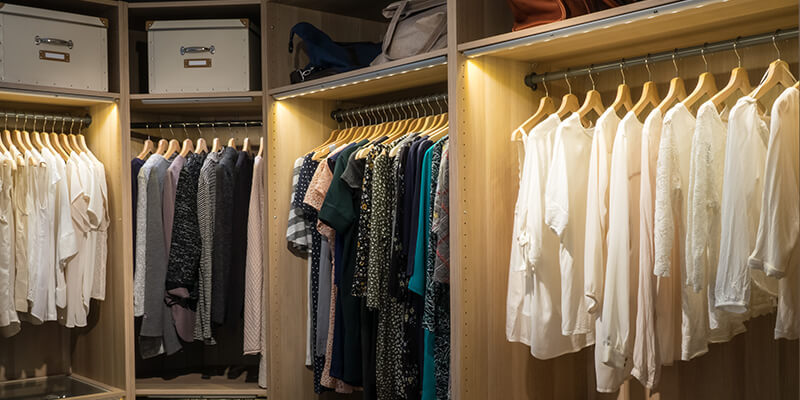 7. Pigeon Holes
If you're hoping to maintain a simple layout of your fitted wardrobe and want to avoid complex mechanisms and contemporary lighting, you would most definitely benefit from going down the route of pigeon holes.
When fitting our Florence range, due to the traditional design, we often install a set of pigeon holes for organising clothing as opposed to drawers. In doing this, clients can enjoy the perfect balance between tall hanging space for jackets, dresses and shirts along with pigeon holes for folded trousers and t-shirts. They are ideal for separating clothing into categories, for instance, based on the season. You could even use pigeon holes for shoes and handbags – the possibilities are endless!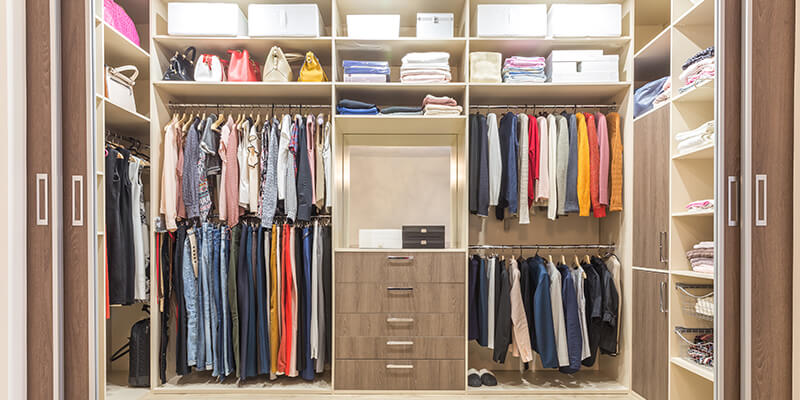 8. Bag Storage Hangers
If you are a self-confessed handbag lover, then it is likely that you have a vast collection that you hope to keep in pristine condition. While handbags are somewhat bulky and take up a considerable amount of room, multiple storage solutions will help towards minimising your space usage, as well as keeping your prized possessions intact.
The Container Store stock a fantastic pocket purse file that is capable of holding up to eight large handbags. Pockets are made with a transparent material which allows you to locate the bag you're looking for super quickly. The file can then be placed at the end of your wardrobe rail, keeping the space organised.
9. Door Hooks
Equipping your fitted wardrobe with useful door hooks is one of the most traditional forms of storage and remains popular due to its complete convenience. There are no limitations when applying hooks onto the inner door, whether you opt for one large hook for your robe or multiple smaller alternatives for a set of ties.
Hooks can either be fitted during the initial installation process or further on down the line through DIY methods. If you opt for going down the DIY route, you can either screw hooks into the door or use adhesive strips. For those who are a novice in carrying out 'do it yourself' tasks, it is recommended to stick to adhesive strips as they are incredibly easy to use. Screwing hooks, on the other hand, risk splitting the wood of the door panels.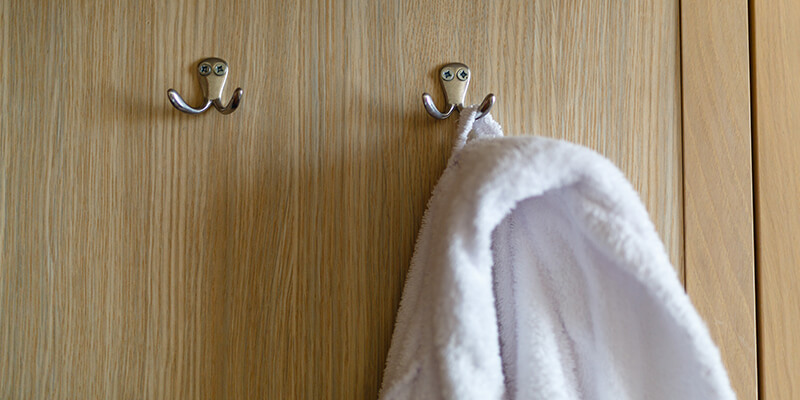 10. Drawer Dividers
While the primary purpose of drawers is for maintaining organisation, the drawers themselves can often become rather messy. We are all guilty of trying to speed up the process of putting clothes away as much as possible so may not always take time to fold – this problem can easily be resolved through the addition of dividers!
Drawer dividers allow you to allocate space to specific items, whether this may be socks, t-shirts or undergarments. To maximise space, we suggest adopting the rolling method of folding as this also helps you to see all items at once. Good Housekeeping has put together a useful guide on different ways to fold clothes to save space!
Customise Your Wardrobe & Maximise Space!
The possibilities when customising your fitted wardrobe are endless. Each component can be tailored to fulfil your requirements and ensure that you make the most out of your investment. The ten excellent internal designs mentioned are just some of the many ways in which you can keep your wardrobe perfectly organised with all of your favourite items easily accessible.
If you're in the process of transforming your dressing room with the addition of fitted wardrobes, then why not also take a look at our extensive range of bespoke dressing room furniture in Aylesbury?