Whether you adore modern styles or more traditional design concepts, there are a host of wonderful ways you can elevate your interior decor. At FURNICHE®, we have been collaborating with our clients for more than ten years to transform their homes through bespoke furniture, helping tie together their chosen design style.
By far, one of the most popular ways that our clients incorporate a modern, contemporary or classic aesthetic is through their fitted wardrobe. As all of our wardrobes are designed exclusively for our clients, it couldn't be easier to add a touch of personality.
With this in mind, if you are planning your project and need inspiration, we have put together a guide to our favourite built-in wardrobe door ideas, helping you to begin shortlisting your top choices!
Built In Wardrobe Door Ideas: The Design Options Available At Furniche
Built-in wardrobes are the perfect long-term investment for any homeowner. Not only do they add ample storage, but due to the endless customisation options, you can ensure that your installation fits your vision both appearance and functionality wise.
To ensure that your end product is exactly as you envisioned, our team will always take the time to understand your requirements before piecing together a bespoke 3D design. The doors, in particular, are the component that our clients spend the most time considering as there are a whole host of fabulous style options to choose from.
To get started, we have put together a guide to the different door and frame types available when designing your sliding wardrobe in Milton Keynes.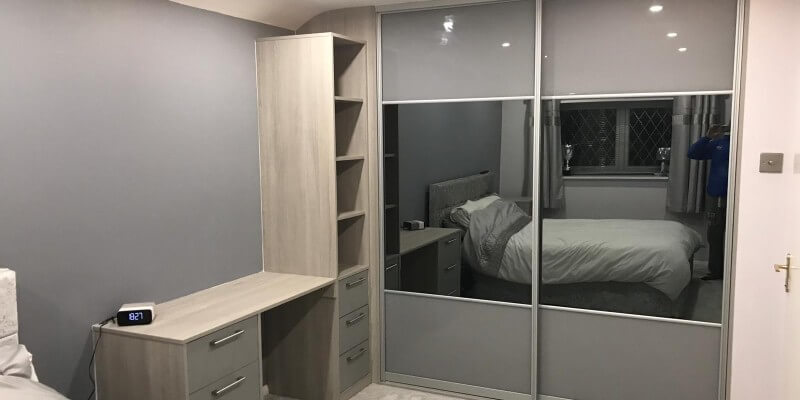 The style of the door itself is fundamental as this is the main component that will be on show in the room, helping to elevate your interior design and set the mood. We offer an excellent range of modern and traditional wardrobe door designs, whether you want a simple yet striking design or something more eclectic. Find out more about our door options below:
1. Single Panel
If you are looking for a simplistic look, the single panel design is the perfect solution. It offers you the functionality of the sliding door without making it look too complicated or overpowering. This can be ideal in small rooms where too much detail can cause it to look messy and cramped or for those that prefer a contemporary style.
You can select from both wood and glass panels to create a contrasting look with each sliding door or create a block colour. Many of our clients choosing this style tend to go for subtle colours such as greys or creams or opt for an oak appearance. Additionally, for those with a smaller space to work with, having a mirrored sliding door on your single panel wardrobe is ideal. This option gives you more freedom to integrate other features while taking advantage of floor to ceiling mirrors that create the illusion of a larger room. For more handy tips on how to maximise the potential of a smaller space, take a look at MyMove.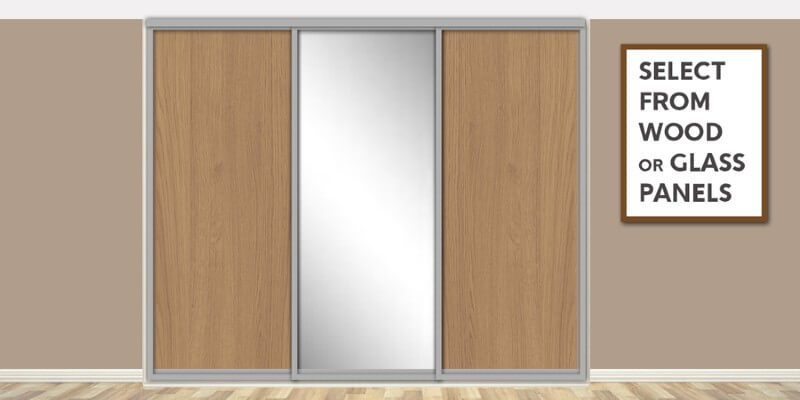 2. Split Panel
The split panel adds a little more detail to the door design, incorporating a line through the middle of the door to create a geometric look. This is a great way to add some definition without too much colour. For example, instead of going for a bright red to make the wardrobe stand out, you can choose a subtle colour and finish it off with an elegant split. This works really well when you use contrasting colours, such as a white wardrobe with black frames or a black wardrobe with chrome frames.
If you're interested in playing around with contrasting colours but not too sure where to begin, Love to Know has put together a great guide to colour matching.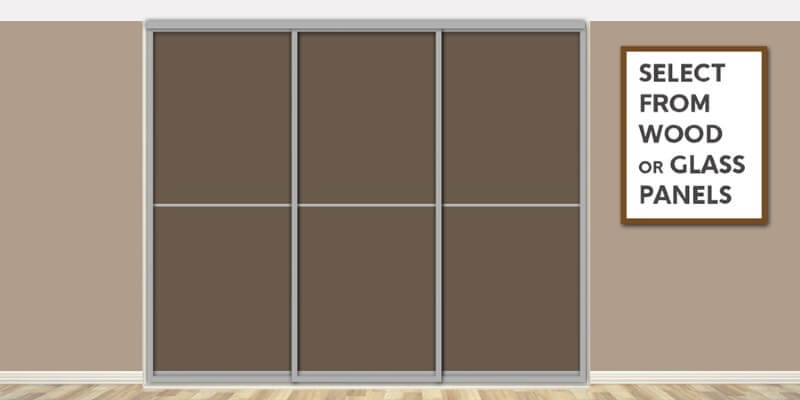 3. Three & Four Stripe Panel
The three or four stripe panel doors are perfect for those looking for more depth in their wardrobe design. These are particularly beneficial in a smaller room with little space for wall art as they add a stand-out feature. For example, a dark red and black blend on these panels creates an eye-catching yet elegant appearance, while a pastel blue and dark grey combination offers a more striking design.
As professionals in bespoke fitted bedrooms in Towcester and the surrounding areas, our team have expert knowledge on how to design colour contrasts with this style without making it look garish or over the top. One of our top tips is incorporating a block colour or mirrored door on the middle panel to break up the wardrobe design!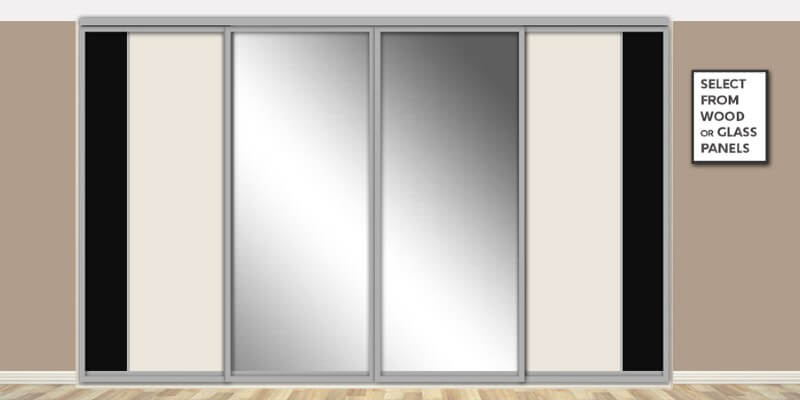 4. Wide Panel
Another design that is ideal for creating a statement without going wild on colour is the wide panel design. This design has a large panel across the centre of the door and looks stunning when the door is wood and the panel is glass. As the wood will give a subtle tone, you can choose a light pink, cream or cashmere finish and accompany this with a tinted mirror.
For the perfect example of this design style, take a look at the project we completed for a client in Bletchley, who opted for a Boston Concrete wardrobe with a grey tinted glass mirror for a sophisticated finish.
5. Four Panel
The four-panel design incorporates a few styles into one; it features split panels to create four sections on each door and a mirrored panel to ensure that the wardrobe does not look over the top. At FURNICHE®, we love the idea of a wood panel using the white textured or sand beige and incorporating chrome as well as a tinted mirror to add a subtle touch of elegance. This door design is most popular with homeowners looking to style a larger room.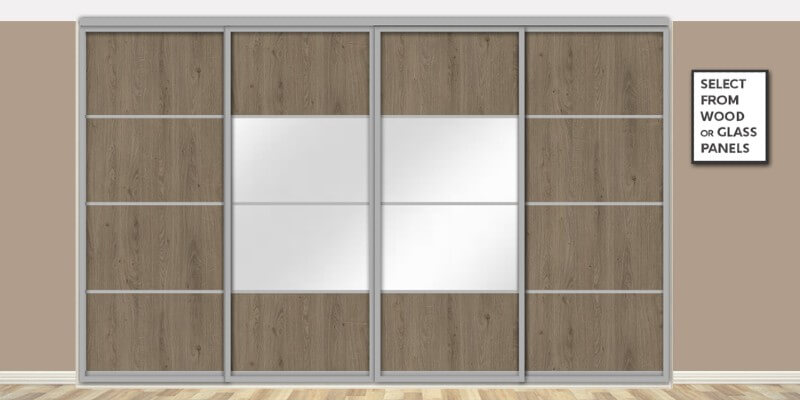 As mentioned above, customising the colour combination used on your wardrobe doors is an excellent way of adding a touch of personality. This also creates the perfect foundation for your interior design, allowing you to work the remainder of your furniture around these staple colours. The following colour options are available at FURNICHE®:
6. Glass Colour Options: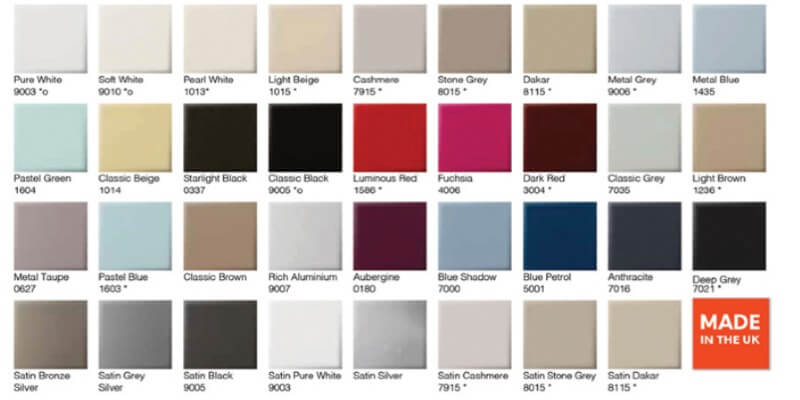 7. Wood Colour Options: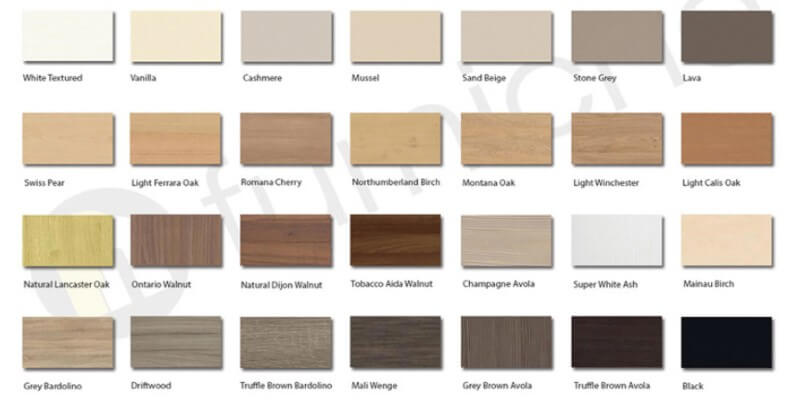 Once you have chosen your colour scheme and door design, it will be time to determine your ideal frame style. While often unconsidered, the frame of your wardrobe makes just as much of a difference to its overall appearance as the doors. For this reason, we offer our clients a range of different variations, including the following:
8. Orion
Offering a modern aesthetic, the Orion sliding door frame is perfect for creating a sleek look. The design of this frame makes it almost impossible to see whether wardrobes are shut, effortlessly slotting into the design for a subtle look. This frame is ideal for those who wish to create a contemporary look by ensuring that the frames do not take away from the stunning design of the doors. This frame comes in many colours, from black, white and grey to wood shades.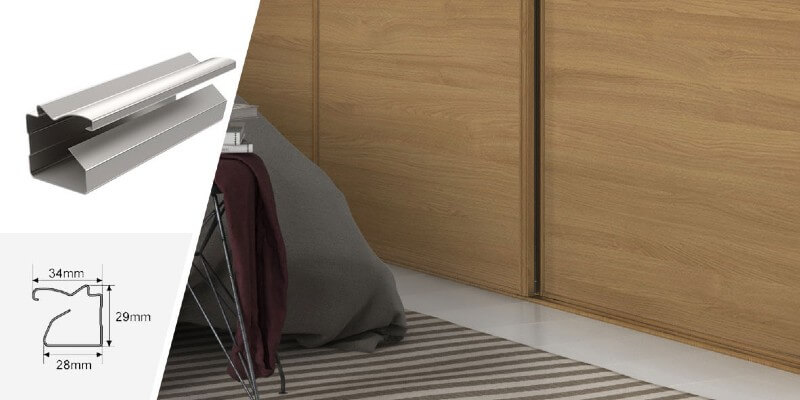 9. Contour
If you are looking for high quality and durability, the Contour frame is the perfect solution. The frame comes in stunning silver, champagne, black and nickel, making it super versatile for all wardrobe colours and designs. The finish is modest yet looks striking up against a light coloured palette and can add a sense of sophistication to all wardrobes. When using a dark Contour frame against a light wardrobe or vice versa, the frame becomes a statement piece.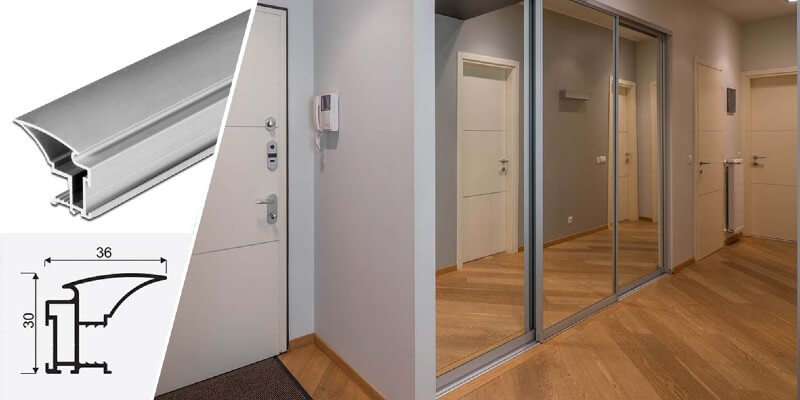 10. Shaker
The Shaker frame range is ideal for those who want to create a seamless appearance for their wooden panel doors. The frame comes in various wooden finishes to help match your wardrobes and looks stunning when incorporated with the split or four-panel wardrobe door styles. Through this frame, you can create an almost French window style wardrobe. The wooden frames are also great for those who like to change their room's colour frequently, as they are easy to paint over and adjust to your requirements.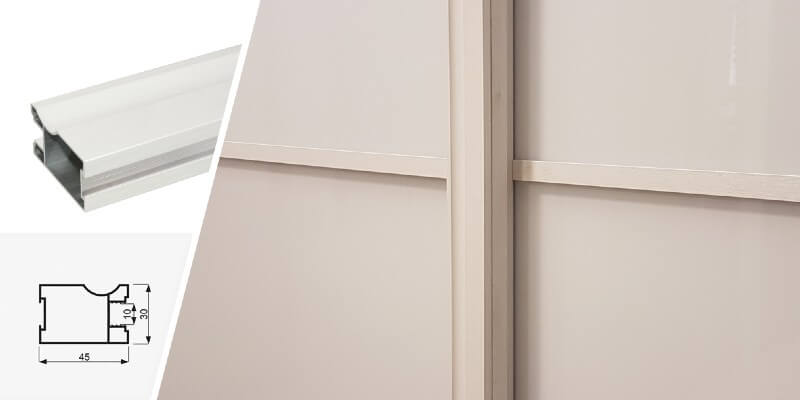 11. Linea
While the Linea frame is only available in silver, it is an excellent addition to all styles of wardrobe doors. The frame is thin, blending flawlessly with the door and can be made to measure, ensuring that your wardrobe is suitable for the size of your room. However, the inner panels of the Linea frame can be a colour of your choosing, making the frame a bold statement. This is ideal for those that want to add a touch of character to their wardrobe design without going over the top.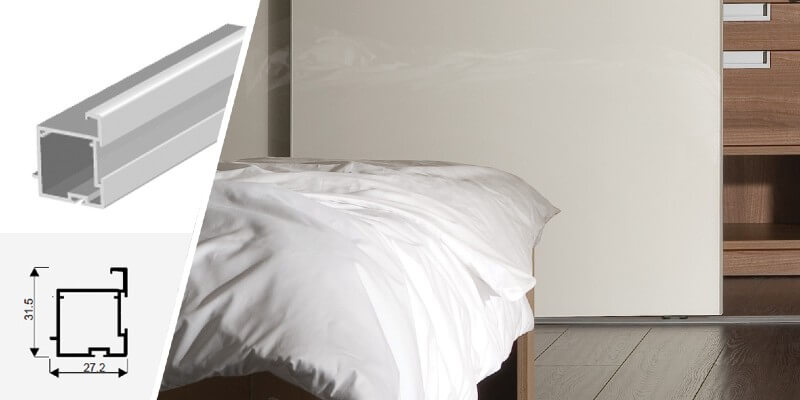 12. Noteborn
The Noteborn frame creates a striking statement in your room, especially when paired with glass doors. You can choose from two stunning dark wood shades to add a rustic feature to your wardrobe design. Many of our clients love the Noteborn style frame as it works perfectly with darker wardrobes, which is extremely popular with those looking for a modern touch to their design.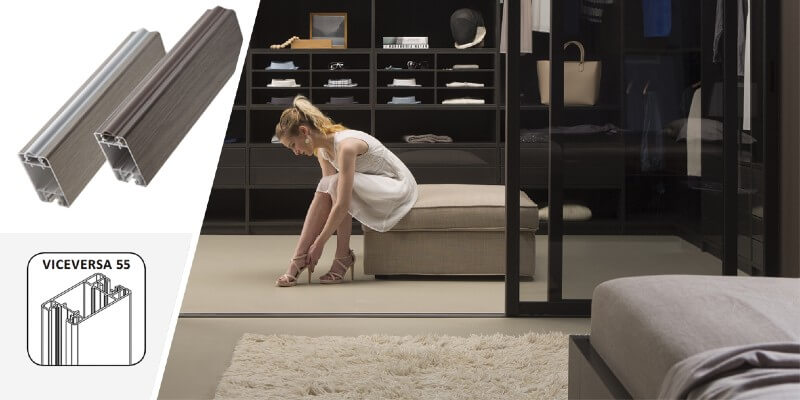 13. Loft
Adding a softer touch to your wardrobe design, our Loft frames are available in luxurious silver and champagne while offering you a secure, durable solution. Due to their versatility, they work beautifully with both light colour and dark coloured panels. Loft frames are particularly popular amongst our clients who are designing wardrobes for their dressing room, as they add the perfect touch of elegance for a high-end feel.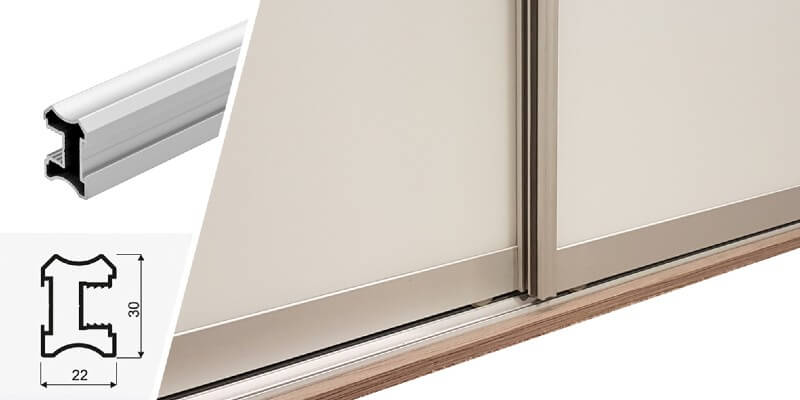 It's Time To Design Your Dream Wardrobe!
Finding the perfect wardrobe for your interior style and room size couldn't be easier, thanks to the number of customisation options available at FURNICHE®. Using our 3D design tool, you can personalise your wardrobe from the inside out, including materials, colours and storage, making the end product entirely your own.
If you have any questions regarding our door styles, colour ranges or frame options, please do not hesitate to get in touch. Our team are highly experienced and incredibly knowledgeable on all of our products, able to make recommendations and begin piecing together your bespoke fitted wardrobe in Bedford, Milton Keynes or any of the surrounding areas.