Elegant Walk in Wardrobes
Complete your room with a completely bespoke and custom built dressing room or walk-in wardrobe from FURNICHE® . With a huge range of cabinets available, you can completely personalise your chosen design to your exact preferences. If you need more storage for bags, accessories or jewellery, we guarantee to have a solution that works.
If you require a larger dressing room, our fitters can partition off your bedroom to turn your vision into a reality, or even completely transform a redundant spare room into the perfect walk-in wardrobe. Furniche will help to create the ultimate storage solution, in your chosen colour and design. Pop into our showroom to view the amazing range and fittings available and our design team will be on hand to talk you through the process and offer you a free consultation.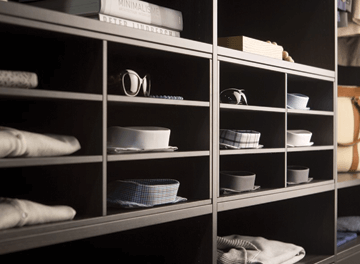 Measurements
During our consultation process we will take full measurements of your home to ensure we utilise every little bit of space.

Furnishings
We will then discuss furnishings and finishes so we can provide you with the perfect wardrobe to complement your home.

In-house Manufacture
By using the latest state of the art technology, we will manufacture your cabinets on site, to ensure that they fit seamlessly into your home.

Installation
During installation, our fitters' high attention to detail means that your cabinets will fit perfectly and look amazing.
Pictures Of Our Dressing Rooms
In-House Manufactured By Our Team
Why Choose Us?
We understand the importance of a good quality wardrobe and one that suits you down to the ground. Because of this, we have honed our offering to perfection, and design every walk-in wardrobe around you and your unique requirements. Choose from our vast range of fixtures and fittings, and our design team will bring your dream walk-in wardrobe or dressing room to life. With a free consultation and 10 year warranty on all cabinets, FURNICHE® is the only showroom you'll need to visit.
What a Pleasure
"What a pleasure to find a store in Milton Keynes that is so different to all the department stores and sheds. The store is full of contemporary, inspiring, quality furniture and the service is 1st class."
Brian Halstead
9th June 2015