As one of the largest pieces of furniture in your bedroom, the last thing you want is your wardrobe to look outdated and dull. There are so many ways you can improve the appearance of your wardrobes to make them modern and stylish and still complement the theme of your room.
Luckily for you, Furniche has been helping clients transform their outdated furniture with modern, bespoke fitted wardrobes in Milton Keynes for many years, and we have an abundance of fitted wardrobe ideas to help you transform your home.
Fitted Wardrobe Ideas To Transform Your Home
While you may be able to give your outdated wardrobes a coat of paint to spruce them up a little, nothing compares to designing your very own fitted wardrobes that fit seamlessly into the design of your room. One of the main benefits of fitted wardrobes is that they are made to measure, meaning you can fit them into any awkward angle and small space. You can also choose from a wide range of customisable features to make the wardrobe more catered to your style and interior decor.
Our fitted wardrobe ideas provide you with an abundance of inspiration to start piecing together a design that will completely transform your interior. So, why not think about the following: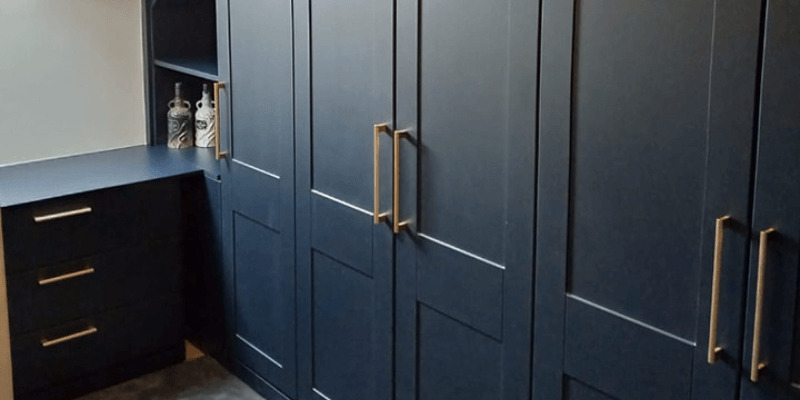 The first step when designing your wardrobe is to think about the door style you would like to incorporate into the design. There are many different designs for you to choose from, such as traditional finishes and contemporary touches, making it exceptionally easy to find a design that best matches your interior and style.
Here at Furniche, we have a wide collection of door styles to enhance your interior, all available in a range of gloss and matte finishes and stunning colours. As well as the door style, you also have the option of fitted wardrobes with pull doors or sliding wardrobes for space-saving solutions.
Fitted Wardrobe Designs
Our fitted wardrobe range is extremely popular with our clients due to the versatile styles available. You can find stunning modern designs and simplistic yet elegant traditional features to bring character into the room. Doors with a slight detail are extremely popular, especially with a matte finish and wooden-like colour. This type of design adds style and elegant detail to the room without making the wardrobe old-fashioned or outdated in a few years. If this is a style you would like to create, we highly recommend our Classic, Midsomer, Georgia or Florence collections, as they all feature a delicately detailed finish.
On the other hand, for those who wish to create a contemporary feel within their room, a gloss finish with smooth and sleek designs is the perfect addition. As this is an extremely popular style of wardrobe design, we have a selection of options, such as our Living Space, Ava Plus, Living Rococo and Living Furore collections. Take a look below at our range of fitted wardrobe door designs: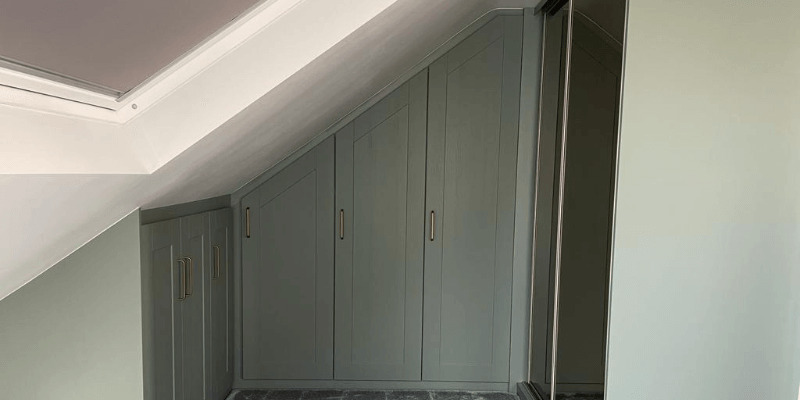 Sliding Wardrobe Designs
Sliding wardrobes are a great space-saving solution, particularly for smaller properties. This is because it allows you to place your fitted wardrobe into any space without worrying about the doors opening, allowing you to place furniture, such as a bed, close to the wardrobe.
Much like our fitted wardrobes, our sliding doors are made to measure, ensuring that you take full advantage of the full length and height of your room. You can also enjoy an array of stunning designs from our vast collection, incorporating stylish panels and mirrored doors to enhance style and lighting. When working with our team, you can choose from the following sliding door designs:
Single Panel
Split Panel
Stripe Panel
Wide Panel
Four Panel
Four Stripe Panel
Take a look at our designs by following this link.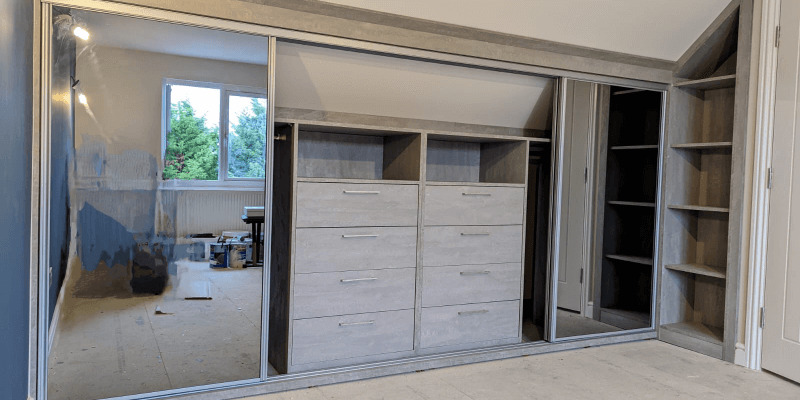 After choosing the design of your wardrobe doors, the next most important step is to select your wardrobe's colour, which will help bring it to life. You can choose from a stunning range of colour options, from bright pinks and dark aubergine to more contemporary greys, black and silver.
You can incorporate multiple colour options into your design, such as the panel sliding doors catering to two beautifully contrasting or coherent colours. Our team has years of experience with fitted bedrooms in Milton Keynes, so we can help you find a colour palette that best matches your style. You can find our full range of colours in our brochure, or look at our previous projects for inspiration on the colours that can be incorporated into your room.
If you are stuck for ideas and want some inspiration, we recommend looking at articles on Livspace and HomeLane. Alternatively, Smashing Magazine has an article on how to piece together bespoke colour palettes.
If you have a small space and want to make the room feel bigger and brighter, incorporating a mirror into your wardrobe design is the perfect solution. There are two main benefits to adding a mirror to your wardrobe; the first is that it eliminates the need to place a mirror elsewhere in the room, helping you to save space, and the second is that it allows natural light to bounce around the room to make it feel bigger.
You can easily incorporate a mirror onto your door design, whether you decide to have sliding or fitted wardrobes. If you are less keen on having mirrors on the exterior of the doors but still wish to save space, then incorporating a mirror on the inside of a fitted wardrobe door can be designed for you.
As well as your wardrobe, consider incorporating mirrors around the room and throughout your home. If you are unsure how to achieve this in style, you can find many ideas regarding mirror designs and placement on Oka's blog.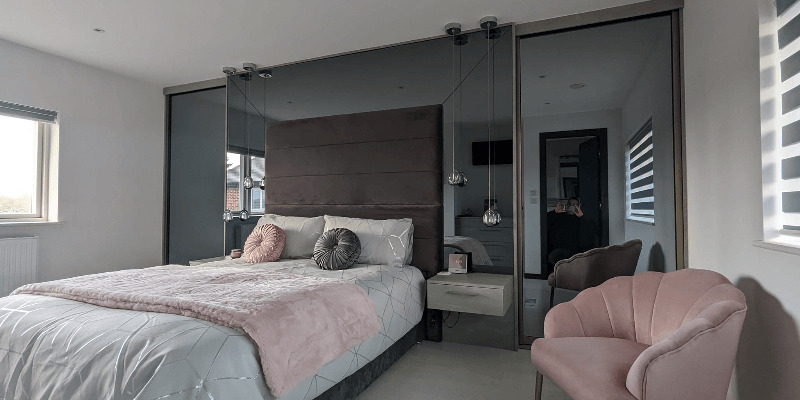 The interior of your wardrobe is just as important as the exterior, as it helps you to maintain an organised and stress-free room while also helping with space-saving. When designing a bespoke wardrobe, you can choose exactly how the interior of your wardrobe is laid out, incorporating hanging space and draws suited to you.
The Furniche team can help you design an interior that lets you organise your clothes based on your usage. For example, if you have a collection of watches, then we can add a thin draw that allows you to store your jewellery. Additionally, you can incorporate long hanging space for suits and dresses; your choices really are endless.
After having your wardrobe designed by our team, we suggest taking a look at House Beautiful for some tips and tricks on how to organise your wardrobe to make for a stress-free experience.
Here at Furniche, you can customise every aspect of your wardrobe, from the interior to the exterior, making sure that your new home addition not only functions well but also offer ample style. To help you piece together this bespoke and stunning design, you can also choose from a wide range of handles that can help to enhance the traditional or modern aesthetic you are after. For example, our bar handles are stunning in modern designs, adding to the sophisticated touches you and our team have pieced together. Alternatively, door knobs look best on traditional styles, enhancing the elegant feel and aesthetic of the design. No matter the design of your wardrobe doors, our team can help you find the perfect handles to enhance and elevate your design, ensuring that you will fall in love with your final product year after year. You can find our range of handles in our brochure.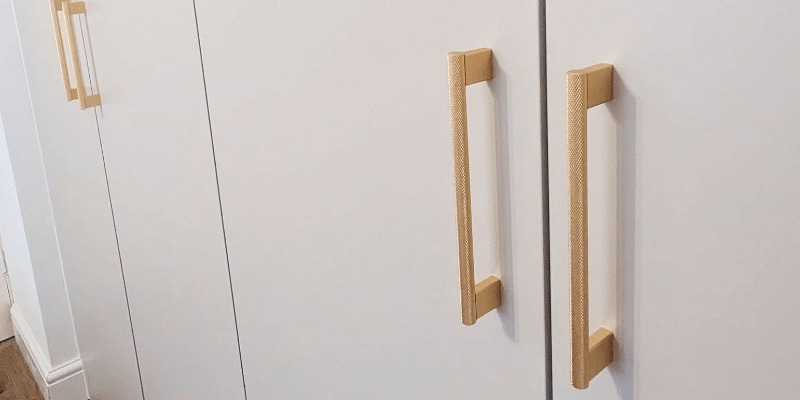 When you first start to design your wardrobes, it can be hard to know where to begin. Do you start with a colour palette, or do you find a design first and think about accessories and colours later? We would always suggest contacting our team for some advice on the best solution for your home and style, as they can start to piece together a design from our collections suited to you. However, if you would first like to browse your options before giving us a call, then there are a host of blogs and articles that can lend you some inspiration. Here are some of the best places to start: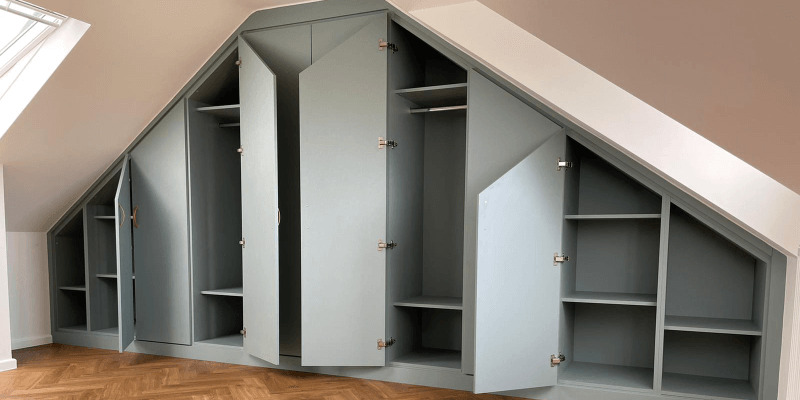 Our experts in fitted wardrobes in Northampton have accumulated an extensive portfolio of previous projects and examples of our high-quality and innovative fitted wardrobes, which can assist you in making your informed decision about which type and style you prefer! Take a look at more of the amazing examples of our work on our recent projects page!

Design Your Fitted Wardrobe Today!
Your wardrobe is a key feature, so making it look aesthetically pleasing is worth your time. Whether you are looking for a design that enhances the interior of your room or would like to find ways to create an organised space, there are a host of ideas that you can take into consideration. Our dedicated and experienced team can help you to find and design a fitted wardrobe that best suits your style, using bespoke and made-to-measure finishes as well as a range of customisable options to ensure that every aspect of the design replicates the vision you had in mind. If you have any further queries or need some more information, make sure to contact us today!