Master bedrooms can be whatever you want them to be, so you most definitely need to make sure that it looks the part and fits in with the rest of your house! With thousands of stunning interior designs and master bedroom ideas circling the internet, deciphering the perfect theme and gathering ideas for your home can be overwhelming. How can you draw the line between making a statement and going just that little too OTT? With this in mind, we have delved into the interior design world to shortlist our top master bedroom ideas.
Transform Your Home With Unique Master Bedroom Ideas
You may want to enter into the world of designing a master bedroom! This can be tricky, especially if you don't know where to start. Our experts are luckily here to help conjure ideas and get you on the right path towards your perfect bedroom! No matter the size of your room or the style you'd like to turn it into, or whether you're hoping to add a fresh touch of character or plan a complete bedroom overhaul, our top master bedroom ideas will guarantee that you will find inspiration suited to your style!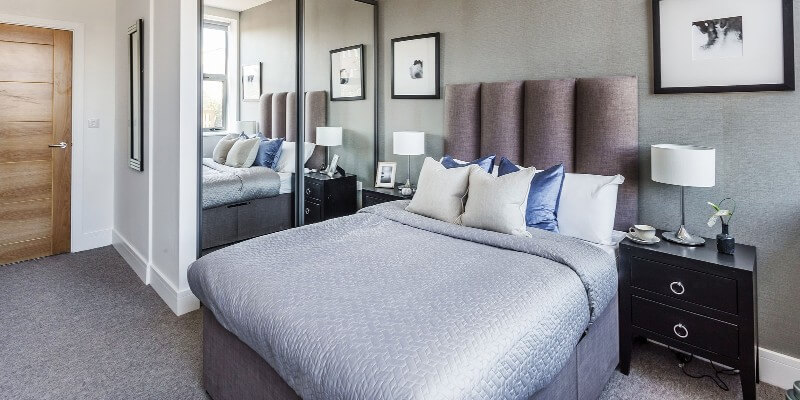 There are many different ideas to brainstorm when planning the design of your new master bedroom, such as the size of your room! The most common ideas that people usually need help with include the following:
Small master bedroom ideas
While a small bedroom limited in space can be a little tedious to decorate, it can sometimes prove easier than tackling a large master bedroom.
Along with limited space comes limited opportunities, which means that designing the area can be somewhat easier. When transforming a master bedroom, on the other hand, the possibilities are truly endless, meaning you will be spoilt for choice when researching interior design ideas.
A hidden wardrobe is one of the best ideas for a smaller master bedroom! This is a brilliant idea for maximising storage space. You will only need to sacrifice a small chunk of your bedroom to create a luxurious space filled with clothing, cosmetic products and accessories. It allows the bedroom itself to be super minimalist as all wardrobes, chests of drawers and dressing tables will be hidden away in another room.
As experts in dressing room furniture in Leighton Buzzard, we are lucky enough to have a wealth of knowledge on how to create the perfect dressing room. We even provide clients with sliding wardrobes in Luton, which are custom-built and entirely made to measure. These can be fitted into the dressing room seamlessly, integrating tailored features such as LED lighting, jewellery drawers and plenty of hanging space.
Take a look at our previous article for any ideas you may require for saving space in small bedrooms!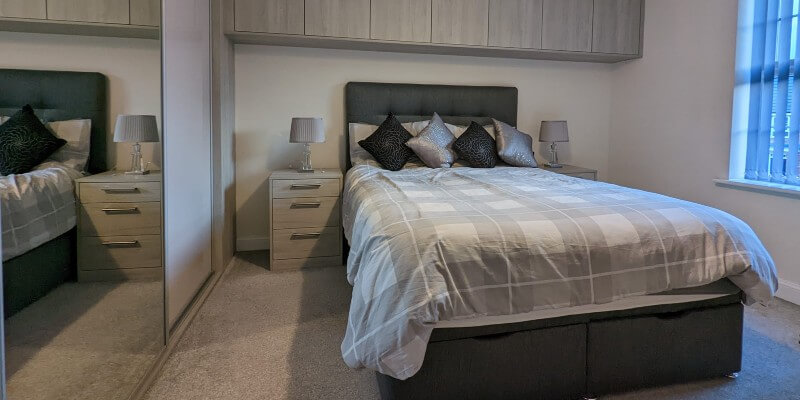 Master Bedroom Décor Ideas
The decor is an aspect of a bedroom that your eyes will be drawn to straight away as it determines your room's overall look and feel. It can be one of the hardest parts of designing a functioning and stylish master bedroom. There are a wealth of ideas that can help you understand what ideas will work best for your bedroom! Our favourites include:
Livening Up The Walls
Opting to liven up your walls would be ideal if you're a lover of contemporary, simple furniture yet hoping to add a touch of character. We understand that filling all four walls with crazy patterning can be a little daunting, which is why we adore the idea of a single feature wall! Most homeowners sway towards placing their feature wall behind the bed, framing the furniture and creating an eye-catching backdrop.
When considering feature wall designs, there are a plethora of fantastic ideas available. Some of the most popular are the following:
Chunky monochrome stripes
Colourful floral wallpaper
Polaroid or photo frame wall
Collaged vintage mirror wall
Simple geometric shapes
Personalised mural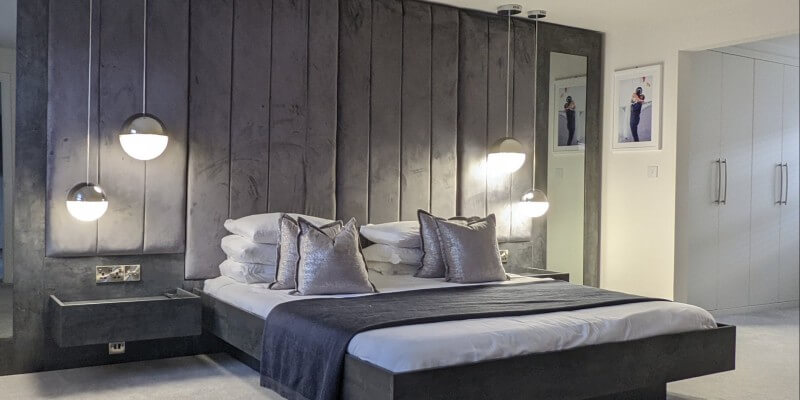 Incorporating A Monochromatic Scheme
Sticking to a simple, two-tone colour scheme creates the ultimate modern atmosphere. It is a super easy colour palette to build, yet guarantees that every component will ooze elegance.
When designing a monochromatic master bedroom, we suggest creating a blank white canvas, which can then be accessorised. Painting the walls and ceiling white will help to create an airy feel where light can reflect and circulate. Black walls, on the other hand, will enclose the space and make the atmosphere incredibly heavy. Instead, opt for incorporating black accents through carpet, laminate flooring, headboards and accessories.
Cosmopolitan has put together a fantastic article, including 21 black-and-white bedroom ideas, which is great for inspiration!
Snuggle Up In A Cosy Bay Window
If you love nothing more than snuggling up with a good book to unwind after a stressful day, creating a cosy bay window seat is most definitely for you! Bay windows designed with comfortable seats and plenty of cushions are perfect for creating the ultimate haven for tranquillity. We love the ideas featured on Home Design Lover!
Unfortunately, bay window seats are only possible for those who have an alcove in their bedroom, which can be fitted with a window and seating area. It is likely to take a considerable amount of construction work, so always keep this in mind if you are considering a bay window.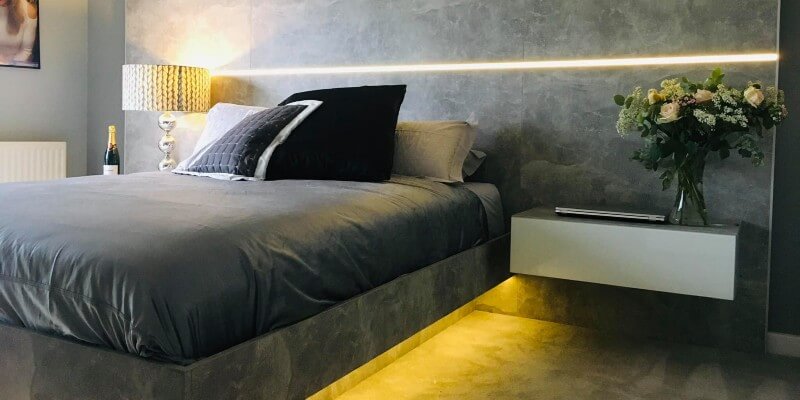 Create Separation With Curtains
With a huge master bedroom comes a wealth of possibilities. Why not transform your space into two rooms with subtle curtain partitioning? This way, if you no longer want the separation, all you'll need to do is reopen the curtains, and your space will be back to normal.
Creating a DIY room divider is super easy. It is your choice whether you opt for sheer curtains or opaque materials for added privacy. You can pick up a full curtain track room divider kit online from retailers such as Picture Hanging Direct. This will include all tools required, along with detailed instructions on the installation process. If you're stuck for inspiration on how to style your room divider, take a look at Homedit.
Splash Out On A Stylish Headboard
For a stylish, luxurious twist on your master bedroom decor, fitting an upholstered headboard is ideal. It is a fantastic way to incorporate fabric and texture into your room, with the most popular materials being linen and velvet.
If you are hoping to update your colour scheme, a headboard would be perfect for incorporating your accent colour. Based on the 60-30-10 colour rule, 10% of your room should be the brightest shade of your scheme. For more information on how to use this rule, take a look at The Spruce.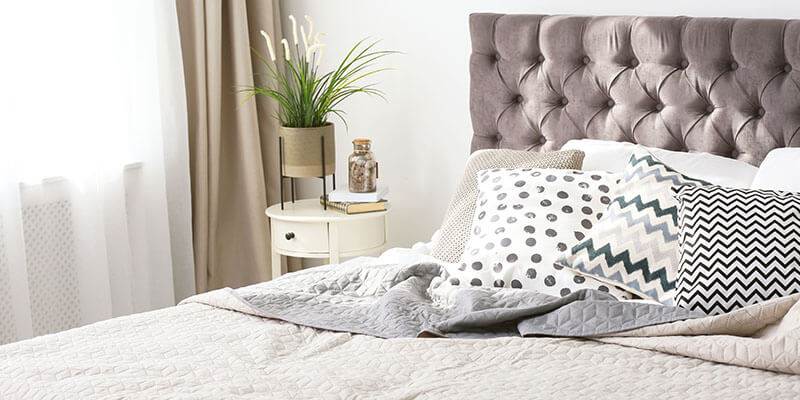 Think 'Boho-Chic'
'Boho-chic' is a timeless interior design decor theme, ideal for those hoping to keep the main foundation of the bedroom neutral but with a quirky, colourful twist. A bohemian-inspired scheme is all about filling your room with cosy accessories. To give you some inspiration, we have listed some of the most popular ideas below:
Fairy lights – Adding fairy lights will always create a cosy, magical atmosphere. You can find some ideas on how to style fairy lights on Society19.
Patterned cushion – Add a pop of colour through patterned cushions. The beauty of 'boho-chic' is that you do not have to make sure that each match perfectly; go bold with your design choices.
Blankets and throws – Layer your bed with cosy blankets and throws to add texture and colour. It is your choice whether you opt for patterns or a plain design.
Wicker accessories – An all-time bohemian-style favourite is wicker accessories. Storage baskets and plant pots remain some of the most popular choices.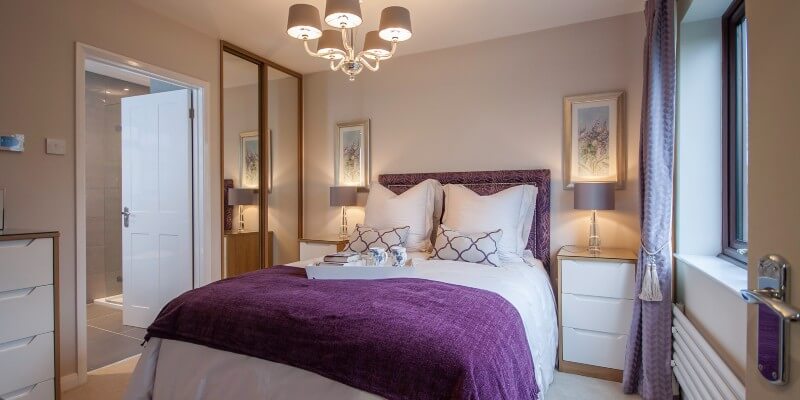 Modern Master Bedroom Ideas
There are two amazing ways to create the modern, fresh room that suits your style, including:
Statement Lighting
Lighting can really elevate the look of the rest, make it feel contemporary and create the illusion that the room is bigger than it actually is. Incorporating statement lighting into your decor is a fantastic idea if your master bedroom is looking a little outdated to your new style but you do not want to redecorate completely.
It is important, when fitting lighting, to ensure that they are placed strategically around the room. There will need to be the perfect balance between brightness in the morning and tranquillity to unwind in the evening. We suggest investing in both one central ceiling light, along with softer background lighting.
One of our favourite choices is neon lights, which can be personalised and fitted to your wall nearby to a plug socket. They really do make a unique statement, achieving the ultimate 'wow factor. Neon Creations are leaders in their field, able to design neon lights entirely bespoke to you.
Contemporary Wall Art
Similar to statement lighting, experimenting with contemporary wall art would be best suited to those who want to update their bedroom to a trendy, modern look. They perfectly complement a black-and-white colour scheme, creating a focal point without having to paint or wallpaper any walls.
When searching for the perfect wall art, you really will be spoilt for choice. Here are just some of the main styles you could consider:
Abstract wall art – Sweeping hues and vague shapes are common features of abstract art. Why not use your creative side and paint your own canvas?
Metal wall art – Metallic 3D artwork continues to grow in popularity. Custom pieces can be made using silver, copper and many more.
Wall prints – Whether you have a favourite quote, movie character or family photo, wall prints are excellent for adding personality.
Textured wall art – Paintings created using oils of landscapes, animals, or figures feature many layers of paint, ideal for creating a unique texture.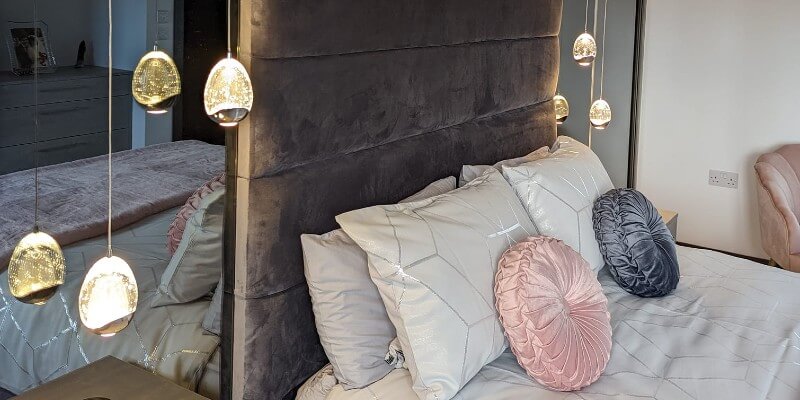 Master Bedroom Ensuite Ideas
A space to rejuvenate, refresh and refocus for the next day or for the day ahead of you, ensuites are the perfect, private room for you to enjoy. Attached to your bedroom, ensuites are easily accessed and are becoming an increasingly popular choice for many people redoing their homes. No matter how much space you have, there are many ways for you to make your ensuite your own. These include:
Installing a skylight: This idea will brighten the room and allow as much natural light in for you to bathe in. This will also create the illusion of a larger room!
Think about your tiled floor: If you're going for a tiled floor in your ensuite, take time to decide whether you're going for patterned or large tiles! Patterned floors can create more of a statement, whereas large white tiles create a calm and spa-like feeling!
Large mirrors: Another trick to making your ensuite feel larger than it is, is installing large statement mirrors above the sink. Take a look at Amazon for some brilliant examples to choose from.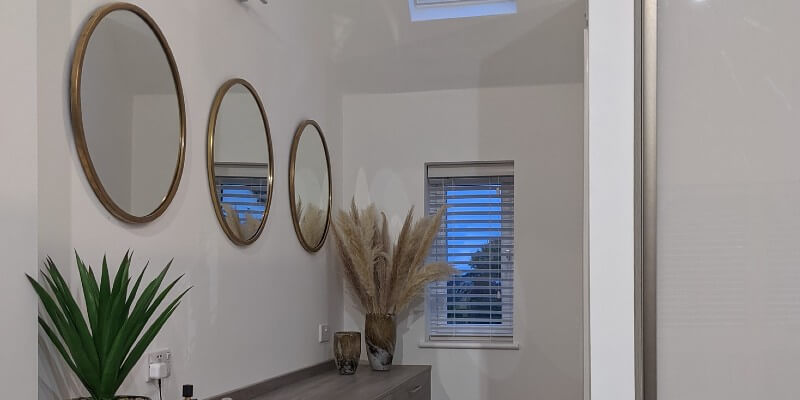 An essential part of designing your master bedroom is deciding on the colour theme. The number of choices you have to choose from can sometimes become overwhelming, so it is easier to have a look online beforehand and decide which colours would suit you best!
The most popular colours are cool colours such as blue and grey because of their calming atmosphere and soft tone. Whites and beiges make the room seem larger. However, darker colours will make the room feel smaller and perhaps cosier!
You don't have to go for a colour or paint; you may just want to choose a colour for the accents and furniture in your room with incorporated natural materials on the walls instead. The choice is all in your hands!
Colour psychology states that certain colours affect people in different ways and can promote different feelings, so choosing the colour is essential for this reason! Insider has some more information on this!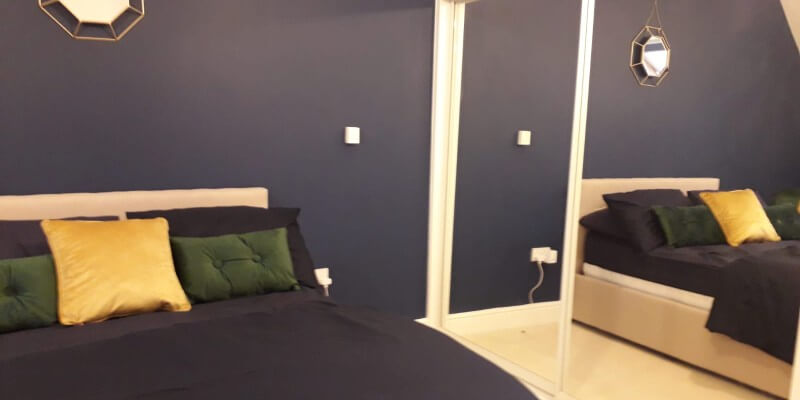 Whether you want to save space or spread out your furniture more to make the room feel less bare, organising your room is one of the most versatile steps of designing a room, as you can decide every minute detail, depending on the shape of your room! Some great ideas to keep in mind are:
The Position Of The Bed
The focal point of your bedroom is mostly your bed, meaning that you should decide where this will go before the other pieces of furniture. Usually, beds are placed centrally in the room opposite the door; however, if this does not work, the next most traditional placement is longways across the longest wall.
Go From Big To Small
Start with the larger furniture of your room, such as the bed and wardrobe and then move down to the smaller items as these will be easier to find space for; remember to only focus on necessary items; otherwise, your room might get cluttered quickly!
Set Up A Seating Area
A seating area is a great idea if you need to take up and use as much space as possible! The area can be as small or large as you would like as there are many choices in comfortable seats, which will fit seamlessly in your allocated space. Just some of the many styles available include the following:
Bench – This is ideal for placing at the end of the bed.
Ottomans – Many ottomans also double up as a storage box.
Arm Chair – We love the range available in Dunelm!
Chaise Lounge – Perfect for adding a luxurious, vintage twist.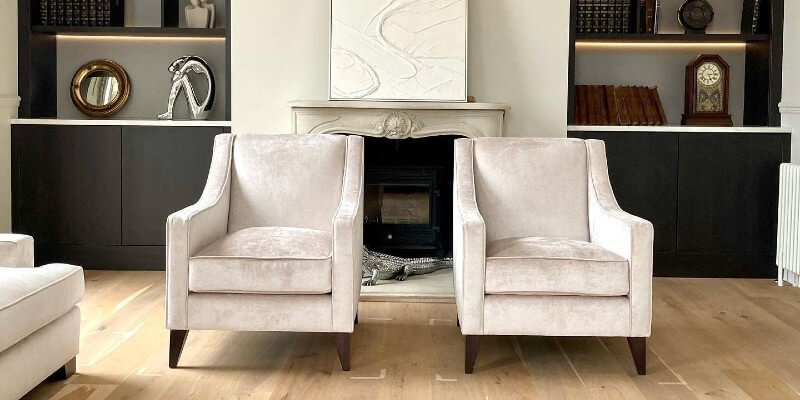 Design Your Perfect Master Bedroom
Designing and creating the master bedroom of your dreams isn't as complicated as you would expect. With lots of research and plenty of planning, you will be able to bring all of your visions to life. Spend time browsing sites such as Pinterest, this article and consider making a mood board filled with all of your favourite ideas. In doing this, you will have a template to work from, making the process considerably quicker and more straightforward.
If you are planning an entire re-design of your master bedroom and in need of a helping hand, Furniche is always just a phone call away. As specialists in fitted bedrooms in Milton Keynes, our teams will ensure that every fixture fits seamlessly to every contour.