If you're reading this article, there's a good chance that you're familiar with the struggles of having a small bedroom. Whether it's your bedroom or your child's, fitting all the necessary furniture into the room as well as any belongings without making it feel super overcrowded and cramped can prove to be a challenge. If you can relate, you'll love our small bedroom storage ideas, which will help you maximise the space you have available, reducing clutter and freeing up floorspace in your bedroom. Not only will our ideas help you to make your small bedroom look bigger, but they will also help you organise all of your belongings so that everything is stored in a convenient way without ruining the aesthetics of the space.
Our Favourite Small Bedroom Storage Ideas
As experts in fitted bedrooms in Milton Keynes and the surrounding areas, the Furniche team have helped many of our clients transform their bedrooms, big and small, using clever storage solutions to utilise previously neglected or under-appreciated space. If you would like the help of our highly knowledgeable and experienced team, please feel free to get in touch with us today.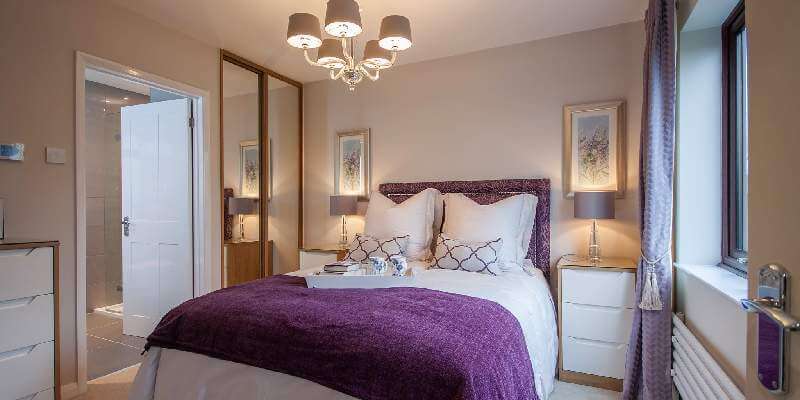 Many of our clients who are dissatisfied with the size of their bedroom request our help to make the room they have appear bigger – particularly beneficial when moving homes is not a realistic option. Our team of professionals can use a range of storage solutions and techniques to help clients achieve their bedroom goals, some of which we will explain below. Here are our top tips on how to make a small room look bigger:
Install A Fitted Wardrobe
Every room is unique in shape and size, meaning finding a freestanding wardrobe that properly utilises the available space is incredibly difficult. There are almost always leftover areas at the side or above the wardrobe, which are needlessly wasted when they could be utilised for storage. This can lead to overcrowding, making your room feel smaller and cluttered, which is especially frustrating when your room is already tight for space!
By opting for a Furniche fitted wardrobe, you can utilise every last inch of available space for storage as they are made bespoke to the room's measurements. We can also customise them to suit your individual needs and preferences: for example, we can make them in a range of different styles, colours and finishes, with an interior that is specifically designed to accommodate all of your belongings perfectly. Our sliding wardrobes in Bedford and the surrounding areas are especially popular among clients with small bedrooms since the sliding door option means less space is taken up by traditional doors that need space to open fully.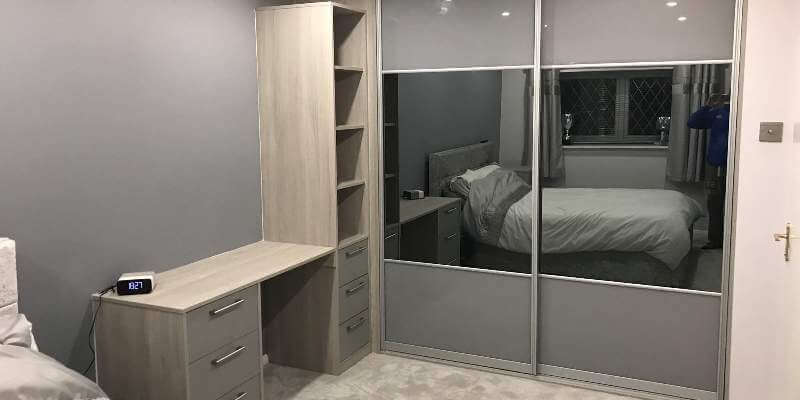 Opt For Mirrored Storage
Mirrors are an excellent tool for making spaces look bigger and brighter since they reflect light and cause it to bounce around the room. By combining mirrors with storage solutions, you can not only achieve this effect, but you will also eliminate the need to find the right space to accommodate a freestanding or wall-hanging mirror. You can do this by opting for mirrored sliding doors on your bespoke wardrobe, or, for a more subtle effect, mirrored containers, such as boxes, pots and trays, which can be used to store jewellery, makeup, and ornaments.
Have A Separate Dressing Room
For some of our clients, the issue is not space but rather the division of it across their homes. If you have a spare room that you do not particularly use, you could consider transforming it into a dressing room. This way, you can keep your wardrobe and dressing table – and all of your clothes, shoes, makeup, and accessories – in your dressing room while your bedroom is reserved for your bed and any personal belongings you wish to keep in there, making it feel bigger and less cluttered.
The team at Furniche have designed and installed many big and small dressing rooms for our clients over the years. We pride ourselves on our dedication to bringing the visions our clients have to life and providing them with a space in which they can pamper themselves and enjoy the process of getting ready, whether it's for work in the morning or a night out with friends. If you would like our help in creating your dream dressing space with luxury dressing room furniture in Northampton or one of the surrounding areas, please do not hesitate to get in touch with our team.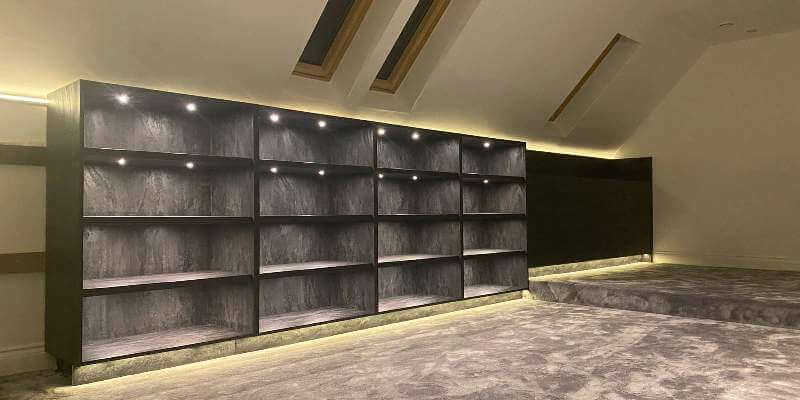 If you feel like your bedroom is stuck in an endless cycle of being cluttered, decluttered, and then cluttered again, we have some super handy tips that could help you out. Read on for our best advice on how to organise a small bedroom using storage solutions.
Opt For Bespoke Shelving
One issue that many of our clients face without fully realising it is shelves that do not properly accommodate their belongings. If you have lots of small trinkets that you like to keep on your shelving, be it inside your wardrobe or out in the open, you will require small pigeon holes or tightly packed shelving. Meanwhile, if you prefer to keep larger items such as handbags on your shelving, you will need larger pigeon holes or loosely-packed shelves. Most likely, you will need shelving of various sizing across your room or wardrobe, which is where bespoke shelving comes in.
At Furniche, our bespoke shelving, which can be installed within your custom-made wardrobe, is designed to accommodate your needs perfectly, meaning that you can decide the exact design and layout of your shelving. This will help you ensure that all of your belongings will have the perfect place to sit when they are not being used, without being crushed or taking up too much space.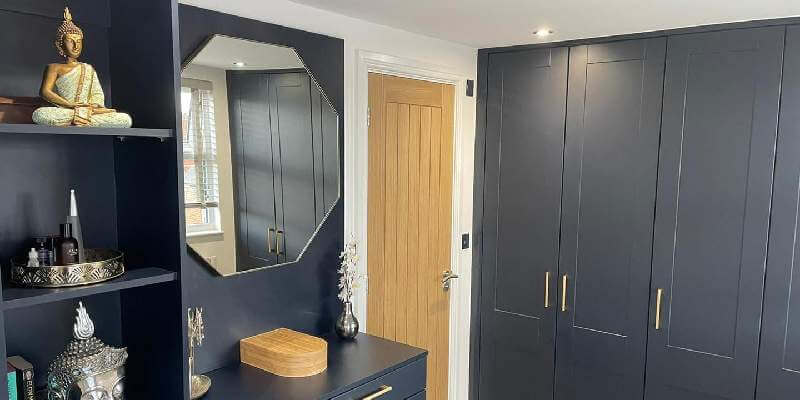 Install A Shoe Rack
If you pride yourself on your large shoe collection, you'll love this one! Shoes notoriously take up a huge amount of space since they can't be compacted or folded like clothes. One way to get around this and minimise the space they take up whilst keeping your collection organised is to install a shoe rack. This way, your shoes will have a designated storage space, helping you to keep things tidy and keep track of your belongings. Please do not hesitate to contact the team at Furniche if you are interested in having a shoe rack installed in your bedroom.
Install Storage Units Above Your Bed
We often find that there is a myriad of space above our clients' beds, yet it is rarely utilised for much-needed storage space until we suggest doing so. While this space may seem difficult to make use of, you can absolutely do so by installing storage units above the head of your bed. This is the perfect way to store items that you don't use often but can't quite bring yourself to part with since they will be out of the way but easily accessible when needed. You could also store practical but bulky items such as bed linens and towels in these units.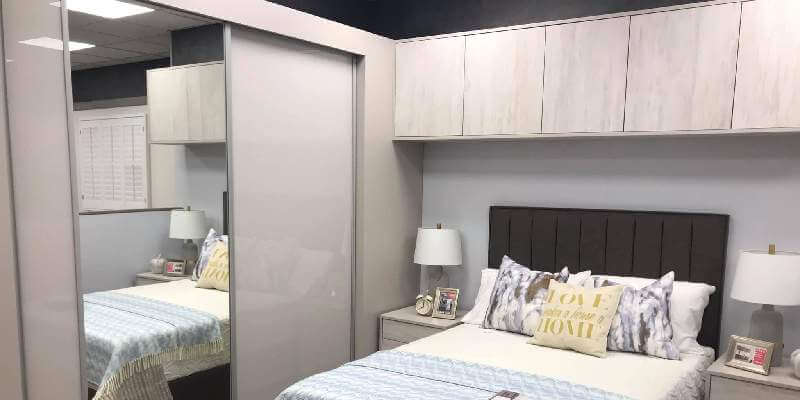 If your child's bedroom is on the small side and has a tendency to look cluttered or unorganised, these small kid's bedroom storage ideas will help you get things organised for a neater space that minimises the risks of tripping over!
Get Your Kids Involved
Why not ask your child to help you choose storage solutions for their bedroom? Whether you are in need of some storage baskets for toys and clothes, or even an entire wardrobe or chest of drawers for your child, you can ask them to help you make a decision on which item to get. By encouraging them to help you choose the style and colour of their new storage solutions, they are more likely to want to use them, meaning that keeping your kid's room tidy should become less of a chore!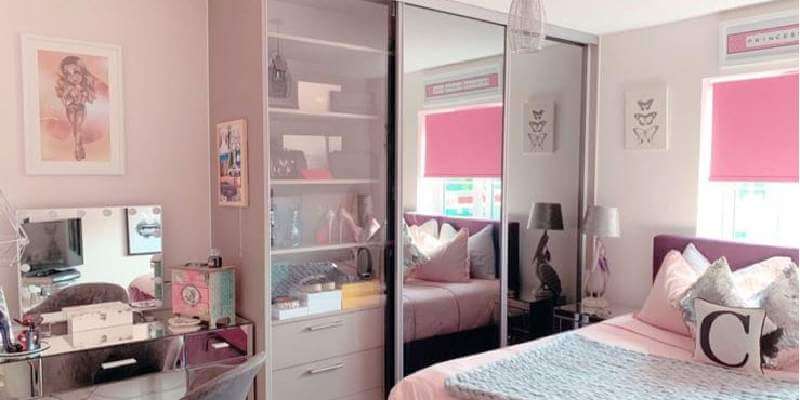 Use A Rotating Toy Box
If your child has a lot of toys, or if their toys are particularly bulky, you may frequently find them strewn all over the floor of their bedroom. To avoid this unsightly tripping hazard, you could consider implementing a rotating toy box system. This is where you ask your child to help you select a few toys that they would like to keep in their bedroom, putting the rest in a large storage box that can be stored in the attic. When your child gets bored of the toys that they have selected, you can switch each one out for one in the large box. This way, clutter in your kid's bedroom is kept to a minimum, and they can properly enjoy each toy that they own without constantly being distracted by different ones!
Use Under-The-Bed Storage
Under-the-bed storage solutions are a genius way to utilise space that would otherwise be wasted. Not only this, but they are also accessible to your child, meaning that toys or clothes can be placed in this space, giving your child more independence and reducing the risk of them hurting themselves while trying to reach something that is hard for them to access. You can store things under your child's bed by purchasing boxes or baskets that will slide under or by choosing a bed that has built-in storage.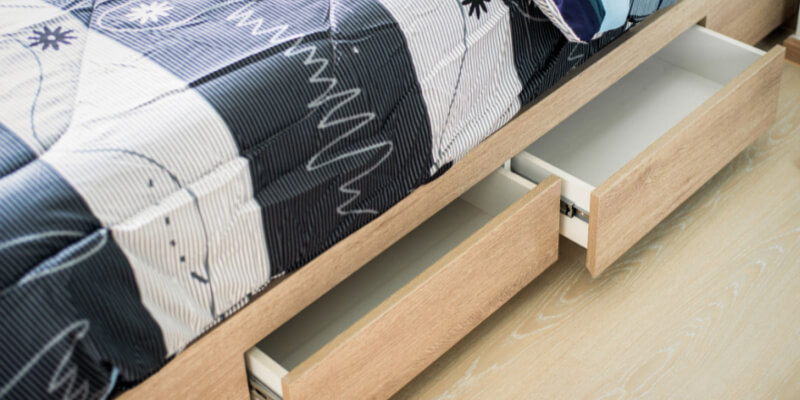 Storage For Small Bedrooms Made Easy!
Identifying and installing the right storage solutions for your bedroom can be a game-changer in terms of practicality, organisation and aesthetics. Whether you choose to have a bespoke wardrobe fitted to utilise every inch of available space or a luxury shoe rack installed to house your impressive shoe collection, you are sure to notice the benefits these clever storage solutions provide at first glance!
If you would like the help of the Furniche team in selecting, designing and installing bespoke storage solutions for your bedroom, please feel free to get in touch with our friendly team today – we will be more than happy to help you turn your vision into a reality.