With many of us still working from home and numerous offices not planning on fully reopening until 2021, it's fair to say that many of us have become frustrated with the office space that we've been cramped into over the past several months. While it can be lovely working from home surrounded by our family, it is important to make sure that we create a space where work can be completed at a high standard regardless of the kids making a racket in the living room. Seeing as you have been, and most likely will continue spending more time in your home office, it may be time to redecorate and transform your study area into a welcoming, soothing and stylish workspace.
Whether you have a designated home office or a little desk in the corner of your bedroom, there are plenty of ways you can incorporate your personal style along with practicality to create a stunning and relaxing home office. If you're finding it hard to come up with some home office design ideas, then not to worry, as we're here to lend you a helping hand and some inspiration.
Office Design Ideas To Incorporate Into Your Home
Unlike the rest of your home, which is usually made to feel welcoming and warm, the office should be designed to encourage productivity rather than keep you distracted. For this reason, if you do not have a study, it is important to think about where you will situate your desk. Locations such as your living room or kitchen are not ideal if you have family popping in to watch TV or grab themselves a snack. However, you can easily find ways to incorporate your style as well as functional storage solutions by carefully planning out your study. Here are some design tips you should always follow when designing your home office: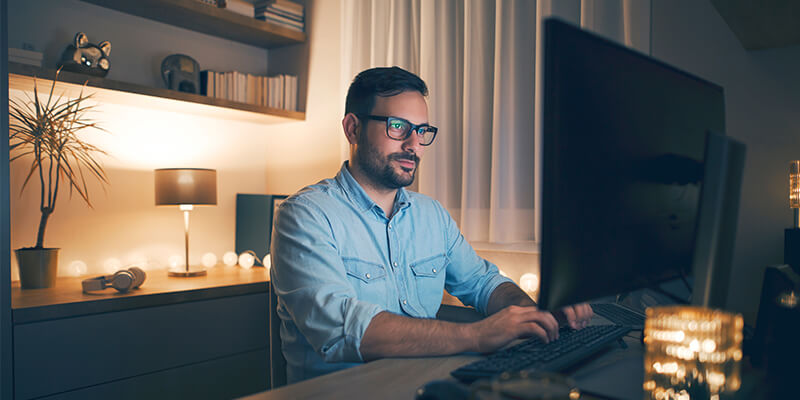 Much like you would design any room in our home, the first thing that you should consider is the colour of the room. Colours can have a significant impact on how the room feels just as much as how it looks, so think wisely about your colour palettes before painting the walls and purchasing your storage units and desk. The most popular colour to use in a study is white as it provides you with a clean, sophisticated and distraction-free room. Combining your white walls with natural lighting, and you have a fantastic office space to keep you productive without making you feel low or creating a dark and uninviting room. If you do choose to have a white study, then we would strongly advise that you consider adding a pop of colour through artwork or even your storage units. For example, Furniche has a range of home office furniture in Milton Keynes and the surrounding areas available in a China red or a vibrant Citrus yellow, bringing some colour and character to the room.
Another aspect of the colour palette that you should consider is the materials in which you are going to use for your furniture. To create a tranquil and light room, we would always advise clients to think about using natural materials such as woods. Wooden furniture boasts exceptional qualities such as:
Strong and durable
Easy to maintain
Value for money
Easy to pair with other colours
Modification over time can be completed with a coat of paint
While you may think that wooden furniture is limited in its appearance, you could not be further from the truth. You can opt for a marble effect on your wood, giving it a sense of modern class. Not only this, but various colours can match with wooden features, such as soft greys, deep blues and pastel greens. You can find more inspiring colour combinations for natural materials on Simple Home Simple Life, or by contacting the Furniche team to design your home office furniture in Bedford and the surrounding areas.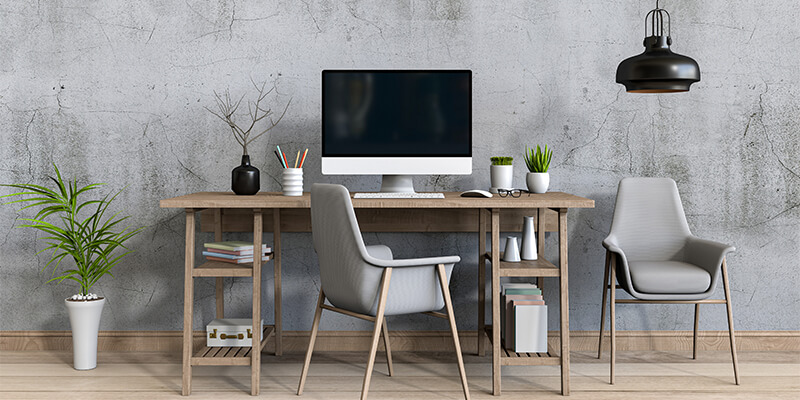 As you have probably found over the past couple of months, the slightest bit of noise and the smallest excuse to stand up and fiddle with technology can be extremely distracting when trying to work. The best and easiest way to avoid this is by creating a minimalist design without only having a room with white walls, a desk and chair. Minimalistic could be opting for a plain colour palette but incorporating a range of furniture and accessories to jazz it up, or it could be having minimal furniture to avoid cluttering and instead opting for a bright colour palette.
Small statement pieces can have a big impact on your study room, whether that be a striking office chair that takes centre stage or a wardrobe with sliding doors with a customised interior. While style is important, when it comes to the office chair, you need to ensure that it is comfortable for whoever will be using the room the most. Sitting on a chair that makes your back hurt is not going to do your posture nor your health any good when sat in it for hours on end day after day. Gear Patrol has put together a handy guide on what you should be looking for when finding an office chair, so we highly recommend taking a look and investing in your chair choice!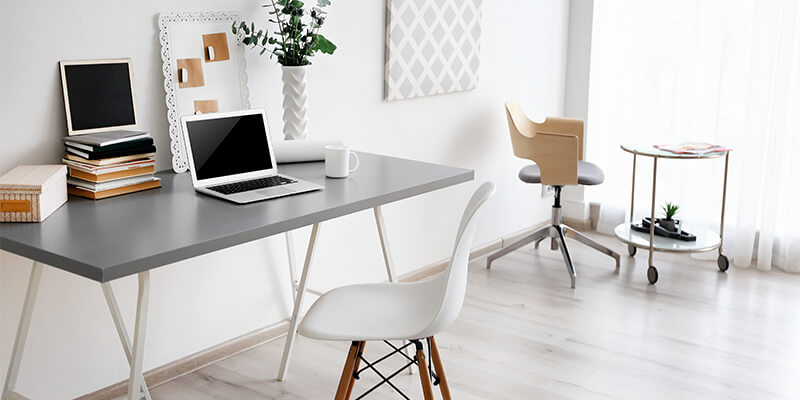 Whether you have a small office or are working in the corner of a room, storage is going to be your best friend, ensuring that the room does not become cluttered and you can store all of your paperwork while remaining organised. There are various different space-saving solutions that you can incorporate into your home office, some of which are ideal for those with limited space or have awkward ceiling shapes or room layouts to work with.
The best solution is to have something bespoke made for you, as it can then fit into any crevice, room dimensions or height. Not only this, but it also ensures that you are maximising on your space and that your storage is not taking up valuable space. When designing and planning your home office with the Furniche team, you can enjoy a range of storage solutions along with various finishes and colours to suit your home and personal style. Everything from the desk to shelving can be designed with you in mind and the space that you have to work with. For example, the desk can be made to measure to ensure that it fits around any curves or corners in the room.
When it comes to a home office, most clients opt for shelving, and there are many ways in which you are able to incorporate this into your workspace. Some examples include the following:
Floating shelves
Wardrobe shelving
Wardrobe incorporating a fold away desk
Wall-to-wall shelving
Wall mounted wire shelving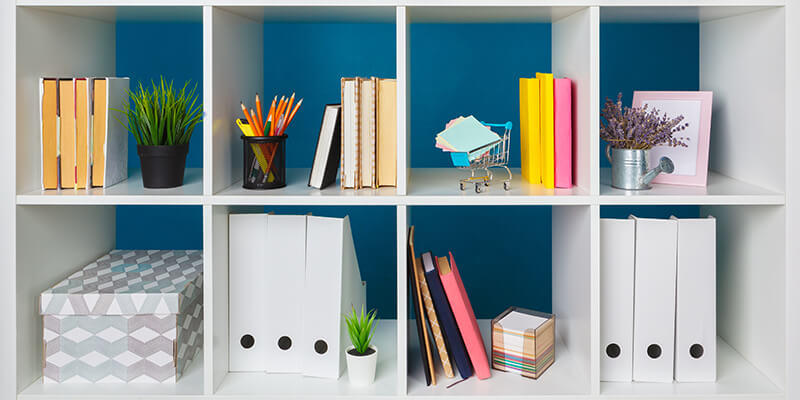 During the lockdown, those working from home have been able to enjoy their lunch out in the garden and going on a nice long walk during their lunch break, but it can be slightly depressing to come back into a dull and dark room. To avoid this, why not consider bringing the outdoors inside with a range of colourful and tropical plants?
You can either opt for the lovely smell of fresh flowers, or go for a low maintenance option with artificial plants. Places such as IKEA or the Artificial Plants Shop have a stunning range of plants and flowers to suit all decor, from pink blossoms to tropical leaves. Once you have found your ideal plants, take a look at ProFlowers for guides and advice on how you should arrange your flowers.
Another very simple way you can bring the outdoors in is by having the window slightly open to allow a breeze to enter the office, as fresh air comes alongside multiple benefits. Not only this, but situating your desk near a window will also be beneficial, as it will allow natural light to keep you motivated and provide you with vitamin D. Homedit has some handy ways to bring the outdoors inside, so if you're an outdoors person that's stuck inside, we highly recommend taking a look!
Unfortunately, not all of us are experts in home decor, so the thought of finding ways to decorate a home office can be somewhat daunting. However, whether you need some furniture inspiration or are unsure about what colours and materials to use in your study, there are plenty of inspirational blogs and articles out there to lend you a helping hand. Places such as House Beautiful or Real Homes have a wide selection of completed home offices to give you a few ideas of how you can decorate the room. If you're looking for some inspiration for colour schemes, then why not take a look at our previous article for advice?
If you're stuck for design ideas but have a style in mind, then here are the best articles to look for inspiration: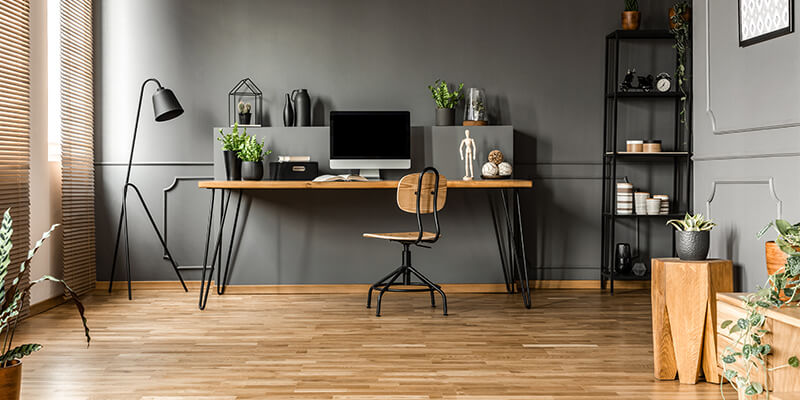 A Home Office Suited To You
No matter what design ideas you incorporate into your home office, it is imperative that you add your own twist and flair to the design to make it your own. A study needs to feel inviting but at the same time ensures that you remain productive and focused on your work, so finding the perfect colour palette and furniture to enhance productivity can be a little tricky. However, with a little thought and care, you can easily piece together the perfect room to spend your working hours.
If you are struggling with your home office design, then why not contact our team for advice? Having provided high-quality entertainment units in Milton Keynes and fitted wardrobes in Bedford for many years, Furniche has devised the perfect range of materials, finishes and designs to suit all homes. Contact the team today to find out more about how you can create a stunning office with our bespoke products.