Some people dream about their wedding day. Some people dream about holding their baby for the first time. Some people, however, fantasise about having a small luxury walk-in closet of dreams. If that's you, welcome! You're in the best place, as we are here to take you through some amazing ways to take your closet to the next level.
You may be moving into a new home and finally have additional space, or perhaps you're carrying out some home improvements and making room to create your ideal closet. Either way, we're here to help you make it a space of pure extravagance, with lots of small ways to make it beautifully luxurious.
1. Incorporate Mirrors
2. Add A Dressing Bench
3. Use Luxurious Lighting
4. Create An Accessories Display
5. Bespoke Fittings
6. Glass Shelving
7. Floor To Ceiling Wardrobes
8. Add A Dressing Table
9. Dedicated Shoe Shelves
10. Install An Island
For A Lavish Small Luxury Walk-In Closet
Designing a new walk-in closet may seem like a big job but it doesn't have to be; a few small additions can actually make the world of difference. By using decor and storage ideas in unique ways, you can create eye-catching displays that exude luxury. Its time to stop drooling over Pinterest boards full of walk-in closets that Mariah Carey would be proud of; take a look through our top 10 ideas and ways in which you can apply them to your space.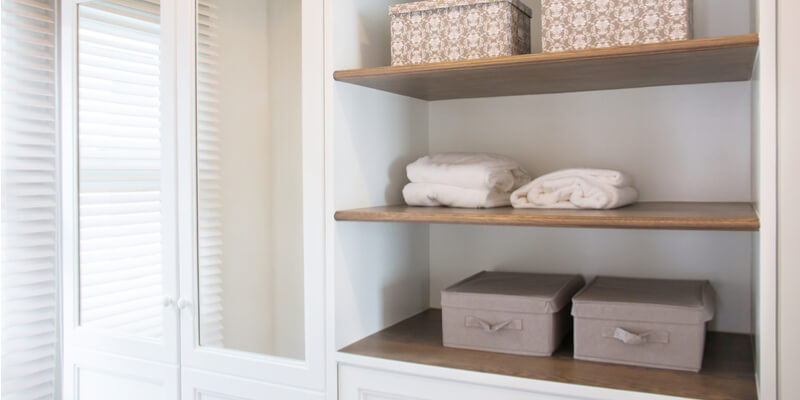 1. Incorporate Mirrors
It's a well-known fact that mirrors help to reflect light and create the illusion of a bigger space, so if your walk-in closet is a little on the small side, this is a good idea to take on board. Whether your closet is big or small, mirrors have a way of adding a luxurious vibe to any space, so would always be a great addition. Finding a good local glass specialist such as Danetre Glass is invaluable as they'll be able to create bespoke mirrors dependent on the size of your space. A polished edge long view mirror, for example, will not only create an illusion of space but provide a sleek, modern aesthetic.
A great way to include mirrors into your room in a unique and stylish way, is to look at using wall tiles instead of wallpaper or paint. They not only look amazing but also reflect light around the entire space; we love the hexagonal silver mirrored tiles in this selection from My furniture.
If you are short on wall space, consider implementing mirrors into the doors of your wardrobes, as not only is this a great space saver but gives older pieces of furniture a new lease of life. If you're looking to install new wardrobes this would be a great way to incorporate mirrors with ease. We are extremely experienced at creating bespoke sliding wardrobes in Luton and the surrounding areas, so know first hand how amazing they can look once installed. For some great inspiration on how to use mirrors in your walk-in closet, take a look at this collection of photos from Decor Pad for some inspiration.
2. Add A Dressing Bench
Give the Kardashians a run for their money by buying a luxurious dressing bench. While it may sound a little bit flamboyant, it will instantly make your walk-in closet appear to be more luxurious while being surprisingly useful at the same time. By choosing a bench upholstered with a velvet or suede material, you'll be able to inject an expensive finish without spending a fortune.
Dressing benches can really bring a walk-in closet together and transform it from a mere closet to an elegant dressing room. These dressing room benches from Pehmo are beautifully handcrafted with a modern, urban edge. Take a look through Etsy for some great inspiration and dressing room benches at a range of prices to suit your budget.
3. Use Luxurious Lighting
There's nothing like a chandelier to create a luxurious atmosphere, so why not look at installing one in your walk-in closet? With so many amazing lighting designs available nowadays, this is a relatively easy and affordable way to add a little bit of luxury into any room.
With lighting that incorporates glass droplets and crystal elements, the light in your closet will sparkle and have an amazing effect on the entire space. If you're looking to splash out and for something extremely unique, take a look at the range of ceiling lights from Houseology. Each piece emanates a sense of pure luxury whilst maintaining a cool and contemporary design.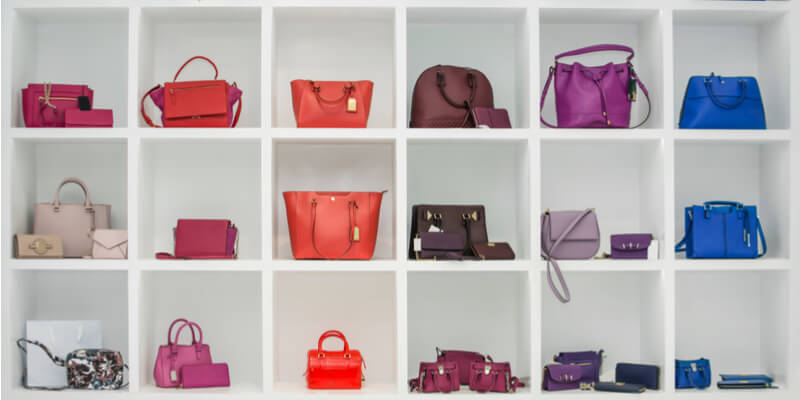 4. Create An Accessories Display
With a huge range of storage options to choose from and ways in which you can display your items, there's a multitude of ways you can make these look luxurious. Accessories such as handbags, sunglasses and jewellery are more often than not stashed away in draws and cupboards, but by displaying them in glass cases for example or investing in jewellery display trays for draws, they'll morph into a striking feature.
Box Displays have an amazing range of different accessory cases, trays and inserts, so you can easily display your accessories in the most luxurious of ways. Or why not dedicate an entire storage unit to your handbag collection!
5. Made-To-Measure Furniture
If you're completely refurbishing a space and turning it into a walk-in closet, it may be worth considering investing in bespoke fittings in order to maximise the space. From wardrobes to Islands and shelving to dressing tables, having fittings completely customised to your space will help to maximise your storage options. Not only this, you'll be able to tweak fittings to your specific needs, so the material, handles and design can be as luxurious as you like! This great article from Jen at Love Chic Living discusses the huge benefit of investing in bespoke furniture, and why we should view it more as a viable option as opposed to an unnecessary expense.
6. Glass Shelving
There's something about the simplicity of glass that emanates luxury, so it's definitely worth considering incorporating within your walk-in closet. Similarly to the accessory display idea, glass shelving can provide a great way to display bags, shoes or folded clothes in a stylish way. By using glass, the area won't appear cluttered and still retain an elegant quality. This compilation from decoist illustrates this point perfectly; showing the aesthetic benefits of glass shelves in a number of different rooms.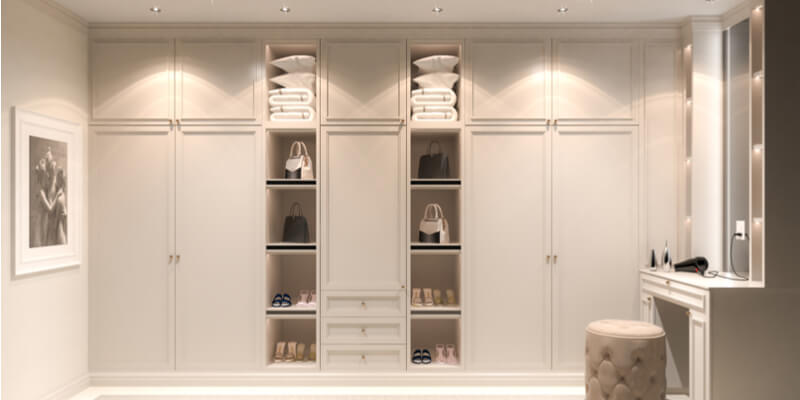 7. Floor To Ceiling Wardrobes
Having made a massive amount of fitted wardrobes in Buckingham we highly recommend looking into this as an option, as the difference it can make is huge. Not only will your wardrobe be customised to you and fit perfectly into your walk-in closet, but you'll also have the option to incorporate additional components, such as internal storage spaces, mirrors and lighting. Floor to ceiling wardrobes are a great choice, particularly in smaller rooms, as not only do they help create the illusion of space, they utilise a larger surface area and provide a greater number of storage facilities.
8. Add A Dressing Table
While this may not be viable for everyone, if you have the space, including a dressing table adds an undeniable hint of luxury. As specialists in dressing room furniture in Towcester and surrounding areas, we have helped to create a huge number of walk-in closets and can confirm that the addition of a dressing table can greatly enhance a space. Giving you further storage and display options, a dressing table will help to transform a closet into a room while giving you the ability to add another luxurious feature. If the rest of your walk-in closet is relatively plain, for example, why not buy a dressing table such as this one from The French Bedroom Company, and inject some much-needed elegance.
9. Dedicated Shoe Shelves
If in doubt, do as the celebrities do and display your epic shoe collection for all to see. Shoes have got to be the most glam of accessories, with handbags coming in at a close second! Shoe racks can either be built into your wardrobes or created as separate storage sections on racks or shelves within your walk-in closet. Either way, we love the idea of being a little bit extra and having your shoes on show, as they have an indisputable ability of adding a little touch of luxury.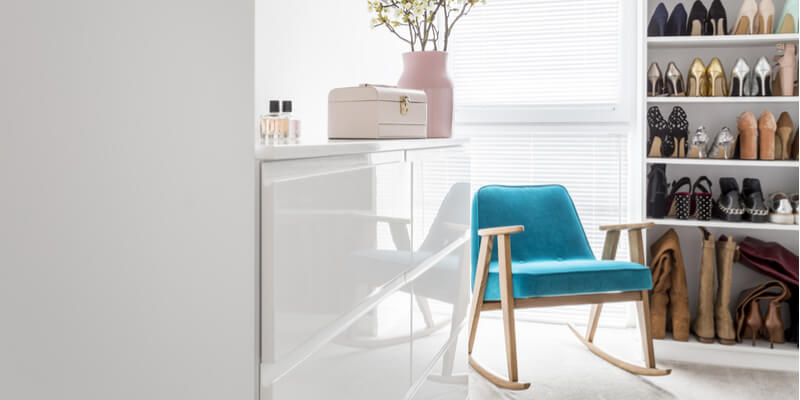 10. Install An Island
While you may only associate islands with kitchens, they look amazing inside walk-in closets. As well as offering more storage options, they look incredibly luxurious with glass tops that glint under the fantastic chandelier you just bought! If you have room to spare in the centre of your walk-in closet, we highly recommend looking into investing in an island.
Your Sumptuous Closet Awaits
By now, you're probably full of ideas on how to create a truly luxurious walk-in closet. Whether you're simply looking for a small finishing touch or a larger bespoke solution, there are many ways in which you can add a plush and extravagant space. We hope you've found this article helpful and can use some of the ideas in your own walk-in closet. Embrace your inner celebrity and design a dressing room fit for a princess!