Whether you have a dressing room in mind or have no clue where to start, there are multiple things that you should consider before going in with full force and designing your walk-in-wardrobe. The first step is to always look into creating a bespoke dressing room, as this will allow you to incorporate all of the features you are looking for while also ensuring that every element fits seamlessly into the space that you have available. Customising your dressing room couldn't be easier, with a multitude of colours, designs and materials for you to choose from, it allows you to piece together a dressing room like no other. If you're stuck for luxury dressing room ideas and need a helping hand, then we have you covered with our handy guide!
How To Create Bespoke Luxury Dressing Room Ideas
From the colour of the room to the finishing touches, there are so many elements of your walk-in wardrobe that can be personalised to your style. Not only this, but they are an extremely practical feature to include in your home, as it declutters your bedroom and provides you with additional space to store your items for easy access. The interior and exterior of the wardrobes can be fully customised to you, and can be finished with stunning touches such as an elegant dressing table and chair. As specialists in bespoke dressing room furniture in Milton Keynes and the surrounding areas, we know just how to personalise your home with made to measure products designed by you. So, with a wealth of bespoke opportunities, you're probably wondering how to create a design for your dressing room. Here are some pointers to give you an idea of how you can piece together your new home addition: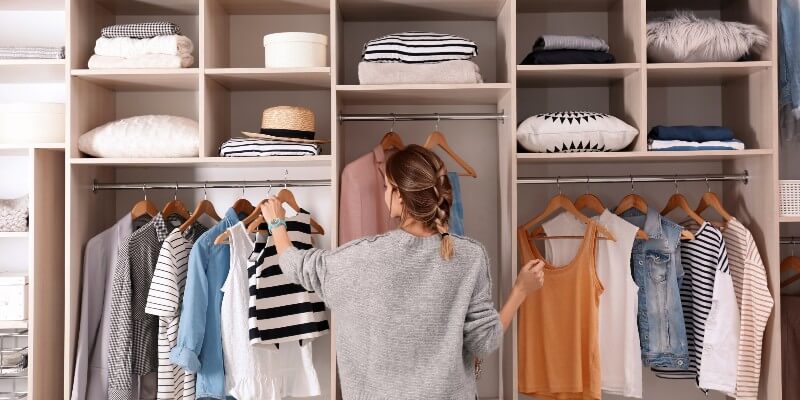 Before looking at products and designs for your dressing room, you first need to establish where in the house you can fit one. If you are looking to completely transform your home, then building an additional room such as a loft conversion can provide you with ample space to incorporate the dressing room of your dreams. On the other hand, if you have a smaller budget, then you will need to either sacrifice space or a room. If you are lucky enough to have a spare room, then this will provide you with the perfect opportunity to take advantage of multiple features, such as a dressing room island of even a comfy sofa for when you're putting your shoes on.
On the other hand, if you do not have the room for a dressing room, then why not consider putting one in an awkward space that never gets used? By incorporating a bespoke and made to measure fitted wardrobe you can make sure that every corner of the space is filled with wardrobes and storage, meaning that even if the ceiling is slanted, you can still include a fitted wardrobe. Additionally, for those with no additional rooms in their home, you could also consider having your dressing room in the master bedroom if it is big enough. For example, if you have recently had a loft conversion, then it is likely that you have a large area to work with.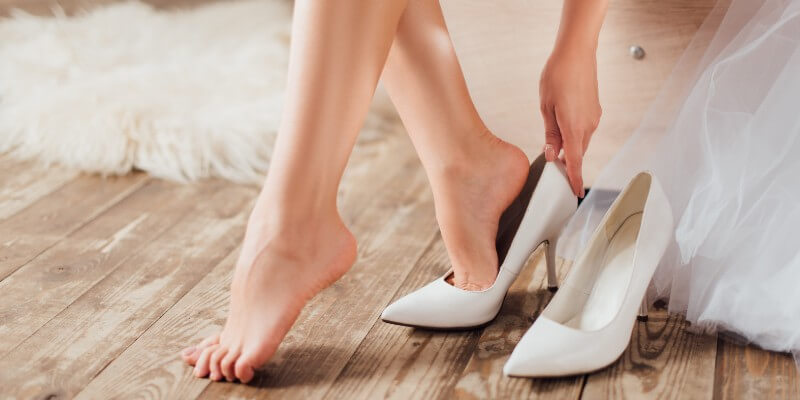 Storage can be a big issue in many homes, particularly when it comes to your wardrobes. Standing wardrobes are not made with your personal requirements in mind, and will have a standard interior design including one or two rails and a few drawers. However, not every home requires the same storage, which can make it exceptionally frustrating when it does not function to your needs. Unlike standing wardrobes, fitted wardrobes can be fully designed by you, including the interior storage. This means that you are able to design a wardrobe with as many rails, drawers or shelving that you require.
Before designing the interior of your wardrobe, first think about the items of clothing, shoes and accessories that you have, as this will determine what storage you should incorporate. For example, if you have long dresses, then we would suggest including one high rail and then possibly a shoe rack at the bottom to make use of every inch of the wardrobe. You can also include a small drawer for your watches and accessories, making it much easier for you to organise your things. When working with Furniche to designed your fitted wardrobes in Bedford and the surrounding areas, you can include as much or as little storage as you wish. As every wardrobe is made to measure, it means that each interior fitting is drilled into the wardrobe at the exact height you require, rather than having multiple holes for fitting, creating a seamless design throughout. Please feel free to take a look at our fitted wardrobes brochure for further information on how you can customise your wardrobes interior, from lighting to bespoke drawer sizes.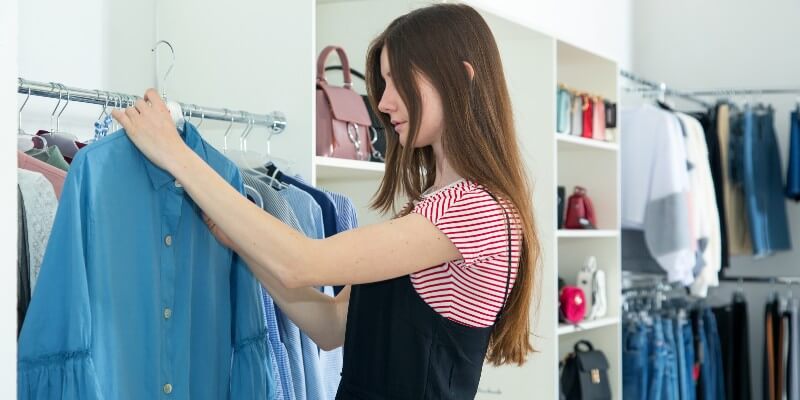 Luckily, with bespoke and made to measure products, you can fit your dressing room anywhere and everywhere, no matter how awkward the layout may be. If the room is small, for example, then you can make sure that your wardrobe fits seamlessly into the corners of the room and along the wall, so that you can maximise on space. Additionally, if your home has an awkward ceiling, such as in the loft, then wardrobes can be made with a slant on the top to fit perfectly into the space. This means that you can make the most out of the space you have available, ensuring that every nook and cranny is fitted with storage space. If you would like to discuss how you can create the perfect stylish storage for your home, then our team are just a phone call away. From dressing rooms to fitted bedrooms in Milton Keynes, our team has the experience and products to cater to your style and needs.
For those of you that have managed to find a small area for your dressing room, then there are plenty of ways you can incorporate a multitude of storage solutions and more by being clever with the design and products you use. When you have little space to work with you should always think about the colours you use. Lighter and warm colours are always best in a small room, such as creams, light greys or beige. In fact, many of our clients designing a small dressing room will use the oak or wood finishes that we have available, as this helps to create a bright room giving the illusion of a large space. Alternatively, you could use mirrored sliding wardrobes to allow natural light to bounce off the doors to ensure that the room does not feel claustrophobic.
Again, storage is going to be your best friend, as it declutters the room and organises your things to ensure that nothing is left on the floors. If you want to use as much space as possible, then floating shelves, for example, are a great addition as they provide you with additional storage. On the other hand, those that want a clear and clutter-free room, it is best to avoid putting anything on the walls. Other furniture items such as pouffe or ottoman with storage are perfect for smaller rooms to allow you to enjoy the comforts of additional features while providing functionality.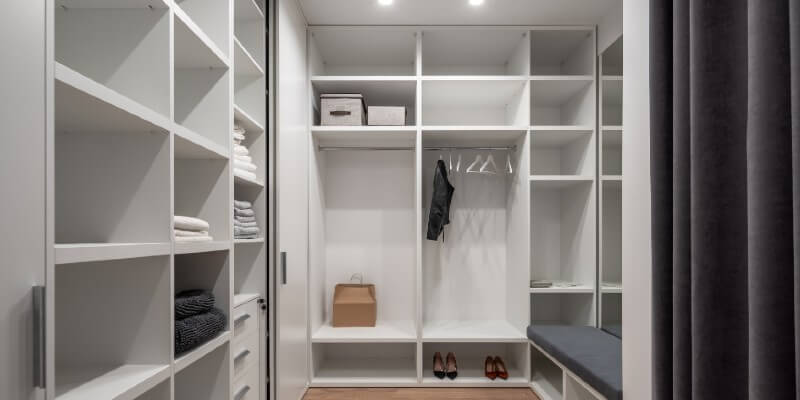 Not every home has an additional room or space to incorporate a dressing room outside of the bedroom, but this doesn't mean that you are not able to enjoy the luxury of a walk-in wardrobe. If your room is big enough, then you may be able to incorporate your dressing room into the bedroom by using the back of a wardrobe or a funky partition wall to separate the bedroom from the wardrobe. Home Designing, for example, has a host of wall partition ideas for the home that also add an artistic element to ensure that the room still matches your style and stops it from feeling small.
Alternatively, some homeowners enjoy making their entire bedroom into a walk-in wardrobe, and having the bed feature in the centre of it all. This is an excellent way of using the space that you have without compromising on luxury features. To achieve this, all you will need to do is have bespoke wardrobes fitted along all the walls of your bedroom. We would also suggest having shelves fitted above the bed for additional storage space and to add a stunning modern design feature into the room. For example, our Locano Touch and Classic collection looks beautiful within a bedroom and can be designed to run above the bed and is available in various colours and finishes for a modern or traditional look.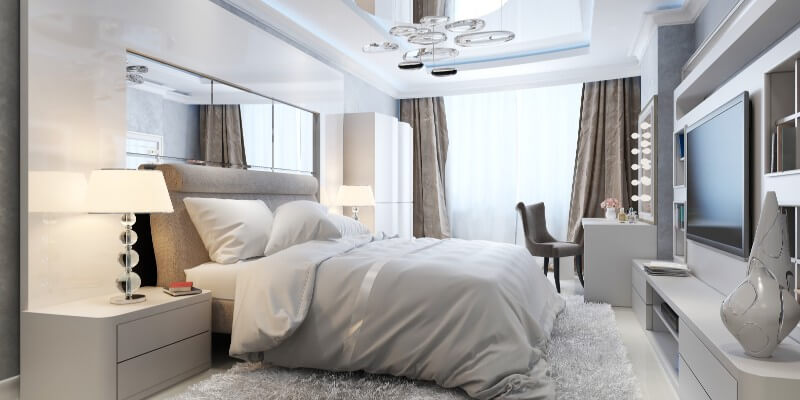 Another feature that looks beautiful in dressing rooms and adds a touch of luxury is a dressing room island. This can be used for additional storage such as drawers or even double it up as a vanity table. A client of ours completely renovated their new build by incorporating a massive walk-in wardrobe with a matching dressing island in the centre. Not only did this beautifully break up the room, but it also makes the space feel like a luxury feature that you wouldn't find in any other home. For this project, the team worked with the client to understand their style requirements and created a floor plan layout so that they could visualise the final piece, and as you can see from the images, it looks simply breathtaking.
You can also create your own bespoke dressing room island with the colours and materials you prefer. Whether you are looking for a gloss finish or a sophisticated dark wood, the team can help you to fully design your dressing room island to incorporate all the features that make it suited to you.
Lastly, another design element that you will need to consider are the wardrobe doors. We would advise that you incorporate sliding wardrobes into your design, as this is most beneficial to smaller rooms and ensures that you are not limited on space. Here at Furniche, we offer a stunning range of sliding wardrobes that are made to measure for every client. You can choose from vibrant colours such as bright reds or opt for something a little more subtle with creams and browns. You can also choose from glossy finishes or a matte finish depending on the look you are aiming to achieve. For example, if your room is slightly smaller, then glossy sliding wardrobes are ideal as they can reflect light. A matte finish can help to create a contemporary and elegant finish to your dressing room, and looks best when paired with a wood effect.
You can find more ideas for inspiration on sliding wardrobes over on our previous article, or feel free to contact the team to discuss our full range of styles, designs and materials when incorporating sliding wardrobes in Bedford and the surrounding areas.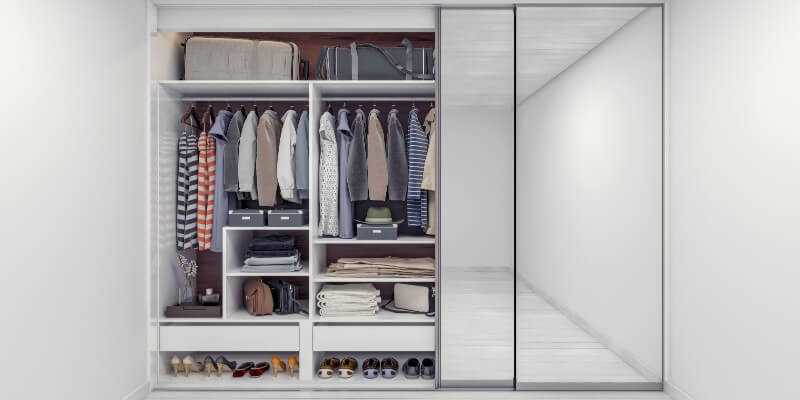 How Will You Design Your Dressing Room?
With the ability to tailor every aspect of the wardrobe design, from the exterior to the interior, to your personal taste and preferences, creating your dream walk-in wardrobe couldn't be easier. The Furniche team can help you to piece together a dressing room that fits seamlessly into the space that you have to work with, whether that's a small cove or a large spare room. Our range of smart storage solutions and product collections can help you to create a masterpiece that you'll love for many years to come. If you are interested in creating a bespoke dressing room with the Furniche team, then please feel free to contact us today to start your design process!