Finding the right interior style for you can be rather difficult, especially when you have so many different ideas going on in one place. Here we tell you all about contemporary bedroom furniture and how you can use them in your home.
How is contemporary bedroom furniture defined?
Contemporary furniture is commonly known as refreshing and current. Contemporary is always in style, and often is simplistic in form but is gorgeous and functional.
Contemporary style can be used in conjunction with a range of colours and themes throughout your home. We are going to go through a range of furniture we believe will give your home a modern simplistic feel.
All white
Scandinavian style has been on trend for the past couple of years; it incorporates white and grey tones which help to accentuate the space you already have by making it look larger.
Scandanavian style is perfect if you have a smaller bedroom. It's not difficult to introduce this type of interior design to your home, and you can easily create it with a dash of paint and a changeup of bedroom furniture. Typically, the Nordic design means whitewash walls; you can pick up a loft white colour from Little Greene to achieve the best tone and brightness for your bedroom.
You can also achieve a luxurious Scandinavian style by introducing new sliding wardrobes in Milton Keynes, not only do they provide you with the perfect amount of space but they can also sit flush against the wall and help towards creating a minimalistic feel. Alternatively, this type of interior design is not only about making the most out of the space you already have but also providing the best relaxation zone in your bedroom. You can achieve this by adding sofas to your bedroom to create a reading corner, take a look at our Ludvig style for inspiration.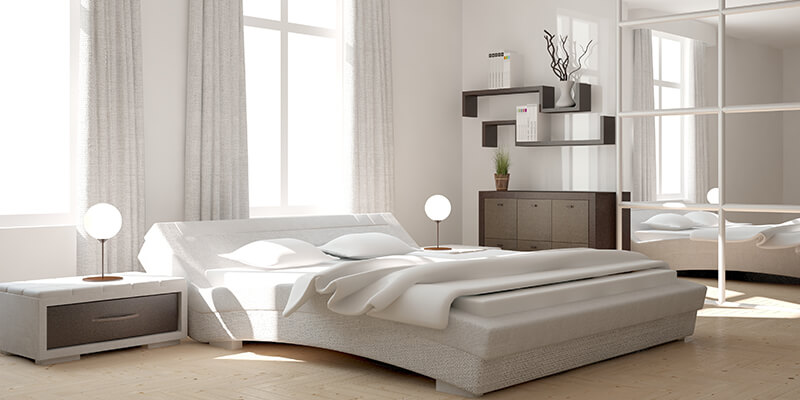 Muted greys
Muted greys are a great way of bringing a soothing and relaxing feel to your bedroom. Introduce hanging lights to help create a modern decor; we recommend leaving side tables free of any lights. By doing so you can add a range of contemporary pieces of art such as statues metal lanterns. Alternatively, if you do require lights beside the bed, why not make them into pieces of art such as sleek chrome designs which provide a touch of light, get yours at Wayfair.
Darker tones in the room promote long sleep; we also love wooden furniture in the bedroom as they compliment the grey tones. Wooden furnishing provides a more natural texture to the bedroom as well as giving a crisp and tailored feel.
Bright colours
Contemporary interior design isn't just restricted to whites and greys. Introducing colour is one of the best ways to give your bedroom a more contemporary feel. Not everyone has a big budget when it comes to refitting or revamping their bedroom, so adding a touch of colour through ornaments, bedding and artwork.
When it comes to introducing colour into your bedroom, we always recommend to sticking to one or two colours and sticking with them. The last thing you want to do is overload your bedroom with bright colours. Oranges, blues, reds, silvers and purples are great for creating a vibrant space. Each colour stands out brilliantly against a more muted and toned down backdrop.
If you are struggling to bring colour into your bedroom one of the best ways to do so is by adding plants. Cactus is a great plant to add to your bedroom as they do not require a lot of attention, so its okay if you forget about them for a while. Take a look at The Flower Room for a range of plants in gorgeous contemporary pots.
Backdrops
Creating the best possible backdrop for your bedroom can be a tricky task, but there are so many different designs you can now choose from. We always recommend if you want to go for a backdrop in the room it needs to be subtle but still stand out. They are also perfect for you to place either an eye-catching bed or sofa.
Wallpaper is something you might want to avoid when it comes to creating a contemporary bedroom feel. You should consider looking at cladding for your bedroom, woods and stone are an excellent choice to make the bedroom airy.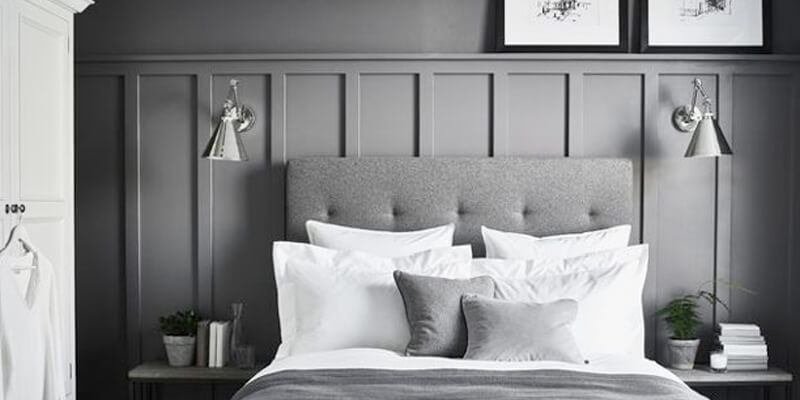 Photo credit to Houzz
Bed side tables
A bedside table is something everyone needs in their home, whether it is there to be used as storage or is simply there for decoration they are a great way of adding to your contemporary style. We recommend keeping them the same tones as your bed and other fitting such as fitted wardrobes in Buckingham.
Bedding
Bedding is one of the best ways of bringing in a more contemporary feel to your home, we know it's not quite furniture, but your bedding can make a massive difference to the overall look of your room. Stick to simplistic colours and tones, whites and light greys are a perfect base tone of your bed sheets. With muted fresh sheets you can add a touch of colour by adding a throw or pillows. Julian Charles has a gorgeous crushed velvet silver throw as well as square cushions to match. By adding different colours and textures through your bedding, your bedroom becomes both luxurious and stylish.
Summary
Creating a contemporary modern look to your bedroom doesn't have to be hard, you only have to make a few small changes to your room to become fresh and relaxing. Scandanvian style is something we believe you should look into; the interior design is both minimalistic and modern. It helps promote tranquillity and relaxation in your bedroom. Muted greys are also a great way of making your bedroom more contemporary, which can be easily achieved through a dash of paint.
If you already have a base colour in your bedroom why not think about introducing new furnishings such as wardrobes, sofas and bedside tables. Alternatively, if you already have fittings that currently work for you, you can introduce ornaments and bedding to add a touch of colour and elegance.