There is nothing more wonderful than a child's imagination, and while creativity is always encouraged, it can be tricky to work with them to decide on how they would like their bedroom to look. Especially during the early years, interests and hobbies change what feels like every week, and as a new trend is introduced, so is a new obsession. For parents, this can make it almost impossible to track down bedroom decor that will last their children throughout the years without having to renovate every few years. So, with this in mind, we have put together a host of functional bedroom designs with ideas on how you can create a timeless foundation which will see the youngest members of the family through from toddler to teenager.
Functional Bedroom Designs For All Ages
Whether you are expectant parents for the first time or are growing your family, decorating your little one's bedroom is one of the most exciting steps of preparing for your new arrival. While putting together a design for a newborn is relatively straightforward, by the time they reach a toddler, you may find that you need to begin making alterations to adapt to their age. It is at this stage that the costs start to add up, and before you know it, you find yourself redecorating every few years to suit the latest trends or interests.
However, this needn't be the case as there are a number of ways in which you can future-proof your child's bedroom. This will mean that while small accessories may change over time, the main, and most expensive aspects of the room will always remain the same. The ideas that we have featured below have been designed to carry children through the younger years, all the way until they move out, so keep reading to find our handy hacks: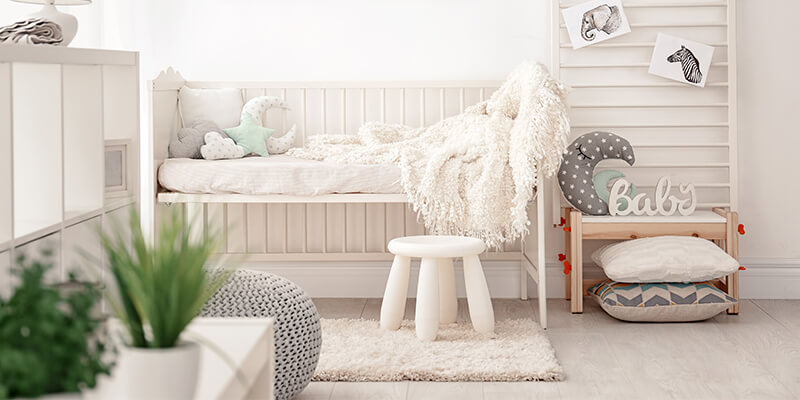 First and foremost is the colour scheme; this acts as the foundation of your room and should create a blank canvas for you to then work around. While it may be tempting to opt for a vibrant colour to reflect your little one's cheeky personality or a shade that fits with your favourite interior design trends, it is always recommended to choose more neutral tones instead. This will save you from having to completely redecorate the bedroom later on down the line when you are no longer keen on the colours. There would be nothing more tedious than trying to mask bright pink, blue or yellow walls with multiple layers of a fresh, clean white shade, so by keeping the basis of your design as simple as possible, you will be able to future-proof the space.
When it comes to choosing a neutral colour scheme, it is no longer the case that only shades of white and beige are available. There is now a wealth of options for those looking for more subtle hues, and your most significant decision will be whether you will choose warm or cool tones. Cool neutrals remain the most popular as they match with almost any interior design style, whereas with warmer shades, you may be a little more limited. You can find more details about the various natural palettes over on the Dulux website.
Now, if you are choosing the neutral route for your child's bedroom and they are still young, then opting for a paint that is easy to clean will be essential. The only downside to lighter coloured walls is that they are more prone to becoming grubby, especially with mucky fingerprints and pen marks when your little one decides that they would like to be the next Banksy. Luckily, Crown Paints has designed their own easyclean® range, which features a host of shades that can be scrubbed down without becoming damaged. We would also suggest heading over to Real Homes for a complete guide on how to clean painted walls.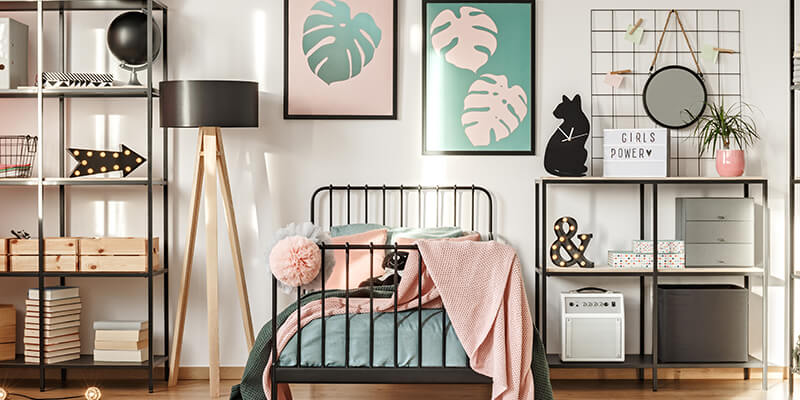 As children grow through the years, they accumulate their fair share of belongings, whether it may be piles of toys, teddies or a collection of clothes that top designers would envy. It is for this reason that plenty of storage will be imperative, helping them to organise all of their valuables without making the room look cluttered.
By far, the most effective way to create storage solutions that will last for many years is to invest in custom furniture. Custom furniture, as the name suggests, is designed bespoke to the size and shape of the bedroom, ensuring that no valuable space is wasted. Although this may come at an initial investment, it is guaranteed to offer a return as you will not have to worry about replacing furniture later on down the line when children begin to outgrow the decor. It also allows you to keep the number of chunky, space-consuming objects in the room to a minimum, leaving plenty of space to play with toys or do homework.
Much like your colour scheme, we would advise designing your furniture in simple, neutral shades which complement the wall tones. Again, doing this will prevent you from having to reinvest in expensive items in the coming years. These can then be decorated to fit with the theme of the bedroom using colour accessories and ornaments.
If you are interested in customising your own furniture, then please do not hesitate to get in touch with the team at Furniche. With years of experiencing designing and installing fitted bedrooms in Milton Keynes, they are always more than happy to talk you through the possibilities based on the measurements of your available space. All are manufactured using reliable, robust material which guarantees longevity.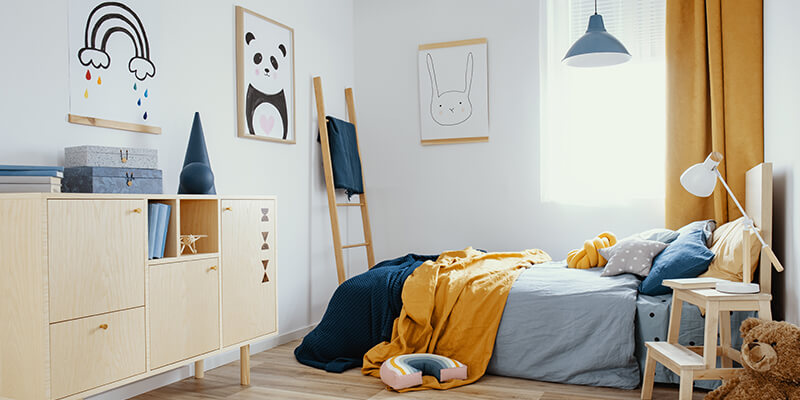 To accompany your bespoke furniture, another fantastic way to future-proof your child's bedroom is to install fitted wardrobes. Although in the first few years, all of your little one's clothing is likely to fit compactly into a few drawers, as they reach the toddler years, it is expected that they will begin to build up a wardrobe worth of items. This means that lots of additional storage space will be essential in keeping the room tidy while ensuring that clothing remains in good condition.
The beauty of fitted wardrobes is that they can be designed to fit in even the smallest of spaces, meaning that you do not need a large bedroom to take advantage of them. They are also a popular choice for those with a sloped ceiling in, for example, a loft conversion as they are installed neatly into the contours for a seamless finish. The interior can also be personalised to fit with the storage type that you need the most with the option to make alterations as time goes on. This means that you can opt for lots of drawers when your child is younger and then remove areas to create hanging space as they grow. As well as tailoring the storage style inside, you can also add unique touches when they reach their teenage years. For instance, LED lighting is always a popular choice amongst our clients, along with jewellery drawers and shoe racks.
For more information on how you can transform your bedroom, why not speak with our specialists in fitted wardrobes in Milton Keynes? We are committed to bringing your vision to life, so we will work with you to put together a design that fulfils all of your requirements. Alternatively, if you would like to see more examples of how you can incorporate a fitted wardrobe into your space, head over to our projects page.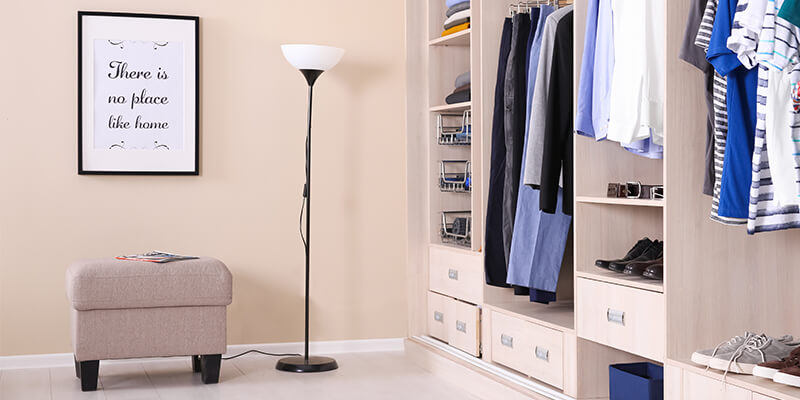 Whether it may be muddy footprints, paint or every parent's worst nightmare, slime, there is a whole host of things that are likely to make the flooring in your child's bedroom look a little grubby. With this in mind, when considering interior designs, it will be vital to shortlist a number of flooring options to determine which would be the most durable. Flooring is always one of the most difficult updates to make in a room as it forces you to remove every piece of furniture, which can be incredibly time-consuming. By choosing a material that is easy to clean and will remain in good condition for many years, on the other hand, this is a task that you may not have to do for the rest of your time in the property.
Some of the most popular flooring choices for a child's bedroom include the following:
Carpet – This will always be the most popular flooring for little ones as it is the softest, which means that trips and falls are far less likely to cause injury. However, carpet is the most prone to staining and also traps dirt, making it the hardest to keep clean. If you do choose carpet, then we would suggest placing a large rug across the area of the room that your child uses the most, preventing the carpet itself from becoming damaged. You can then throw away the rug when they get older, leaving a pristine carpet underneath for their teenage years.
Vinyl – As a material which is resistant to almost all damage including stains, water and tears, vinyl is a great option which will last you many years to come. The great benefit of vinyl flooring is that not only is it available in simple block colours, but also different finishes which can replicate the appearance of wood, for example.
Cork – If you are looking for a flooring option that boasts the same soft qualities of carpet, but want an alternative that is far easier to clean, cork would be a great option. Although it isn't commonly used in bedrooms, cork flooring is also naturally anti-microbial, which means that it does not allow any germs or mould to grow, keeping your little ones healthy while they play.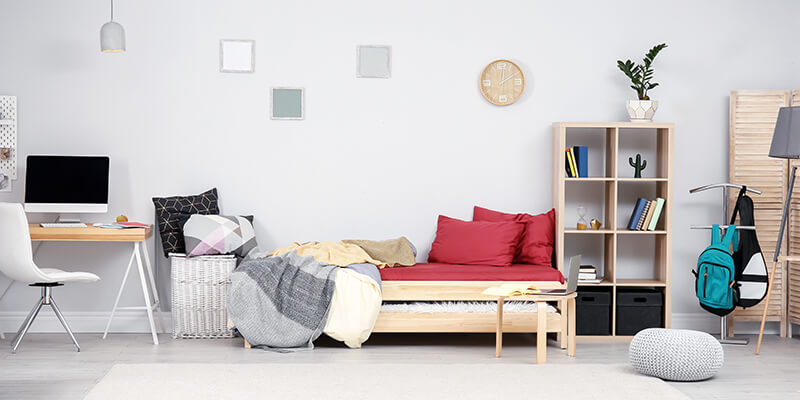 Once you have created a blank canvas with a neutral colour scheme and fitted furniture, you can then begin to get creative. This is where you can start to incorporate your child's hobbies and interests, whether it be their favourite film, character or sport. Through sticking to only adding your decor theme through finishing touches as opposed to the foundation of the room itself, you will be able to alter it whenever you wish, without having to pay out large sums to redecorate completely. Then when your child reaches their teenage or adult years and wants to stick to a modern, simple design, it will be super easy for them to add their touches of personality.
There are a number of fantastic room updates which can completely transform its appearance without having to spend much time or money during the process, such as:
Duvet cover and pillowcases that match your theme
Patterned cushions and throws on the bed
Statement lampshades and light fittings
Decorative pieces including ornaments and vases
Colourful curtains or blinds
Artificial flowers and plants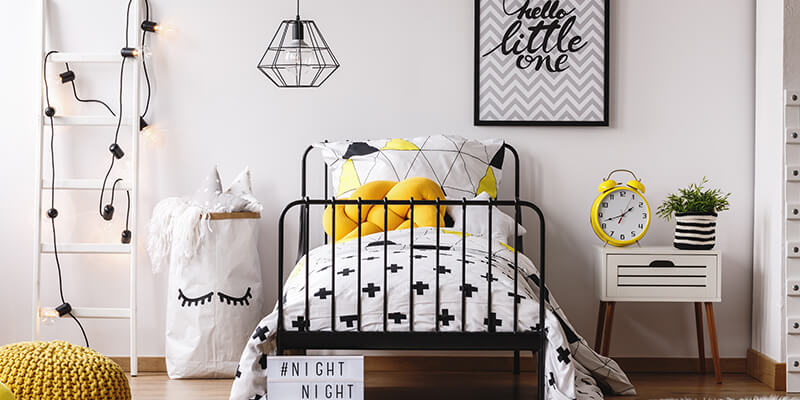 As you would have chosen a neutral shade for the walls, another excellent way that you can add personality to your child's bedroom is through wall art. If your little one is obsessed with a particular film, TV programme or animal, they would adore a series of framed photos on the wall. This is ideal as when they begin to lose interest or find something else that they prefer; you can simply replace them. Desenio has a vast collection of beautiful wall art perfect for children's bedroom, so we suggest taking a look if you are on the hunt for affordable yet high-quality options.
To ensure that your walls last you a number of years without repainting, we suggest hanging any wall art using methods that do not involve nails. This eliminates the tedious job of refilling, sanding and painting any holes in the wall when your child no longer wants to hang photos. Self-adhesive strips with hooks are one of the best routes as they are also super easy to remove when you no longer need them. Take a look at Puls for a guide on how to hang wall art using strips instead of nails.
The Perfect Bedroom For Many Years To Come!
Your child's bedroom is their own space to relax and enjoy themselves in their spare time, which means that it is important that it adds touches of their character. Whether you are planning a room for your little one on the way or are creating a space for your child to spend their teenage years, our guide will help you to choose a future-proofed design. Not only does this mean that your child can continue to love their bedroom for years to come, but when they eventually fly the nest, it will be super easy for you to repurpose the room into whatever you wish.