In the past, the idea of having a family entertainment room only felt possible if you had tonnes of land to work with, but this most definitely is no longer the case. With a wealth of furniture customisation options and design tricks to maximise the potential of your space, finding entertainment room ideas that slot seamlessly into your home couldn't be more straightforward!
Create The Perfect Space With Our Entertainment Room Ideas
Having spent many years working with clients to create bespoke furniture for their home, we have been lucky enough to be involved in many different entertainment room projects. We can confirm that even if you have only a small space to work with or a section of an existing room, you won't be short for inspiration on how to bring your vision to life. With this in mind, we have put together our top six entertainment room decorating tips: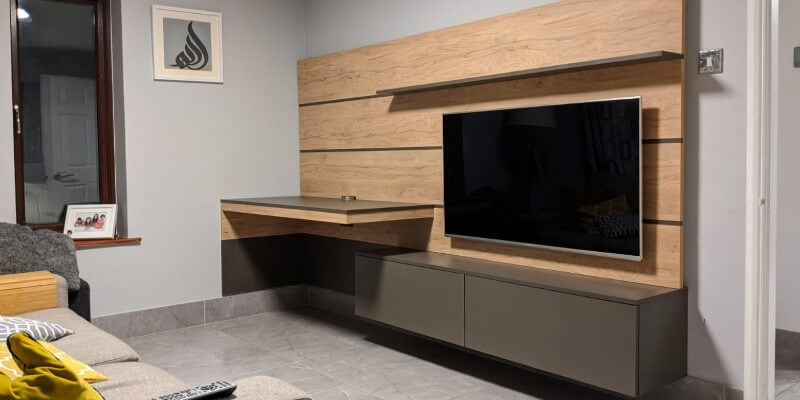 The focal point of every entertainment room will, of course, be the entertainment unit, so why not put this at the forefront of your space through a customised design? Bespoke entertainment units are by far one of the most popular ways to bring your room to life and allows you to integrate all of your technology in one place. It means that instead of trying to squeeze all of your electronics into a pre-made design, you will be able to create a unit that fits with your requirements only.
Along with being designed around your devices, custom entertainment units are also ideal if you are limited in terms of space or are converting a uniquely shaped room. For example, a fantastic option is to convert a loft into an entertainment room; however, the sloped ceilings and shorter walls can make finding furniture tricky. With a bespoke unit, each compartment will be fully fitted into your room, reaching to even the most awkward of contours. This allows you to fully optimise your room, ensuring that no valuable space is being wasted.
If you are in the process of planning your renovations and are interested in custom entertainment units in Milton Keynes, then please do not hesitate to get in touch with Furniche. With extensive experience in designing personalised furniture, our team have built an exceptional reputation for guaranteed quality. From the colour of your entertainment unit to the storage inside, every aspect will be tailored to you.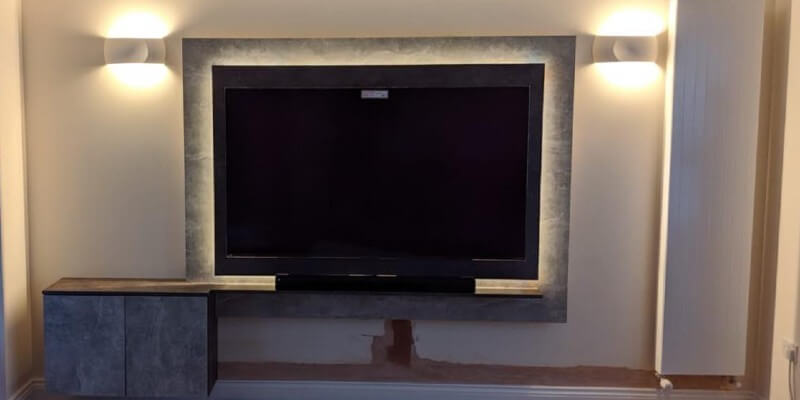 If you do not have a spare room to convert into an entertainment room, then this most definitely doesn't mean that you cannot take advantage of the idea. Instead, consider integrating an entertainment area into one of your existing rooms – we love the idea of combining your master bedroom with all of the features of an entertainment room. As your master bedroom is likely to be already equipped with a TV and other electronics such as games consoles, renovations will be minimal. There will be no need to renovate your entire bedroom (unless you want to, of course!) as instead, all you will need to do is make space for an entertainment unit.
When adding an entertainment area into your master bedroom, it is entirely your choice whether you allocate one wall for all of your gadgets or replace all of your furniture to accommodate an entertainment area. Many of our clients opt for the latter and invest in one of our fitted bedrooms in Milton Keynes. This involves designing one large unit that combines wardrobes, storage and space for a TV, saving space and keeping the room looking tidy. Creating your own fitted bedroom is also ideal if you hope to maintain a cohesive look throughout your space as all furniture pieces will match.
If you would prefer to keep your existing design but with the addition of an entertainment unit, then this is also a fantastic option. This is better suited to those who have more space to play around with and are able to allocate a full wall to their new installation. Regardless of the route that you choose, our team are always a phone call away if you have any questions or want to get started on a project.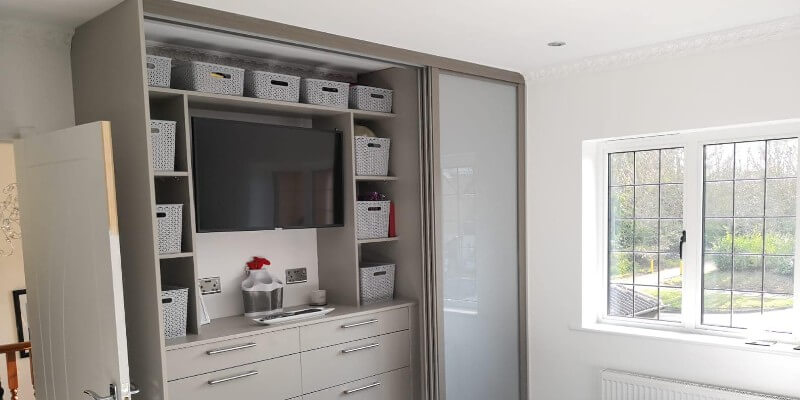 The purpose of an entertainment room is to create a space to relax and unwind as a family, which means that your interior design will need to promote tranquillity. As a cluttered space has been proven to do the opposite, causing stress and making it difficult to relax, providing plenty of storage solutions will be essential. This will allow you to take a 'less is more' approach; incorporating all of the essentials while keeping the room tidy.
Much like your entertainment unit, it couldn't be more straightforward to design a storage system tailored to your requirements. This can include one unit that stretches across your entire entertainment room or several smaller cabinets intended for different purposes, such as one for movies and another for games. We have even had clients who have created their very own snack bar, including drawers and shelving, which is tucked away in the corner for when they want a mid-movie treat. Ultimately, when it comes to designing your entertainment room storage, the possibilities truly are endless!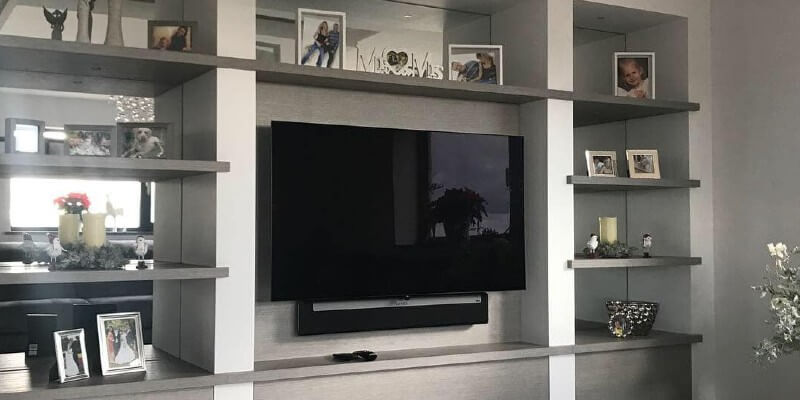 For those who are looking for the ultimate family entertainment room, you cannot get more entertaining than a complete home cinema. If you are lucky enough to have an unused room or have a space perfect for converting, then while the pandemic has stopped us from visiting the cinema, there is no reason why you cannot bring the cinema to you. This has become an incredibly popular use of a garage conversion as when converting the space, it couldn't be easier to soundproof the room and integrate state of the art entertainment systems.
When designing your home cinema, there will be many different factors to consider. We suggest starting with asking yourself the following questions:
Will you use a TV screen or projector? If you are looking for a screen bigger than 100 inches, then a projector will be the best route. For those with less room, yet love high spec technology, a modern flat-screen TV would be ideal.
Do you have the right cabling and connections? If you're unsure, then you could always schedule a visit from your local electrician, who will be able to assess your existing wiring and recommend any necessary updates.
What surround sound system will you use? Typically cinema rooms will use 5.1 surround sound, which means that there will be five speakers; however, bigger systems are available based on your room's size. Take a look at Digital Trends for more information on the different options.
Once you have determined the best technology for your cinema room, its time to get in touch with our team for your custom furniture. Along with supplying entertainment units in Bedford and the surrounding areas, our team can also work with you to design personalised home cinema furniture, including creating units that allow your TV to be built into the wall. In the meantime, for more top tips on how to create a home cinema, take a look at Homebuilding & Renovating.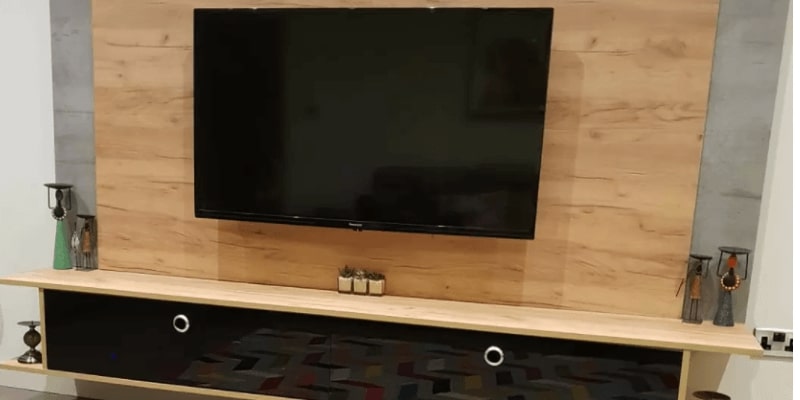 It wouldn't be an entertainment room to relax with the family without comfortable seating, so its no surprise that this is our next idea! Much like when designing your storage, you most definitely won't be short for inspiration when searching for the perfect seating.
Depending on the size of your entertainment room, you can choose either one big sofa or separate seating for each family member. Although the traditional cinema-style room would feature rows of leather armchairs, many modern homeowners prefer a corner sofa, which sits against their walls. This a great idea if you want your entertainment room to double up as a games room, for example, as it will allow you to keep plenty of floor space. The extra space can then be used to house a pool table or if you have younger children, their toys. You could even consider completing your entertainment room with a couple of giant beanbags – these always go down a storm with the little ones!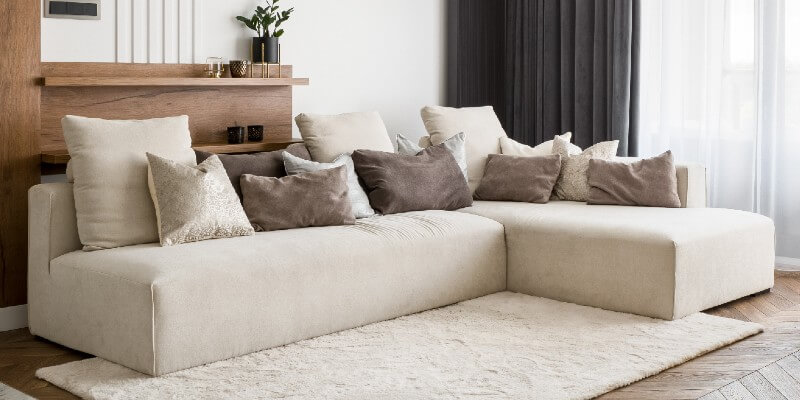 Our last idea gives you the perfect excuse to show your creative side and add a touch of personality to your family entertainment room – a feature wall! While the focal point will be your entertainment units, if you have a spare wall which is looking a little bare, this is ideal for filling with artwork to show off your interests.
There are no rules when it comes to creating a feature wall, but if you are stuck for inspiration, here are some of our favourite ideas:
Movie Posters – Whether it may be nostalgic films which bring you back to your childhood, iconic movies or your little one's favourite characters, posters are perfect for your entertainment room. Pop Art UK has a huge collection to choose from for all ages!
Family Photos – Your entertainment room will be the central hub for spending time as a family for many years to come, so why not frame your favourite snaps and create a photo wall? Shutterfly has put together a great article with more than 30 ideas on creating a family photo wall.
Illuminated Signs – Although you will need a slightly bigger budget, an illuminated sign is guaranteed to look wonderful in any entertainment room. Whether you get a vintage cinema lightbox or quirky neon signs, they will always bring the wow factor to your space. Take a look at Soft Signs for a range of options to choose from.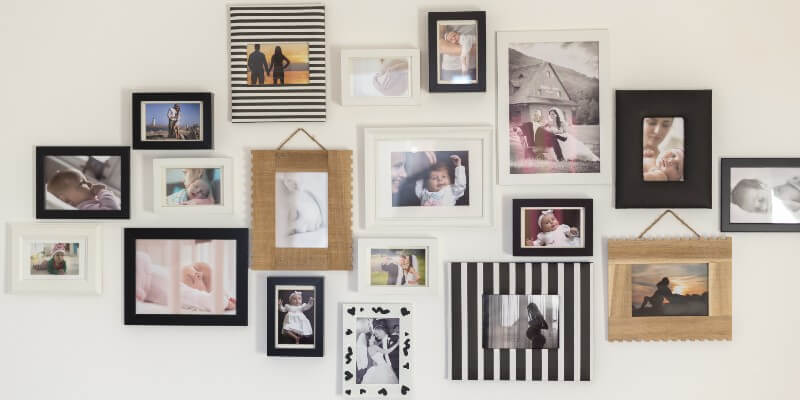 Relax & Unwind In Your New Family Entertainment Room!
Now that you are armed with all of the information that you need to begin piecing together your entertainment room, its time to sit down with the family and start brainstorming ideas. The key is to determine which features are the most important to you, then build your design around this, whether it may be the TV, seating or storage. When you are ready to start creating your furniture, our team are always more than happy to help. From custom entertainment units to fitted bedrooms in Bedford and the surrounding areas, our team are well-versed in how to bring your vision to life!