Helping clients design and build their dream built-in wardrobe is what we do best, and we are always looking for new ways to allow every element to be personalised. To further our customisation options, we have invested in a number of wonderful new colours from leading manufacturers, all of which are now available when designing your bespoke fitted wardrobe with Furniche!
It's Never Been Easier To Customise Your Design!
As specialists in sliding wardrobes and fitted bedrooms in Milton Keynes, we are proud to have built an excellent reputation for our ability to bring our client's vision to life through endless personalisation options. Our beautiful new colours range from neutral tones to bright shades, perfect for complementing your interior design. These can be used for all of our bespoke furniture, whether you are looking for wardrobes or a fully fitted dressing room.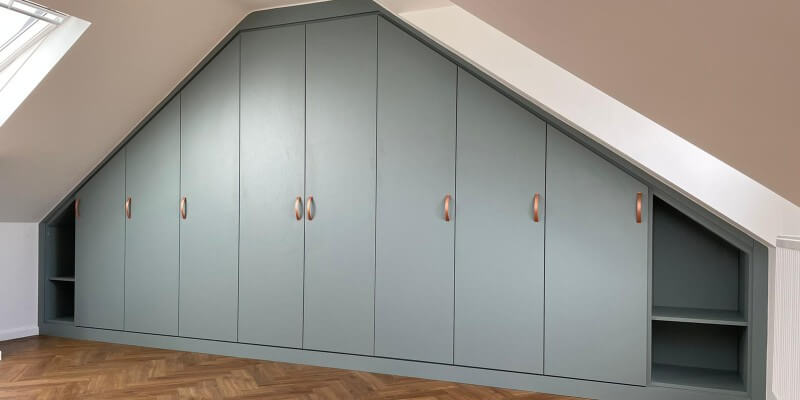 Our New Colours
At Furniche, we only use UK safety backed glass as we feel that this meets our high quality, durability, and longevity standards. We love the newly introduced colours available and look forward to seeing how they can be integrated into our client's homes!
Lacquered Colours (Standard Range)
Black
Soft White
Pure White
Pearl White
Stone Grey
Chalk Grey
Storm Grey
Graphite
Dakar
Cashmere
Light Beige
Classic Brown
Blue Shadow
Green Sage
Green Soft
Mocha
Red Luminous
Garnet
Aubergine
Celestial
Metallic Colours (Premium Range)
Aluminium Rich
Black Starlight
Satin Colours (Premium Range)
Pure White
Silver
Silver Grey
Silver Bronze
Stone Grey
Chalk Grey
Storm Grey
Black
Dakar
Cashmere
Blue Shadow
Green Sage
Green Soft
Mocha
Citrine
Sea Glass
Moonstone
Rose Quartz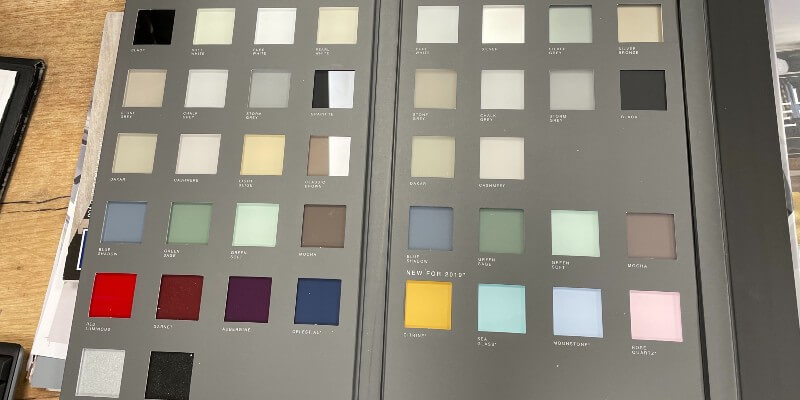 Take a look at how amazing our new wardrobe colours look!
Other Ways To Customise With Furniche
Our sliding wardrobes in Milton Keynes are by far the most popular option amongst our clients. Every aspect of the design is bespoke, from the size of the panels to the shape of the frame, ensuring that the wardrobe slots effortlessly into its allocated space. With this in mind, the different elements you will be customising are:
Sliding Door Profiles
One of the first steps will be to choose the right profile handle. If you are new to designing wardrobes, this can seem a little complex, so our team are always more than happy to point you in the right direction!
We offer several profile handles:
Orion: Steel profile available in silver, graphite, white and oak.
Contour: Aluminium profile handle with ergonomic curve available in silver, champagne, nickel, white and black.
Shaker: The most popular option for those looking for a traditional style profile, available in four finishes.
Matrix: A great modern profile that offers a fantastic grip to slide the doors, available in silver and champagne.
Noteborn: Exclusive to Furniche, Noteborn offers a top-of-the-range profile that is 55mm wide and sturdy with smooth soft-close doors. They are available in two woodgrain finishes, Grey Lorenzo Oak and Graphite Denver Oak.
Interior Style
The primary purpose of all new wardrobes, dressing rooms and bedroom furniture is to provide convenient storage, which is why ensuring the interior works for your needs and lifestyle is vital. With all of our bespoke wardrobes, you can enjoy up to six different interior design options, allowing you to personalise which storage solutions feature inside. Just some of the interior accessories available include:
Shelving
Clothes rails
Trays with shoe inserts
Trouser hangers
Jewellery organisers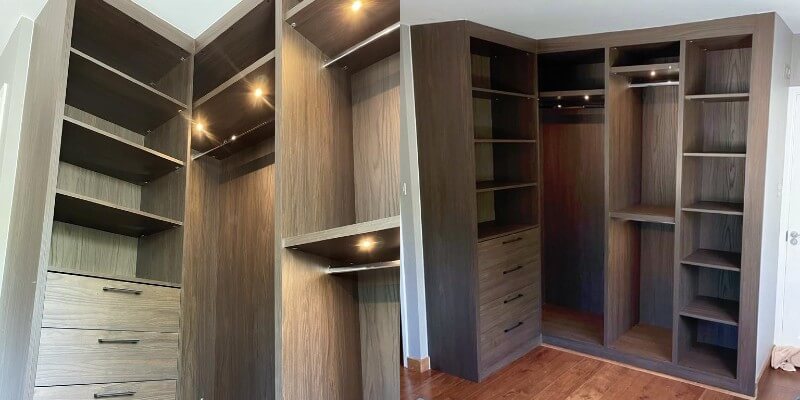 Door Style
Your chosen door style will have the most significant impact on the overall appearance of your design, and with many options to choose from, it couldn't be easier to mimic the idea you have in mind!
Single Panel Door Design: Featuring just one mirrors panel with either just one coloured panel or one on either side.
Split Panel Door Design: Designed without mirrors to replicate the appearance of a top and bottom section on each panel.
Three Panel Door Design: An eye-catching design with not only a mirror panel but also two contrasting colours.
Stripe Panel Door Design: The same design as a three-panel door but with two mirrored sections.
Wide Panel Door Design: A more unique option with a section of mirror running through the middle of all panels.
Four Panel Door Design: Features a collection of mirrors in the middle of the design with smaller surrounding panels.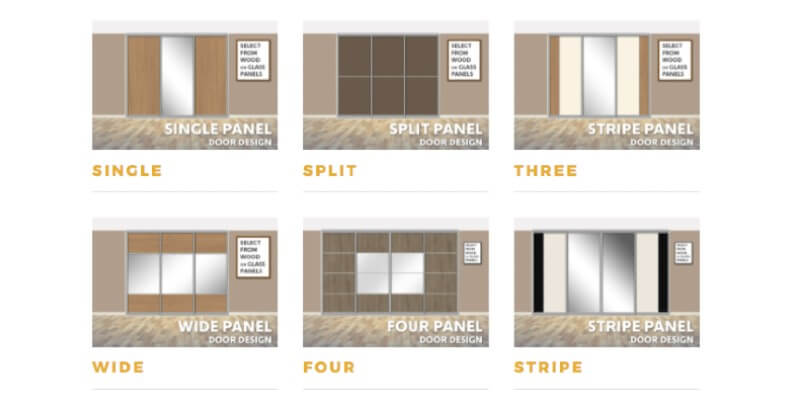 Matching Furniture
If you are looking to completely transform your bedroom, dressing room or walk-in wardrobe, why not pair your wardrobe with matching furniture? All of our new shades can also be beautifully integrated into your personalised furniture, ensuring that each component of your space complements one another. Much like our wardrobes, these are also made to measure, ideal if you have rooms that are more uniquely shaped. You can find a wealth of stunning examples of furniture we have designed and installed in the past on our projects page!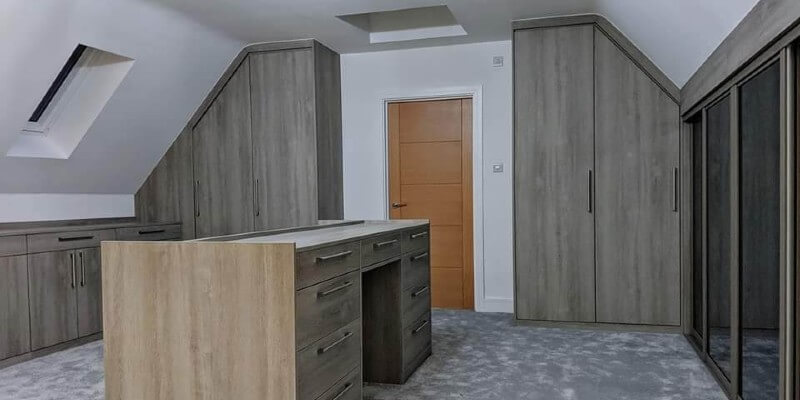 The Possibilities Are Endless!
Thanks to our range of beautiful new shades, there are now even more ways to add a personal touch and splash of colour to your design. If you are interested in our wardrobes, fitted bedrooms or dressing room furniture in Milton Keynes, do not hesitate to get in touch to book a showroom visit and begin discussing options. Our team will happily run through all of the designs available and how they can be personalised.