If you are a fan of the luxury life, a dressing room is a must-have! However, if you're short on space, you may be wondering how you can accommodate such a thing. We're here to tell you that it's more than possible! By creating a bespoke dressing room, you can incorporate all of the features you are looking for while also ensuring that every element fits seamlessly into the space that you have available. Customising your dressing room couldn't be easier. With a multitude of colours, designs and materials for you to choose from, you can piece together a luxury dressing room like no other. If you're stuck for small dressing room ideas and need a helping hand, then we have you covered with our handy guide!
Small Dressing Room Ideas: Get Ready In Luxury
From the colour of the room to the finishing touches, there are so many elements of your dressing room or walk-in wardrobe that can be tailored to your style. As specialists in bespoke dressing room furniture in Bedford and the surrounding areas, we know just how to personalise your space with made to measure products designed by you. So, with a wealth of bespoke opportunities, you're probably wondering how to create a design for your small but luxury dressing room. Here are some pointers to give you an idea of how you can piece together your new home addition: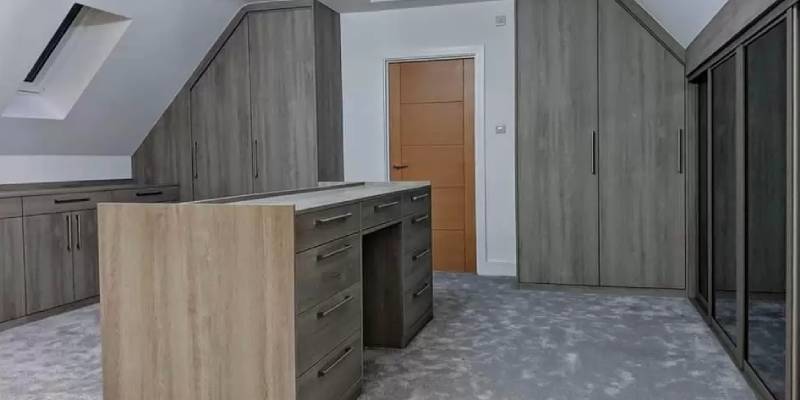 When it comes to decoerating a small dressing room and installing furniture, there are a couple of things you can do to maximise the space you have available. With our small dressing room décor ideas, you can make a tight area feel open and spacious!
Bespoke Furniture
When working with a small space, having bespoke furniture made is especially appropriate since the pieces can be built to fit the architecture of your home. A bespoke dresser or wardrobe can be fitted to utilise every inch of available space, allowing you to create a glamorous dressing room or area in even the most awkward of spaces.
Dressing Table
The dressing table is an iconic and essential feature of any dressing room or walk-in wardrobe. If you are seeking a dressing table that meets all your requirements and desires but just can't seem to find the right one, consider having a bespoke dressing table made. Our team members are experts in designing and installing dressing room furniture in Milton Keynes and the surrounding areas and can make the dressing table of your dreams a reality.
Wardrobes
Fitting a freestanding wardrobe can be especialy difficult in small or awkward spaces. Our fitted wardrobes in Milton Keynes and the surrounding areas can be seamlessly integrated into any space. Not only do they look elegant, but they also take advantage of whatever space you have available by enabling you to use it to store your clothing and accessories. Your bespoke wardrobe can be completely customised to you, from the colour of the units and handles to built-in storage features that reflect your needs. Please feel free to get in touch with our team to start designing your ideal wardrobe!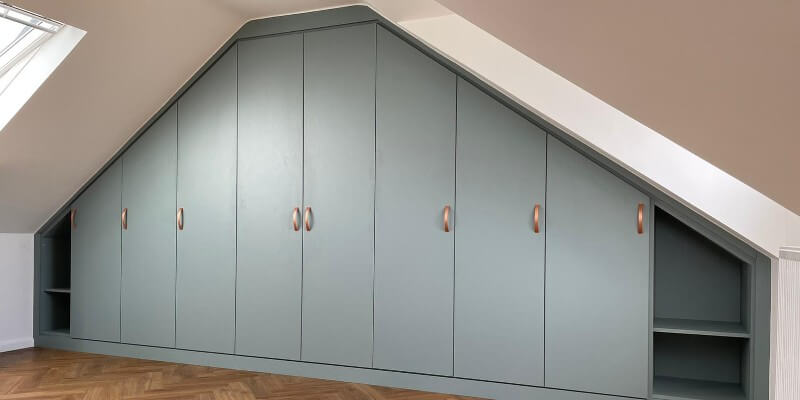 Mirrors
Mirrors are an essential component of any dressing room, but when it comes to creating a dressing room in a small space, the importance of mirrors cannot be understated. Not only are they used to check your appearance as you dress and apply makeup, but they also add to the luxury feel of the space, as well as make it feel much bigger by reflecting light.
Mirrored Wardrobe
In a small dressing room or area, there may be limited wall space available to install mirrors. Instead, why not create a bespoke wardrobe with mirrored doors? Not only do mirrored wardrobes look incredibly glamorous, but they also provide a huge mirrored surface to check and admire your appearance in as you get ready. If this sounds up your street, why not get in touch with our team about our custom sliding wardrobes in Bedford and the surrounding areas? For more information about custom wardrobe door options, check out our previous article.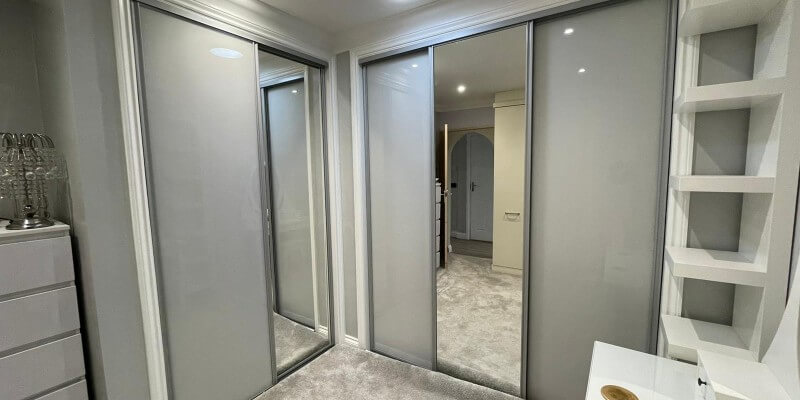 Adhesive Mirrors
If you aren't planning on incorporating a wardrobe into your small dressing room, adhesive mirrors are a brilliant alternative to mirrored doors. As we mentioned before, mirrors are an excellent piece of decor to use to make your dressing room feel bigger. However, freestanding mirrors can be costly to purchase and install, especially if you want lots of them. That's why we love these inexpensive yet effective adhesive mirrors! These reflective squares are made of real glass and are easy to install. Simply use the double-sided tape included to stick them to your walls as you please. You can install as many of these adhesive mirrors as you like, arranging them however you want, making them a great option for rooms with limited space available. You could even create a cheap-as-chips full-length mirror by placing the squares next to each other!
The colour of your dressing room is an important factor in the feel of the space, so you should consider your options carefully. When it comes to small dressing rooms, your colour choice can also affect how large the room feels. This is why we have a few colour suggestions which will help you make the most of the space you have available!
Light And Airy
If you want the feeling of your dressing room to be fresh and clean, a light and airy colour scheme is the way to go. Your predominant colour should be white, cream or pale grey. Ensure that any light fixtures you install give off a bright white light to illuminate the space properly. Try to stick to neutral, understated colours for this look. After all, the focus should be on you! LA Closet Design gives a stunning example of a light and airy dressing room.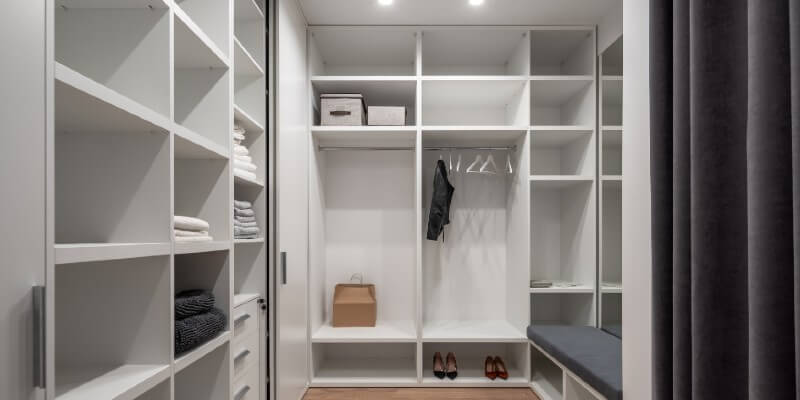 Calming Grey
Do you want your dressing space to feel calm and peaceful? If so, a soothing grey colour scheme is perfect for you. For some of us, our getting ready time is our relaxation time between a hectic work schedule and socialising. Harsh or bright colours may disrupt this time, which is why we suggest opting for gentle greys with light wood-style features to bring the calming effects of nature into your dressing space.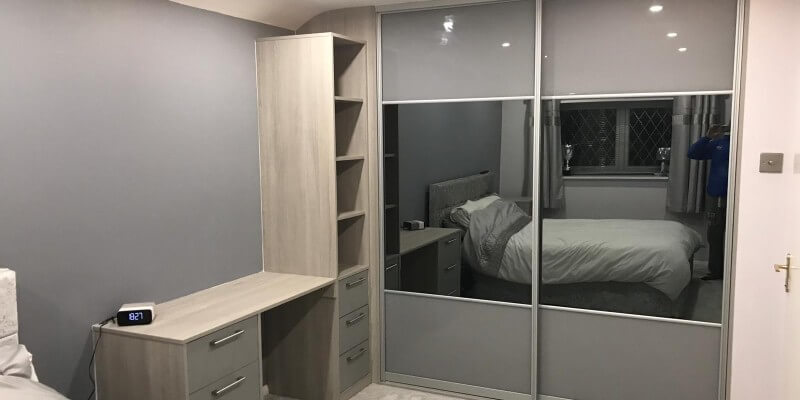 Dark And Elegant
If you tend to prefer darker aesthetics, you can stay true to this with your dressing room colour scheme! While some worry that a darker colour scheme will make for poor visibility in a dressing room and make it feel claustrophobic, this doesn't have to be the case. For example, you could have a wardrobe unit made with black, dark wood tones or greys while making your walls, ceiling and floor light in colour to keep the space feeling open and well-illuminated. Check out Pinterest for some gorgeous examples of dressing rooms with dark aesthetics.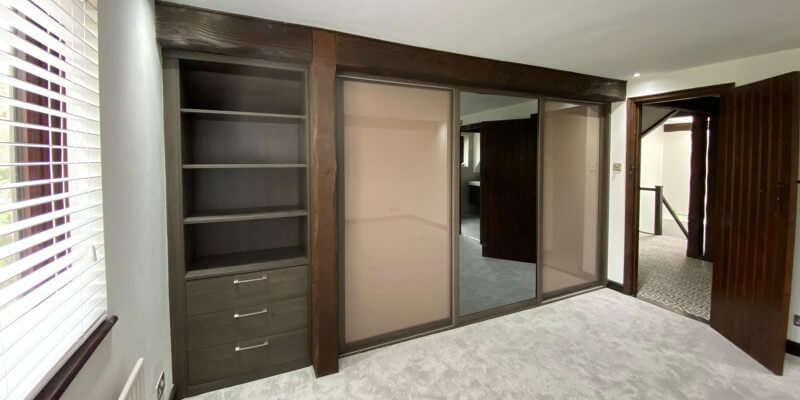 If you are a fan of the finer things in life but are also budget-conscious, read on! There is no reason why you can't enjoy an elegant dressing experience without breaking the bank. Here are some small dressing room ideas for when you're working with a budget:
In-Bedroom Dressing Area
If you love the idea of having a space solely designated to getting yourself glammed up but just don't have the money, space or time to redo or even build an entire room, you'll love this one. An in-bedroom dressing area could simply be a corner of your bedroom containing your dressing room furniture and décor. This doesn't mean that it must be any less glamorous than a standard dressing room! You can still install decor, lighting and mirrors to achieve that luxurious feel.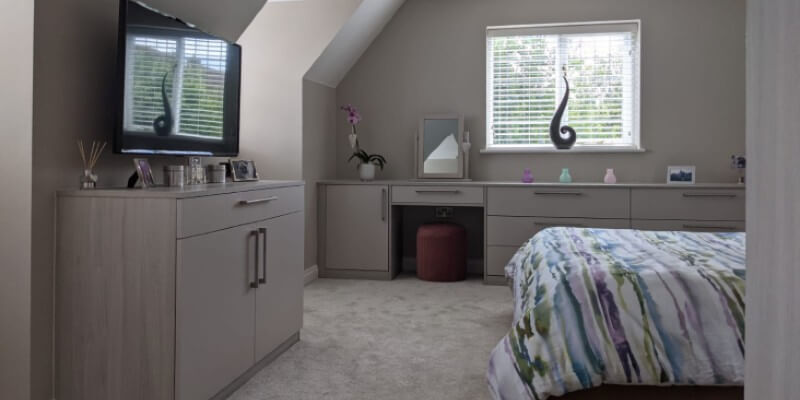 Storage Solutions
There is an endless number of storage solutions that can help you store your clothing, makeup, and accessories in an organised and space-efficient way. These can allow you to create a dressing room or area in the smallest of spaces, giving you that luxury feel without costing you an arm and a leg! Here are a couple of our favourite storage solutions for small dressing rooms on a budget:
Basket Organisers

Any functional dressing room should include the space to organise your clothing items and accessories so that they are neat and out of the way but easily accessible. We love the idea of using basket organisers to do this! These versatile containers are inexpensive and allow you to utilise the neglected space in your wardrobe, leaving plenty of room for other dressing room essentials. Basket organisers can be used to store practically any clothing item, from socks to tops to jeans!

Hanging Shelves

If you need some extra storage space for your clothes or accessories but don't want to spend too much, look no further than these hanging shelves from John Lewis! They can be hung inside your wardrobe, allowing you to neatly store folded clothes, shoes and more where you previously couldn't.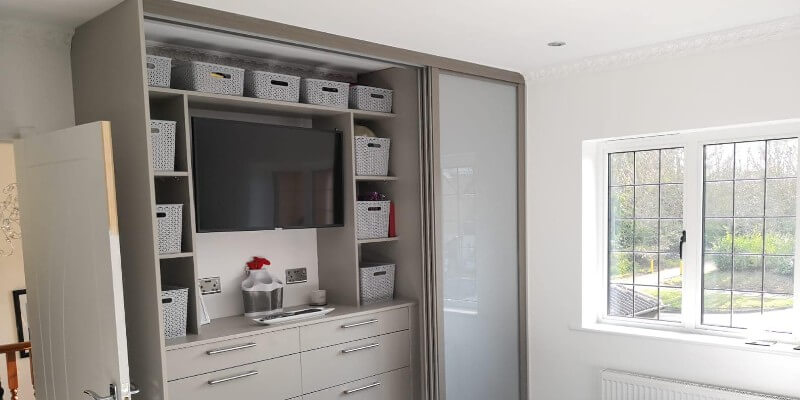 Glam Dressing Room Ideas For Small Spaces
With the ability to tailor every aspect of your dressing room or walk-in wardrobe to your personal tastes and preferences, the dressing space of your dreams can become a reality. The Furniche team can help you to piece together a dressing room that fits seamlessly into the space that you have to work with, whether that's a small alcove or corner or a large spare room. Please feel free to get in touch with us about our dressing room furniture in Milton Keynes and the surrounding areas or one of our other services to get started on creating a masterpiece that you'll love for many years to come.