Small bedrooms are not always a bad thing and can be designed into some of the most gorgeous rooms in the house. You can easily turn a dark, cramped small bedroom into a space that is the perfect retreat with plenty of practical storage solutions. We're going to discuss a couple of design ideas so you can get the most out of simple interior design for small bedroom.
Small bedrooms can sometimes be a little hard to tackle as you have to make the most out of the space you have, in some cases the room may also be an awkward shape. Therefore, its all about designing and thinking about the space you have and how you can best utilise it. Read on to find out our top tips for simple bedroom design and the best ways to make the most out of your small bedroom.
Our simple interior design for small bedroom
We love it when it comes to small rooms; they are a delight to design, yes they can be a challenge but there's no fun in designing a room that's easy. When designing a smaller room its the intricate detail that counts the most.
Which is why it is so important to really think about how you want to design your small bedroom. While you do not necessarily need to fill it with a lot of furnishings and other bedroom items, you want to ensure your bedroom has a bit of you in it. We highly recommend taking a look at a range of different bedroom design and gather inspiration before you start as it can be very easy to make a design mistake in a small bedroom. A few of our favourite places to look for interior design inspiration are Pinterest, Houzz and Design Sponge.
Colour
The colour you choose is key; we often go into homes where they tried to stay on trend with the latest colours such as dark greys and plums, which instantly makes the room smaller as the light cant bounce off the walls. Going for brighter colours such as whites, light greys and pastel colours can brighten the room and make it look larger. Natural paint colours are also magnificent for a small bedroom as it can make the room look more spacious due to its simplicity.
The right colour in a small bedroom can accomplish a lot, not only can it help to enhance the room but it also does wonders for the person or people in it. The right colour can flatter the space but also promote good energy, and keep you from feeling gloomy and sick.
Light greys are also another option we think you should consider as well as other neutrals such as whites and beiges. Grey can do wonders in terms of making the room look bigger and more expansive then it actually is. It is also the perfect colour if you are wanting to make the room look a little more masculine.
Neutrals are a fantastic option as it allows you to dress the room in a range of colours when it comes to furnishing and accessories. A blank canvas is always the best place to start, as over time if you taste or design preferences change you do not have to worry about the colour of your walls.
If you would like more information on what colour to choose we recommend you take a look at one of our recent blog post on how to pick a colour palette for your home.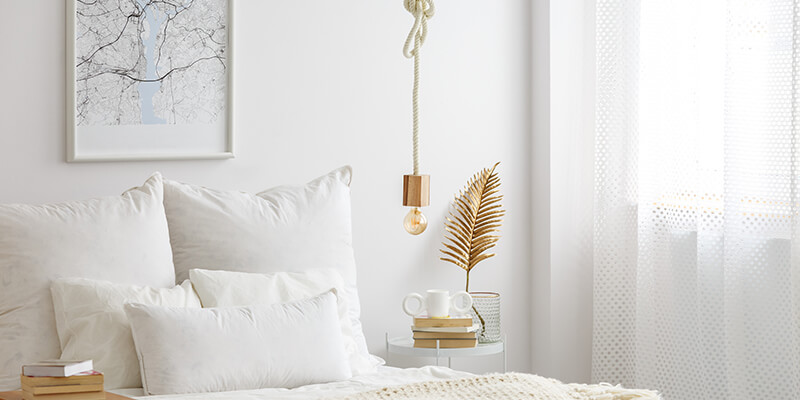 Theme
Whether you like modern or traditional looks to your bedroom, we always recommend that you choose a theme. Creating a stunning and elegant colour scheme provides you with a base to build on and saves you spending money on trying things out that might not potentially work for your home.
Remember that your bedroom says a lot about you, it is a room where you can showcase your personality. After all, it is one of the most central hubs in your home and where you are most likely to spend a considerable amount of your time. Think about accessories to decorate; this helps if your someone that loves change, it means you are not committed by the colour of your room.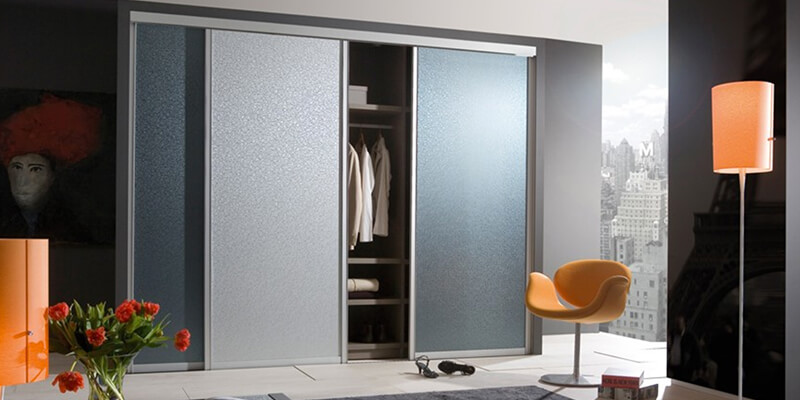 Prints and patterns
We always recommend that if your working with prints or patterns that you always work in odd numbers, we have tried this so many times and we believe the best way to do so is by applying a maximum of five prints in one room. This is a great way of injecting colour into a room and adding some personality.
The tricky thing with prints is you don't want them to compete with each other, so make sure that you get samples of any prints you're thinking about and place them all together, pick one large, one medium and one small print for the best collaboration.
Patterns and prints don't just have to be on curtains, walls and bedding. You can incorporate designs and prints into your small bedroom through the use of accessories such as a chest of draws or bookcases.
Injecting colour
If you do want to bring a little bit of colour into the bedroom it does not always need to be done by using patterns. Injecting different colours into the bedroom can be done with a number of different things.
Bedsheets are a great place to start, if you want to keep your bedroom relatively neutral and fresh but wish to bring a little something different into the bedroom why not consider looking at different bed sheet designs. There are so many different ones now available to you and almost every home or fashion store is likely to stock them. We highly recommend taking a look at La Redoute, they have a gorgeous range of bedding from a variety of colours and patterns to suit anyone's design tastes.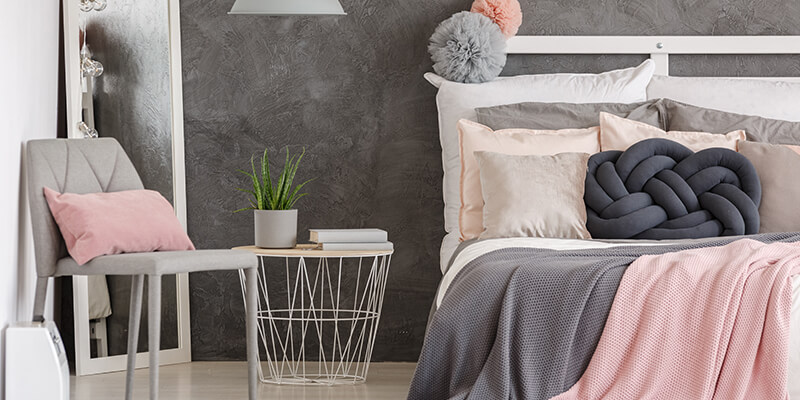 Storage
When you have a small room, you want to maximise the space you have so we always recommend that you have fitted wardrobes in Milton Keynes or made to measure storage solutions made. There are so many different styles and colours now available, so we suggest doing your research.
Sliding wardrobes are an excellent way of getting the best out of your room, they are both sleek and chic. Not only can your wardrobes act as one of the centrepieces in your bedroom, but they will also allow you to put all of your belonging away keeping the room neat and tidy.
In small bedrooms, you want to make the most out of the space you have which is why made to measure wardrobes are possible one of the best options for you. Store bought or flat packed furniture is normally one size and once installed can often consume a vast amount of space, which leaves you with little room to manoeuvre. We recommend getting in touch with Furniche so we can provide you with a quote based on the measurements of your room.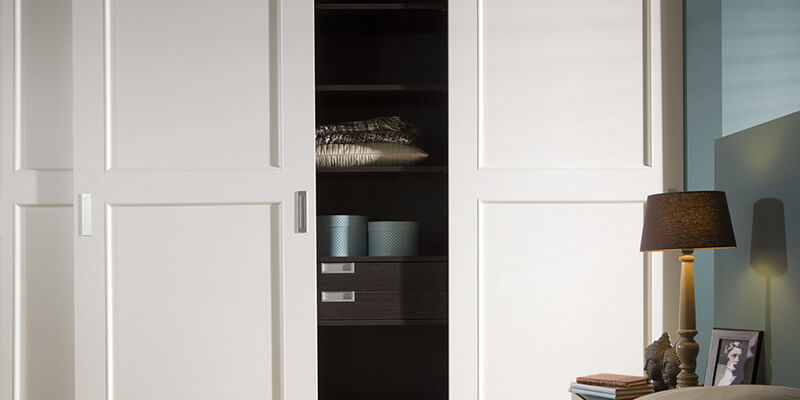 Keep things open
While you may want your bed to be the biggest focal point of your room you don't want it to consume space. You will want to choose a bed frame that gives the room and more airy feel, you may also want to consider a storage bed if you are struggling for space. Why not check out Time4Sleep as they have an array of different styles and colours. Under storage beds provide you with additional space to put your belongings, whether it is books, shoes or extra bedding it means you do not have it out in the room which allows for a decluttered and clean space.
Lighting
In addition to having fitted wardrobes you may want to think about custom lighting, this can help you add individual and intricate design to your small bedroom. Current lighting trends are the use of warm metals, bringing in an industrial feel to your home. LED Lighting is a great trend to follow, not only will they light your home or bedroom to perfection it will also save you money on energy in the long run. Todays LED light bulbs are six times more efficient than conventional lighting and last a considerable amount longer. LED lighting is also great to fit into cabinets and wardrobes; you might only be able to fit one main lighting unit into your small bedroom, so we suggest placing them in your storage solutions. It saves you from fumbling around in the dark and is also great for the environment. If you want to take a look at some fun quirky LED lights we suggest you go to Lighting Styles .
Alternatively, if you do just want one main light in your bedroom and wish to make a statement with it why not take a look at Lightinthebox.com as they have a number of different designs from ceiling lights, wall lights, modern lighting and even a range of gorgeous chandeliers.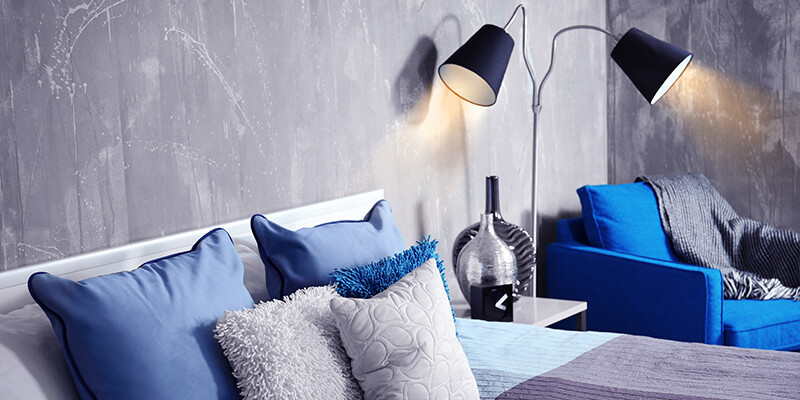 Clean
Make sure that you keep your small bedroom clean, while it may be a rather obvious statement, cleaning your room regularly will make you feel as though you have a lot more space. Remove any unwanted clutter, don't overdo the decorating in your room. Think to yourself when enough is enough, by adding to any ornaments or storage you might find that you have made your room feel a lot smaller. If you are a hoarder, it might be an idea to get someone you know who will be brutally honest with you. If you are struggling to get rid of some of your belongings we recommend having a read of The Life-Changing Magic of Tidying: A simple, effective way to banish clutter forever by Marie Kondo or you can watch her show over on Netflix. She works to help you get rid of your items but also shows you the best way of storing your items so you can see everything which helps create less mess when getting ready in the mornings.
Interior design tips
We understand that designing a small room can be challenging. By following a few of our design tips, you can hopefully create a spacious area that reflects you.
Lighting and wall colours are a great way of maximising a small space, by bringing both these aspects together you can make the room feel more open. It also helps promote productivity, creativity and good energy which will set you up for the day ahead.
When it comes to storage you need to think about how much you have in terms of personal belongings and what will work best for you in your room. Make sure you have something that will make the most out of the space you have and allows you to access it with ease.
We hope you have fun designing your small bedroom, feel free to share your interior designs with us over on our Facebook Page.