A wardrobe is more than just a storage solution; it can be transformed into an eye-catching focal point for any bedroom. Take a look at these wardrobe makeovers and learn how you can achieve similar stunning results.
Wardrobe makeovers made easy
As one of the largest pieces of furniture in your bedroom, the last thing you want is your wardrobe to look outdated and dull. There are so many ways that you can improve your wardrobe's appearance to make it modern, stylish but still complement the theme of your room.
When people redecorate their bedroom, tasks such as painting the walls and ceiling, buying new lights and even investing in a new bed are normally prioritised. However, the more you upgrade and improve the rest of your room, the more your wardrobe begins to look out of place and in desperate need of a makeover.
While most improvements to your wardrobe can easily be achieved with some creativity and DIY skills, if you are looking for an entirely new look, Fitted Wardrobes in Aylesbury are designed and built to meet your criteria, making them the ultimate home improvement.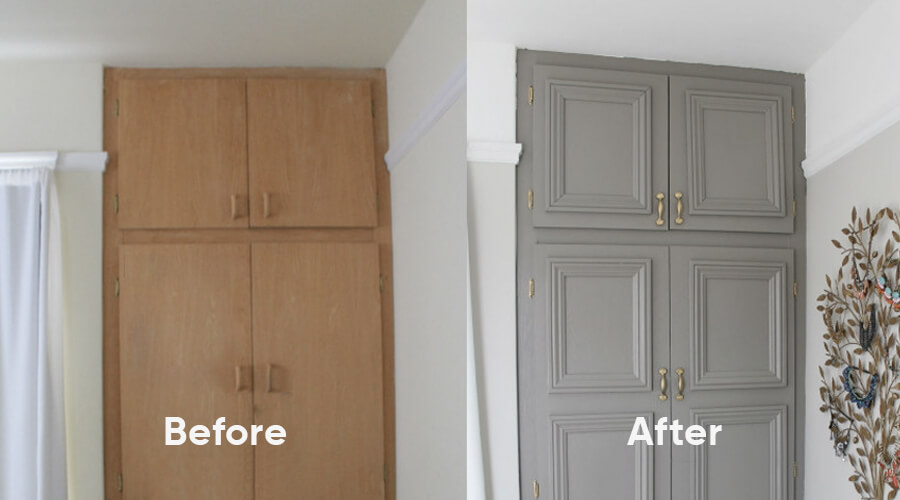 Photo credit to Homedit
Paint
A simple yet effective way to improve your wardrobe's exterior is to paint it. Picking the right colour is the first step for an effective wardrobe makeover. Before you get the paint brush out, we recommend taking your time to consider all possible options and figuring out what will complement your room's colour scheme. For example, if your room has a neutral colour palette, opting for a bright, bold red for your wardrobe will look out of place. Instead, you could choose a shade of white or brown and keep your colour theme consistent.
If you are completely undecided, B&Q's full colour range includes:
Aquas and Blues
Greys
Reds and Oranges
Whites
Neutrals and Browns
Purples and Pinks
Greens and Yellows
Glitter and Metallic
Once you have decided on the perfect colour, it is now time to unleash your inner painter and decorator and get to work. For the best results, use sandpaper to roughen the surface of your wardrobe so the paint can easily adhere.
Finishing touches
Being a statement piece of furniture, we sometimes forget about the finer details such as door handles. As shown in the picture below, changing the handles or knobs on your wardrobe doors and drawers can create an elegant transformation. Changing your wardrobe door knobs/handles is easy, and all you will need is a screwdriver.
These geometric and brass knobs are a great way to add a splash of colour to your room and modernise your wardrobe. Alternatively, you can opt for wood and resin door knobs for a classic, rustic aesthetic.
If you want to change your wardrobe knobs to handles, this can be done without difficulty. All you need to do is measure the distance between the two screws and position them over the original hole, making sure they are equally spaced on either side. Then, fill the original hole with wood filler and drill new holes for the handles.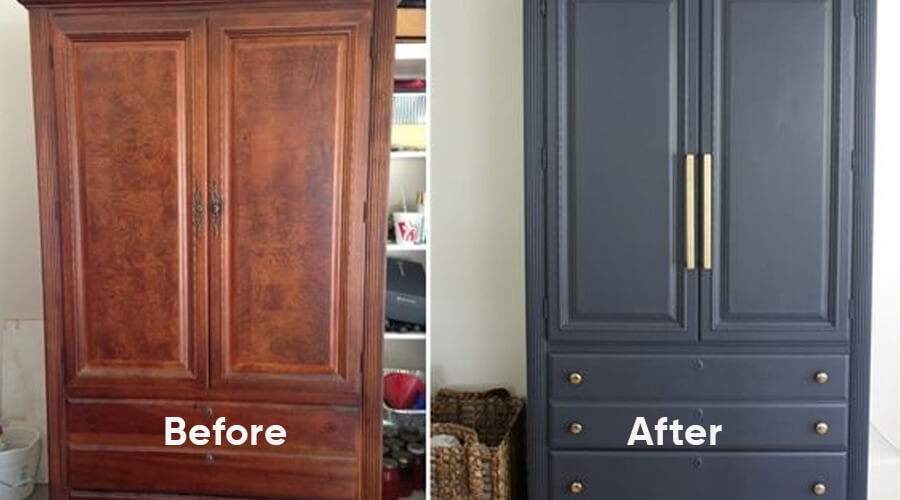 Photo credit to Pinterest
Mirrors
Mirrors are widely used by interior designers for many reasons but are especially effective when used on wardrobe doors. As you may already know, mirrors are great for optimising natural light, so if your wardrobe is adjacent to a window, it is in the ideal location to add a mirror. Another benefit of mirrors is that they create the illusion of space, so if you think your wardrobe is taking up too much room, mirrors can effortlessly tackle this issue and make it feel spacious. Ultimately, by using mirrors, you can modernise your wardrobe and transform it into a focal point rather than a piece of furnitiure.
If DIY is not your area of expertise and you would rather leave fitting mirrors onto your wardrobe to qualified professionals, Sliding Wardrobes in Milton Keynes will be able to assist. Offering a generous selection of styling and personalisation options, you will be able to achieve the aesthetic you desire.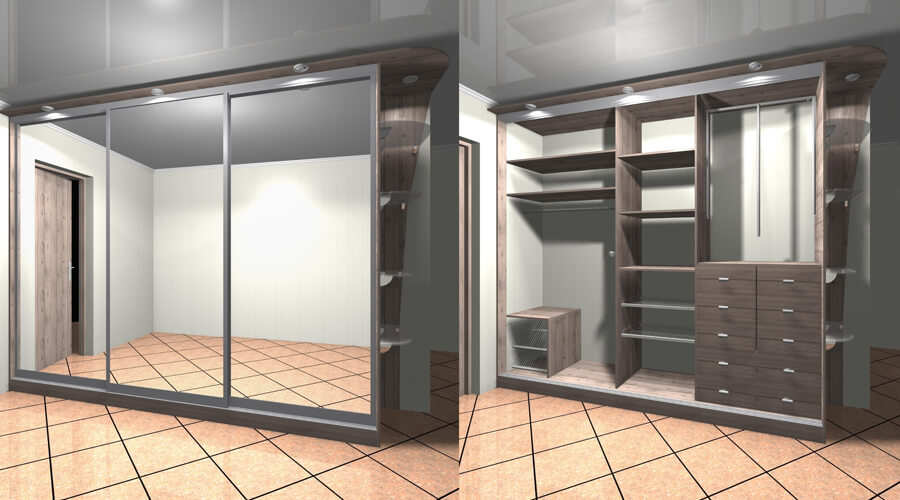 Interior
Giving your wardrobe's interior a makeover is just as important as transforming its exterior. We are all guilty of not giving our wardrobe interior the TLC it needs, but getting rid of the build-up of clutter has so many benefits.
If you aren't ready to part with some of your belongings, simply giving all your clothes, bags and shoes their own place will improve its appearance and keep you organised, so you don't waste time trying to piece an outfit together. To keep your wardrobe neat and tidy for as long as possible, clothes organisers are an excellent investment.
However, if you think your wardrobe is in desperate need of a clear out but don't know where to start, consider using the three month rule. This method is fairly self-explanatory – if you haven't worn an item of clothing in three months, then it's time to throw it away. If it is still in good condition then donating your unwanted clothes to charity is a brilliant alternative. If you have sentimental items in your wardrobe that you won't wear again, then you should free up your wardrobe space and utilise underbed storage.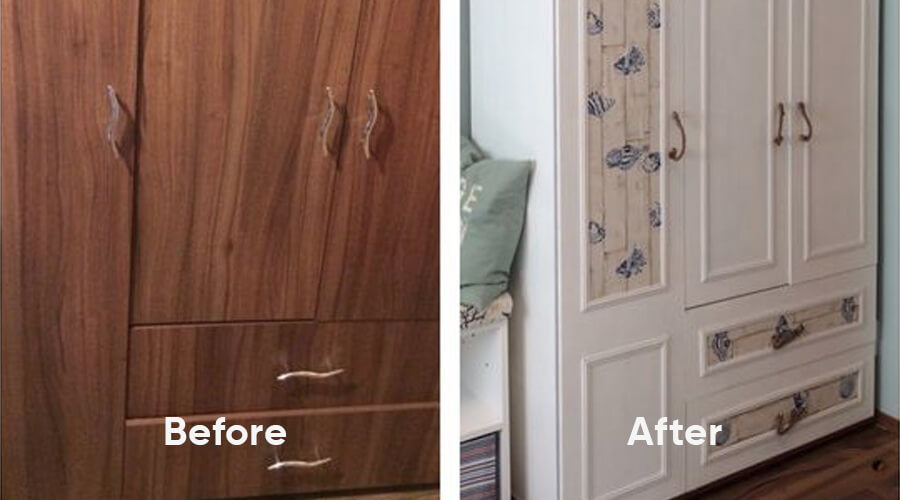 Photo credit to bwncy
Wallpaper
To achieve the same stylish look as the wardrobe pictured above, all you need is some wallpaper. This versatile material is a great way to add, colour, texture or pattern to your room and make your wardrobe look completely new. Wallpaper types you could consider are:
Floral
Abstract
Geometric
Textured
Striped
The best part about adding wallpaper to your wardrobe is that you do not have to be an expert in interior design to achieve outstanding results. In fact, all you will need is some PVA glue and close attention to detail to ensure the wallpaper fits perfectly in its designated area.
Create a wardrobe you love
Your wardrobe is a key feature in your room, so making it look aesthetically pleasing is worth your time. Whether you simply tidy the interior or completely transform it with paint and wallpaper, you can effortlessly create a beautiful wardrobe that perfectly matches your room.