Making the most out of your master bedroom is simple when you know how to organise it effectively. There are a whole host of innovative design hacks you can use that will give you the optimal amount of space as well as making your room look effortlessly stunning. To find out how easy organising a small master bedroom is, keep on reading.
Our top tips on organising a small master bedroom
Although we all dream about having a huge celebrity-style bedroom, small bedrooms can actually be a blessing in disguise. With bigger rooms, you may feel inclined to feel up as much space as possible, which can end up being quite pricey. However, with a smaller room, it is easier to work within a budget and limit the amount you spend on decor and furniture. Smaller rooms are also significantly easier to clean, simple to personalise and are ultra cosy – perfect for the winter season! We understand that your bedroom is a very personal space so you will have your own way of organizing, however, there is one rule we recommend you stick to no matter what – the 3 R's.
Reduce – Reducing what you have and getting rid of unnecessary items is the most direct path to efficient organzination
Resourceful – Being resourceful is key when organising a small master bedroom and it allows you to find more creative ways to utilise your belongings
Resilient – If you haven't had a good clear out of your bedroom for quite some time, the process can be very tedious so it is vital to be resilient and patient
Get creative with storage
When it comes to small bedrooms, storage is of utmost importance. For the best results, you need to have an open mind and look at your room from a new perspective. For example, the space under your bed doesn't have to remain empty as it's the perfect storage location. As it is not at eye level, what you store there will not have a huge impact on the overall aesthetic of the room. Moreover, with transparent under bed storage boxes, you can organise your items accordingly and easily view its contents for convenience. Another great way to store your belongings, but still have easy access to them, is to place a bookcase-turned bench at the bottom of the bed. Once turned on its side, you can place baskets in the individual storage cubbies. It is the perfect place for shoes, blankets, spare duvet sets or nightwear.
Our sliding wardrobes in Milton Keynes and fitted wardrobes in Buckingham are also excellent choices for small bedroom storage. Sliding wardrobes eliminate the need to open doors outwards to access your clothes and shoes, ideal if you are very limited for space. Similarly, fitted wardrobes and designed specifically to match your room, so you can feel confident that valuable space will not be wasted. We have a huge variety of wardrobe styles to choose from, but some of our favourite for smaller rooms include Ava, Polaris and Zeluso.
If you are extremely limited for space, having a bulky wardrobe can make the room feel more cramped than it is. As an alternative, you can opt for a clothes rack instead. You can find ways to style your clothes rack and keep it uncluttered here.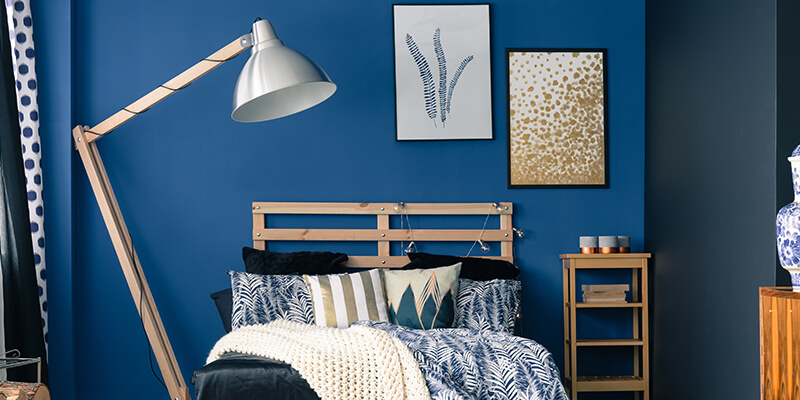 Think like a minimalist
There are so many advantages that come with adopting minimalism in your bedroom, such as helping the environment and mental health benefits. Minimalist style rooms also do not only offer a super modern aesthetic, but they showcase the beauty of simplicity. As much as you may want to fill your room with sentimental accessories and extravagant accessories/furniture, you will end up feeling extremely confined. To create a minimalist bedroom, there are a few simple steps to follow. To begin with, you should need to declutter and get rid of any items that do not serve a practical purpose in your room (we have detailed how to declutter effectively below!) Neutral colours and simplistic furniture are also key elements of any minimalistic room, so why not consider a platform bed or basic chest of drawers?
Declutter often
We are all guilty of letting our room get a little too messy at times, but when space is in short supply, this is something you cannot afford to do. Does your small master bedroom have a clothes-covered floor or a table full of glasses that haven't made it downstairs? If the answer is yes, then you may need to get the rubbish bags out and have a clear out. If it has been a while since you've fully decluttered your room, you may not know where to begin.
Luckily for you, we have a few useful tips that will make the cleaning process quick and stress-free. Firstly, you should make your bed before doing anything else. As it is likely your bed takes up most of the space in your room, it makes sense to use this as a surface for sorting and organising instead of trying to cram everything into a small pile on the floor. Just like any minimalist-inspired space, you will need to remember that you have to stick to the essentials and only have the bare minimum of items required in your bedroom. To do this efficiently, we recommend having three bags or boxes which you can label accordingly: keep, throw away, donate. If you haven't used an item or worn a piece of clothing in at least a year, and it's not sentimental, it's time to say goodbye. If it is still in good condition; however, it does not have to go to waste entirely as you can easily donate it to charity or give to a family or friend. So you are not overwhelmed by mounds of clutter, you must remember to organise your room is sections and avoid attempting to declutter the entire contents of your room in one go. If cleaning isn't your thing, knowing the benefits of a clutter-free bedroom will persuade you always to keep your personal space in immaculate condition.
Improves air quality
Helps you sleep better
Improves health
Improves productivity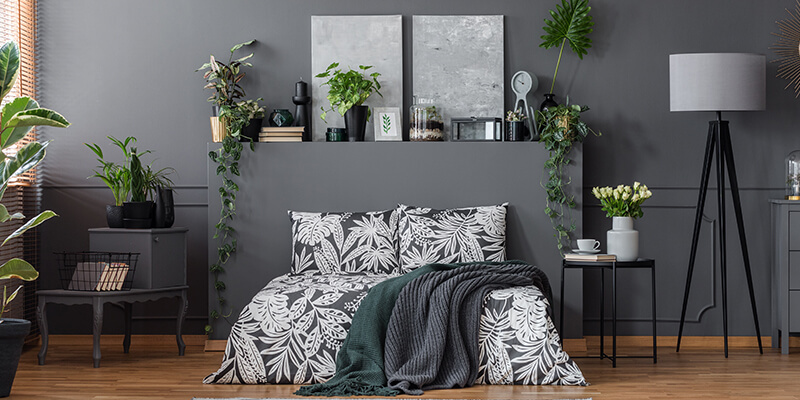 Finishing touches
Organising a small bedroom doesn't mean you have to compromise style or personal touches. The key to effectively placing finishing touches in a small room is to keep things minimal and balanced. For example, limit the number of items you have on your bedside table. You can keep your essentials in the drawer, so they are not constantly on display and instead use the surface purely for aesthetically pleasing accessories. A good combination for next to your bed is a small plant, a framed photo (personal or artwork) and a basic lamp. A large mirror will also work well in a small master bedroom as it gives the illusion of a bigger space. Rugs are also a great finishing touch for a smaller room as they can create an attractive focal point you won't want to hide underneath a pile of dirty clothes. Moreover, a rug will also instantly add an element of comfort to your room and give it some character.
Organising made easy
We hope our tips have highlighted how easy it is to organise your bedroom and make the most of the space available. Decluttering regularly and adopting a trendy minimalist style are simple changes that undoubtedly make your room appear bigger and feel more tranquil. If you want to give your master bedroom a complete makeover, you can find inspiration here.