Sloped ceilings are a beautiful characteristic in any home and are guaranteed to make a stunning addition to all room types, whether it may be a living room, bedroom or bathroom. As a rarer feature of properties, this style of ceiling is most commonly found in loft conversions, where homeowners have had to work around the structure of their roof to accommodate extra living space. This also means that the walls will be shorter than average, and there may be limited headroom.
With this in mind, when opting for placing a bedroom or dressing room in a room with sloped ceilings, you may be somewhat limited in terms of furniture options, particularly when it comes to wardrobes. It can be tricky to track down storage space that fits perfectly in the room without taking up a large amount of space. To answer your question of 'what are the best wardrobes for sloped ceilings?', here are some of the best-fitted wardrobes for sloped ceilings to help you find a seamless design for your space.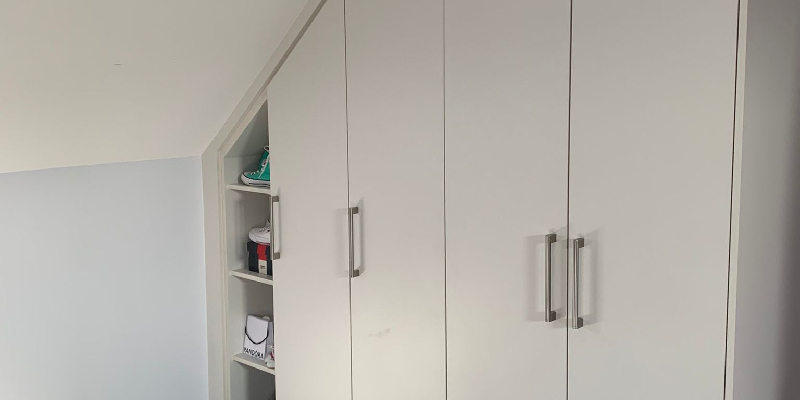 What Are The Best Wardrobes For Sloped Ceilings? A Full Guide
If you have a sloped ceiling, then it is more than likely that you will find an issue when searching for wardrobes and other storage options. Standard box wardrobes may be too high to fit in your room without damaging the ceiling or losing valuable space. You may also find that the gaps in the bottom, top and back of a freestanding wardrobe are wasting space which could be put to better use. Luckily, there are multiple ways you can design your wardrobe so that it works for you and the design of your room; these include the following: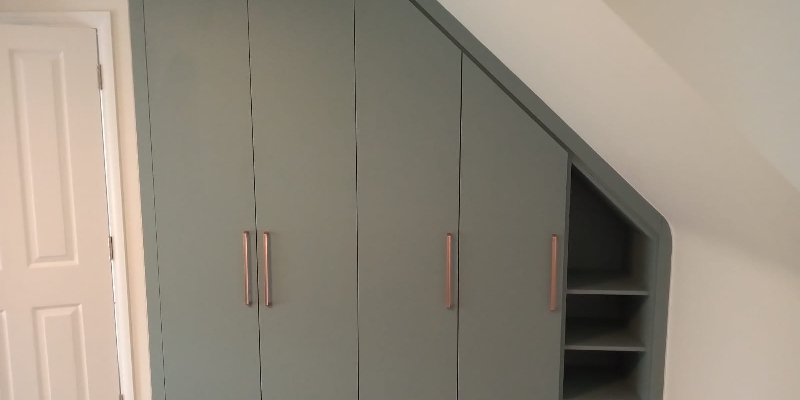 Although there are places where you can buy wardrobes that are specifically designed to fit in awkwardly shaped areas, they have not been made to measure. This means that you could find yourself with gaps on either end of the wardrobe, or it's still too big. Every house is unique and designed slightly different from the house next door, even more so if you have opted for incorporating a conversion, meaning that it may prove a tedious task to track down a wardrobe that fits seamlessly into the slope of your room.
Bespoke fitted wardrobes for a loft room that have been specially designed and custom-made are the best options for those with sloped ceilings. With a bespoke design, you are able to make sure that the wardrobe is made to measure, ensuring that it fills in all of the gaps without being too big or too small. There are a number of benefits to having a bespoke wardrobe; not only can you design it to fit the layout of your room, but you can also pick every element of the design of the wardrobe, allowing it to fit perfectly with your requirements. Particularly when it comes to the inside of your wardrobe, every section can be customised, which will be incorporated into your design, making the final product completely personal to you. Whether you require lots of hanging space, sections for shoe racks or jewellery compartments, all of your needs can be met, allowing you to store all of your belongings neatly in one place. This applies to all fitted wardrobes in Bedford and the surrounding areas available at Furniche, including the Ava, Georgia and Florence range!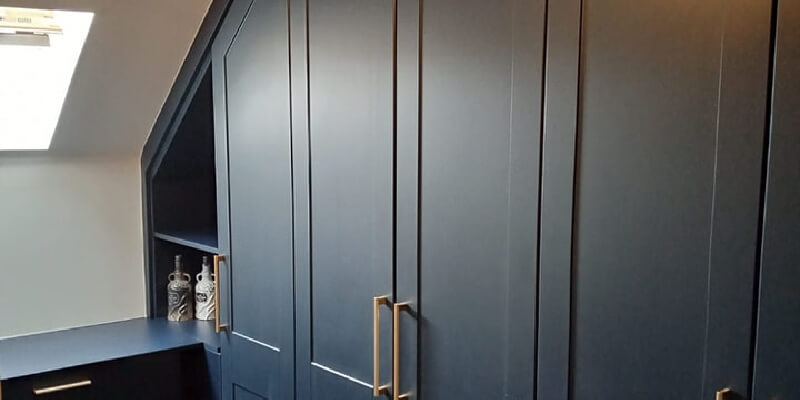 When both sides of your ceiling slope down and make it hard to find a wardrobe that fits, as well as having adequate storage, you may find that having areas that are open can maximise your wardrobe's storage abilities. To do this, all you need to do is make a few sections on the side of the wardrobe that slope down open shelves. Here you can fold up your trousers, or you can even have ornaments to show off your quirky style. This is also a popular choice amongst those who have a walk-in wardrobe or dressing room, as having open areas creates a sense of luxury in which homeowners could even showcase their most prized possessions.
If you are hoping to add open sections to your bedroom wardrobe, then a fantastic area to place these is around the bed itself. To save space and utilise all areas of the sloped ceiling, many of our clients opt for fitting storage to frame around their beds. This is also ideal for making use of high wall space, which would otherwise remain unused. We once did this for a client in need of fitted wardrobes fitted wardrobes in Leighton Buzzard, who wanted to ensure that they had plenty of storage space without sacrificing valuable floor space. While they did have a conventional flat ceiling, this can easily be tailored to a sloped alternative. Find out more about this project and our other amazing projects, over on our case study page.
Although the open-fitted wardrobe for slanted ceilings approach may be an effective way to maximise storage, we would advise you to still have doors on the majority of your wardrobe. Only choose small sections to remain open; otherwise, you may risk making the room look cluttered with too many items on show. For the ultimate guide on how to declutter your bedroom, take a look at House Beautiful.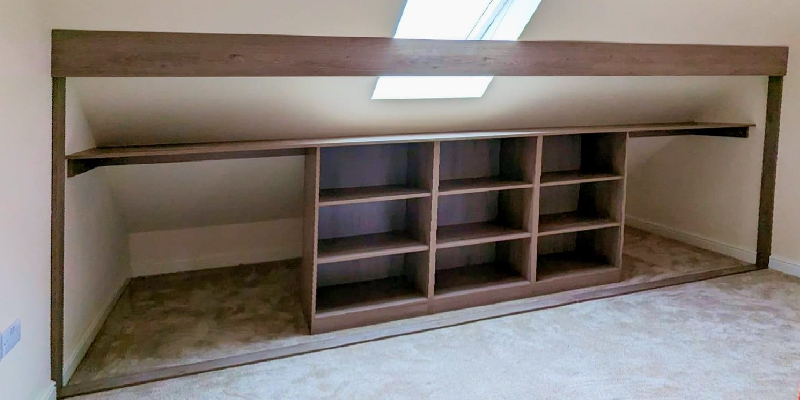 Another fantastic way that you can customise your fitted wardrobes is by choosing an angled wardrobe door style that complements the interior design of your room. It is ideal for adding texture, allowing you to create a different aesthetic for each section while hiding the contents of your wardrobe. The doors will be made to measure and will be designed so that the two first doors on the outer side of the wardrobe will be small and sloped along with the ceiling, and the doors will gradually get bigger as it gets towards the middle.
There are a whole host of contemporary door options available, varying in panel design. It is entirely your choice as to whether you opt for coloured panels, mirrors or merge the two for a modern aesthetic. Mirrors, in particular, are ideal for smaller spaces as they are perfect for creating the illusion of a brighter, airier and bigger room. You can find a great example of this over on our case studies, which includes a project we completed for a client who had a new loft conversion and wanted fitted wardrobes in Northampton. Alternatively, for more ideas on how you can use mirrors to create a clever optical illusion, take a look at Houzz.
To complete your door, you can also choose a frame style that matches, making the two blend seamlessly together as one. You would be surprised how much the frame can make a difference in the overall look of your wardrobe, adding the perfect finishing touch!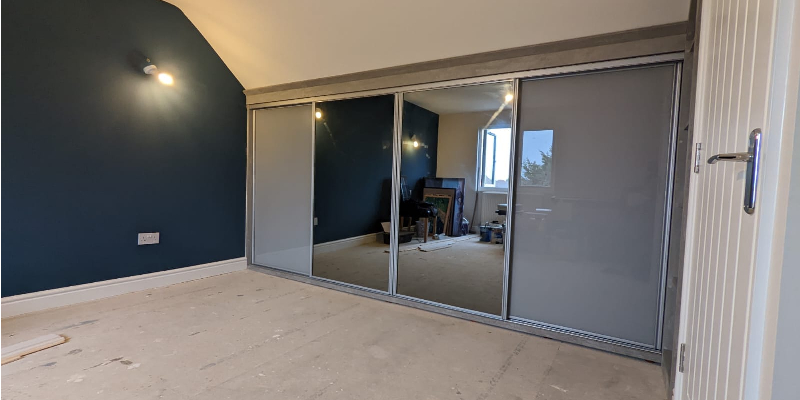 By far, the most common use of a loft conversion is an extra bedroom, which is popular amongst households with a growing family. In light of this, if you have opted to transform your loft space into a new bedroom for one of the younger members of the family, then incorporating a desk into the fitted wardrobe would be ideal.
Much like wardrobes, finding the right height desk can be harder when faced with sloped ceilings, and many can take up a large chunk of your floor space. So, why not kill two birds with one stone and combine the two to create one large, multi-functional area? This will save you from having to determine where would be best suited for a desk while a wall is already taken up by wardrobes.
When planning your wardrobe design to include a desk, we suggest placing the workstation on one of the sloped sides at the edge of the wardrobe. Desks tend only to require a few storage solutions, most commonly as drawers underneath as opposed to shelving, which means that using the smallest area of wall space would be best suited to the desk. This means that the areas with a larger, square space in the centre of the wall can be used for wardrobe hanging space. The shelves you do have can then remain simple with a few pen pots, organisers and perhaps accessories for a personal touch. Complete the working area with a comfortable desk chair, bin and drawers then you have the perfect space for studying! For more customisations that you can choose for your new fitted wardrobe, take a look at our previous article!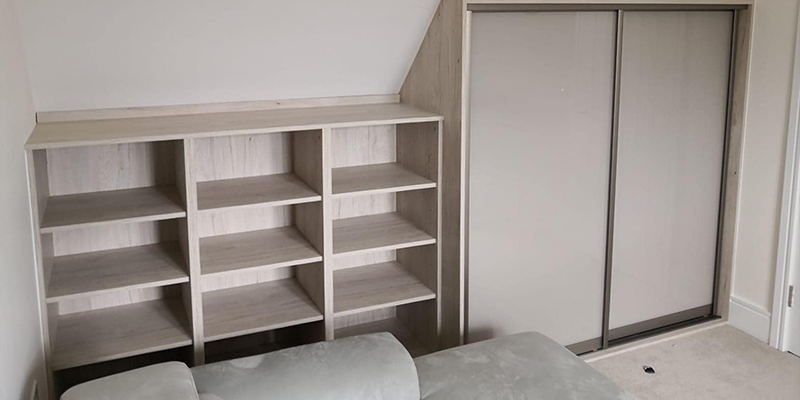 To match your wardrobe with the rest of your furniture, Furniche also offers you a range of services that can help you create bespoke furniture to fit your room. This is perfect for those with sloped ceilings, as all other pieces of furniture can too be altered to accommodate the space available. Together, this will create a coherent appearance, ensuring that every aspect of your new space works as one, as opposed to a mismatch of furniture.
There are unlimited possibilities when shortlisting custom-made furniture options, whether it may be a personalised entertainment unit or home office. Much like when designing your fitted wardrobes, you can add a host of customisable features to your furniture. For instance, those who opt for creating their own office furniture may consider adding equipment trays, pull-out shelves, file drawers or bi-folding doors. Others, on the other hand, may merge their storage and entertainment into one, fitting their TV inside the wardrobe, which can then be covered when not in use. Ultimately, choosing the made-to-measure route means that regardless of how awkwardly shaped your room may be, you can ensure that your storage and furniture not only meet all of your needs but also reassures you that absolutely no space will be wasted.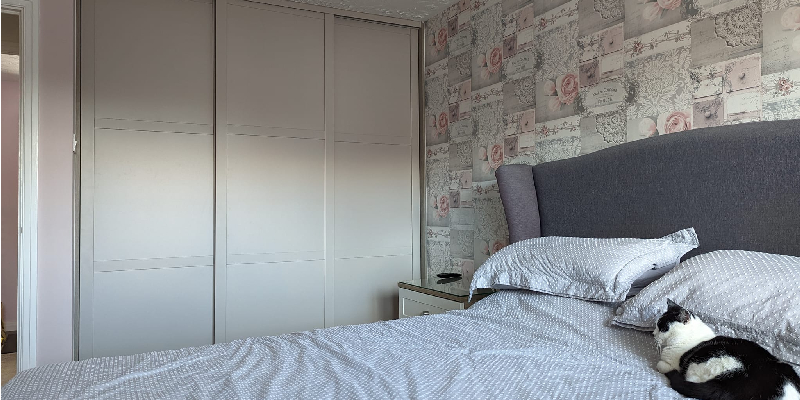 Choosing The Best Built In Wardrobes For A Sloping Ceiling
Converting your loft or moving into a new home is always an exciting prospect, but finding wardrobes, storage and furniture that fit seamlessly with your space can often be a little tedious. Furniche recognises that no two homes are the same, which is why we offer only the highest quality, custom-made loft conversion fitted wardrobe made to your requirements. There are a whole host of designs, materials and finishing touches available to help you to create the perfect space for you and your family. If you would like more information on any of the ideas mentioned above or are eager to kickstart the planning process, then do not hesitate to contact our team!